---
Biography Chineke! Orchestra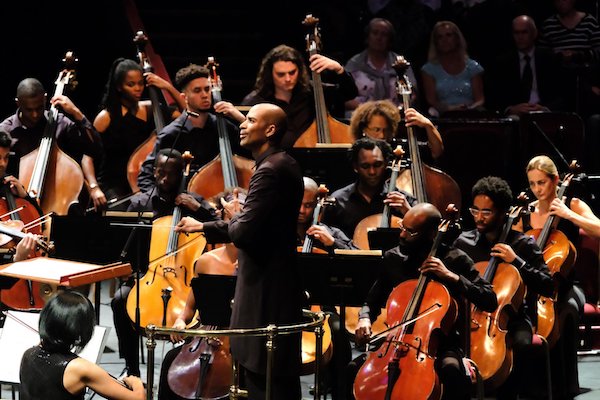 Chineke!
was founded in 2015 by the double bass player, Chi-chi Nwanoku OBE, to provide career opportunities for young Black and Minority Ethnic (BME) classical musicians in the UK and Europe. Chineke!'s mission is: 'Championing change and celebrating diversity in classical music'.
The Chineke! Orchestra works closely with its sister ensemble, the Chineke! Junior Orchestra, a youth orchestra of BME players aged between 11 and 18, with senior players acting as mentors, teachers and role models to the young musicians. In 2017, the Chineke! Orchestra made its BBC Proms debut at the Royal Albert Hall and performed at many other leading festivals throughout England, all to great critical acclaim.
Anthony Parnther
American conductor, Anthony Parnther, is the son of immigrants. His father emigrated to the United States from Kingston, Jamaica at the height of the Korean War and served in the US Navy. His mother came to America from the remote Pacific microstate of Samoa. Anthony was born in Norfolk, Virginia, and the family eventually relocated to Washington D.C. and New York City before settling in central Virginia where Anthony became active in the instrumental music program. While in high school, Anthony learned the bassoon and the tuba and developed secondary interests in acting, singing, forensics, and creative writing before deciding to enter university fully committed to music.
Anthony studied orchestral conducting at Northwestern University with Victor Yampolsky and at Yale University with Lawrence Leighton Smith. He also received guidance and mentorship from mentorships with Cliff Colnot, W. Francis McBeth, and Frank Battisti. He resides in Los Angeles.
Kevin John Edusei
is praised repeatedly for the drama and tension that he brings to his music-making, for his clear sense of architecture and attention to detail. A suave and elegant figure on the podium, he has conducted widely across Europe, in particular in Germany and the Netherlands, dividing his time equally between the concert hall and opera house. He conducts a broad range of repertoire from baroque to contemporary, with a particular interest in German music from the early romantic period and early 20th century. He is Chief Conductor of the Munich Symphony Orchestra.
Wayne Marshall
Wayne's relationship with music began at an early age. By the age of three, he had already familiarised himself with the piano, and only began to take formal lessons a few years later. Wayne was a student at Chetham's School of Music in Manchester from 1971 to 1979. He won a Foundation scholarship to the Royal College of Music in London, which was combined with the post of Organ Scholar at St George's Chapel, Windsor Castle, and was a Post Graduate student at the Hochschule für Musik in Vienna from 1983-84.
Wayne's musical forays led him to experiment in multiple genres, including church music and jazz, but quickly found his professional voice as an organ/piano recitalist. His first recorded work goes as far back as 1990, recorded at the organ of Coventry Cathedral, for EMI.This was also the time in which Wayne began to find his footing as a conductor, a path that would see him working with some of the world's most accomplished orchestras. Wayne feels at home on the podium directing and conducting as well as being a soloist. He is a man with two gifts and one legacy.