---
Paul Kelly & Paul Grabowsky
---
Biography Paul Kelly & Paul Grabowsky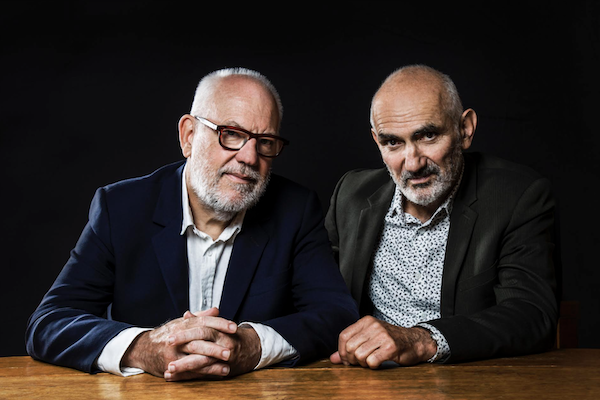 Paul Kelly
is not just Australia's greatest and most enduring songwriter.
There is something that goes even deeper than that. His songs have a way of digging into the country in a way that few artists can do, how it looks, feels, tastes, sounds. The joys and sorrows, achievements and follies. If you want to know something about Australia, how it feels to be Australian, you can find it in his songs.
He is one of those rare artists to spin a long career out of a hunger to explore new directions, from the tender songcraft of Post to the hard-edged rock'n'roll of Gossip, to country and folk, bluegrass (see Smoke, Foggy Highway), a soul revue album with guest singers including his long-time backing singers Vika and Linda Bull (Paul Kelly presents the Merri Soul Sessions). In 2014 Seven Sonnets & a Song set Shakespeare sonnets to music, released on the 400th anniversary of the Bard's death. It was followed by an album with Charlie Owen of songs they had performed at funerals, Death's Dateless Night.
Kelly's latest album, Thirteen Ways to Look at Birds, released on August 30, brings musicians from broad-ranging backgrounds to interpret bird-inspired poems. The album is a unique marriage of electronics, acoustic instruments and the human voice and features collaborations with the Seraphim Trio, composer James Ledger and singer-songwriter Alice Keath.
Kelly gave his first live performance in 1974, released his first album in 1981, when he was 26, and last year delivered Nature, his 23rd studio set. His body of work also includes live albums (see the CD/DVD recording of an Australian tour with Neil Finn, Goin' Your Way, and the 8-CD box set A-Z Recordings, revisiting his songs with acoustic guitar, harmonica and voice). To this add the film soundtracks, co-writes (he contributed to land rights anthem Treaty with Yothu Yindi), production work, the constant touring at home and abroad. Some of those shows were on stages where his maternal grandparents, founders of a touring opera company, performed in the '20s. And he wrote perhaps the finest and most unflinching autobiography ever written by an Australian musician, How to Make Gravy.
Throughout Kelly's career, the craft, the passion for getting up each day and working on the next thing, have been mostly under the surface. But there always is a next thing, creating a legacy which chronicles the full range of human experience. For that reason his work will live on, like the stories of Henry Lawson, the collected works of Slim Dusty, the poetry of Judith Wright.
His 2017 set Life is Fine found Kelly at a new creative high. It became his first No 1 album, the kind of affirmation rarely given to artists so far into their career. That year Kelly won two ARIA Awards, for best male artist and best adult contemporary album. Kelly showed the timeless quality of his work, the way it spans generations, with a powerful performance of his '80s song Dumb Things accompanied by Dan Sultan and hip-hop duo AB Original.
He returned to the awards in 2018, dedicating a poem to Kasey Chambers as he inducted her into the ARIA Hall of Fame, an honour Kelly received in 1997.
Last year Kelly completed one of his most successful tours playing to large audiences in outdoor venues and the Making Gravy tour returns in December with guests including Courtney Barnett, Marlon Williams and Kate-Miller Heidke.
Kelly's Order of Australia in 2017 acknowledged distinguished service to the performing arts and the promotion of the national identity through his contributions as singer, songwriter and musician. At the foundation is the songs.
Sometimes we recognise ourselves in them, that bus ride through the cane of To Her Door; the child lifted up and over the waves in Deeper Water, walking in the crisp Melbourne chill in Leaps and Bounds. Loss, failure, renewal. Spring and Fall, as he described it in his song cycle about the seasons of love.
Kelly writes with acute insight about the concerns of indigenous Australians in songs such as From Little Things Big Things Grow, about the 1966 strike by stockmen on Wave Hill Station in the Northern Territory and subsequent land rights battle, co-written with Kev Carmody. There are songs about the most famous of Australians, like Bradman, and songs about simple pleasures, like Firewood and Candles, from Life is Fine.
In 1997, Kelly released his greatest hits set Songs from the South. In November, Songs from the South 1985-2019 brings the story to the present, a brilliant career summary available in double album vinyl format or an expanded CD and digital version of 43 tracks. It includes later classics such as the exhilarating rock song With the One I Love, from Nature. And Every Day My Mother's Voice, his 2019 collaboration with Dan Sultan, which shows his writing is just as strong and sure now as it was in 1985.
Vivid details in Kelly's songs keep drawing us back to these people we feel like we know. A song about a child pretending to be asleep in the back of the car and hearing the quiet sobs from the front. Dan and Joe and Stella and Rita and the rest, the characters in How to Make Gravy, the finest Christmas song ever written about not being home for Christmas.
Where does greatness come from? There is no recipe for that. But you could do worse than start as Kelly did by listening to the great songwriters, then singing their songs. The first two songs Kelly sang at that 1974 debut were Dylan's Girl from the North Country and Streets of Forbes, the folk tale about bushranger Ben Hall, as sound a place to begin as any.
Then getting out into the country to see things worth writing about, as Kelly did even before he set pen to paper. As Joe says in How to Make Gravy, you need that dollop from the sauce to get the extra tang.
Paul Grabowsky
is a pianist, composer, arranger, conductor – and is one Australia's most distinguished artists.
Born in Papua New Guinea, Paul was raised in Melbourne. During the late 70's he became prominent in the music scene in Melbourne, working in various jazz, theatre and cabaret projects.
He lived and worked in Europe and the US from 1980-85, during which time he performed with many jazz luminaries including Art Farmer and Johnny Griffin. He returned to Australia in 1986 and established a reputation as one of Australia's leading jazz musicians with such bands as his own trio and sextet, the Wizards of Oz and as musical director for singer Vince Jones.
He was musical director of Tonight Live with Steve Vizard (a nationally televised variety show) from 1990-1992.
He was Commissioning Editor (Arts and Entertainment) for ABC Television 1995-98.
He has written the scores for over twenty feature films in Australia, the UK and US including 'Innocence' (Paul Cox), 'Last Orders', 'The Eye of the Storm', 'Words and Pictures'(Fred Schepisi) and 'Shiner' (John Irvin). His television credits include the series 'Phoenix' and 'Janus' and the Emmy-winning 'Empire Falls'. His works for the theatre include four operas and various multimedia works. His most recent opera, created for soprano Emma Matthews, 'The Space Between', with libretto by Steve Vizard, premiered at Arts Centre Melbourne in September 2018.
He is the Founding Artistic Director of the Australian Art Orchestra, which he led from 1994-2013.
He has won seven ARIA awards (most recently in 2019 for his recording 'Tryst' with singer Kate Ceberano)), two Helpmann awards, several APRA and Bell Awards and a Deadly award. He was the Sydney Myer Performing Artist of the Year in 2000, and received the Melbourne Prize for Music in 2007. He was the 2010 Australian National University H.C.Coombs Fellow.
He was Artistic Director of the Queensland Music Festival from 2005-2007 and was Artistic Director of the Adelaide Festival of Arts for 2010 and 2012.
He is currently a Professor at Monash University, and director of the Monash University Academy of Performing Arts and the Monash Art Ensemble. In 2014 he was made an Officer of the Order of Australia for services to music and arts administration.