---
Truth or Consequences (Alternate Versions) Yumi Zouma
Album info
Album including Album cover
I`m sorry!
Dear HIGHRESAUDIO Visitor,
due to territorial constraints and also different releases dates in each country you currently can`t purchase this album. We are updating our release dates twice a week. So, please feel free to check from time-to-time, if the album is available for your country.
We suggest, that you bookmark the album and use our Short List function.
Thank you for your understanding and patience.
Yours sincerely, HIGHRESAUDIO
1

Lonely After (Alternate Version)

03:32

2

Right Track / Wrong Man (Alternate Version)

03:04

3

Southwark (Alternate Version)

01:55

4

Sage (Alternate Version)

03:47

5

Mirror To The Fire (Alternate Version)

02:47

6

Cool For A Second (Alternate Version)

02:58

7

Truer Than Ever (Alternate Version)

03:02

8

My Palms Are Your Reference To Hold To Your Heart (Alternate Version)

03:50

9

Magazine Bay (Alternate Version)

03:04

10

Lie Like You Want Me Back (Alternate Version)

02:44

Total Runtime

30:43
Info for Truth or Consequences (Alternate Versions)

The day before the release of our third album, 'Truth or Consequences', the World Health Organisation declared COVID-19 an official pandemic. We'd arrived in the United States that morning to play the first show of our North American album release tour in Washington D.C. At this point, all of the tour dates were still set to go ahead, and we were excited to promote an album we had worked on for the last two years. This run was set to be our first ever fully sold-out US tour. The atmosphere was excitable, a little tense, optimistic. However, the chain of events that followed meant that by the time we finished our set that evening, restrictions on venues had been enacted by local governments across the country, and one-after-another, all of our remaining tour dates were cancelled. The performance at DC9 was the first and last show of the 'Truth or Consequences' album tour. It was all over, we went our separate ways and flew home the next day – on our album's release day.
Touring is often the final piece of the puzzle that is an album campaign – the part you fixate on alone in a room, when you perfect a song and imagine how a crowd will react. You may have listened to certain songs a hundred times during the making of the record, but when you're out on stage, face-to-face with an audience, this is when you start to truly re-contextualise and re-interpret the music, exploring the boundaries, focusing in on different parts of each song's musical fabric. A new vocal harmony there, a new bassline there - perhaps you add different chord voicings on guitar, or new drum fills that set a new-found intensity to a section.
So after returning home and spending a few numb weeks adjusting to this strange new way of life, April came, the reality set in, and we quickly started to miss that feeling of exploring our new songs by night. We'd missed out on such a crucial part of the process – with no concrete idea of when we might next get the chance. It felt too soon to move on – we felt the pull to work on new music, but still felt a strong attachment, an unresolved connection to this new record that we'd laboured over and had waited so long to release.
Writing new music around them, we took the songs of 'Truth or Consequences' and found ourselves a new way of re-contextualising them safely, amidst the tragedy and fear going on in the world outside our windows – and the Alternate Versions were born. We encouraged each other to be bold, fearless, and to experiment like we would on stage – but from the comfort of our own bedrooms, living rooms and hallways. This new reimagining of 'Truth or Consequences' is the result of that process. Ten new arrangements that reflect our feelings of optimism, helplessness, and a desire to keep exploring.
Christie Simpson, vocals, keyboards
Josh Burgess, guitar, vocals, keyboards
Olivia Campion, drums
Charlie Ryder, guitar, bass, keyboards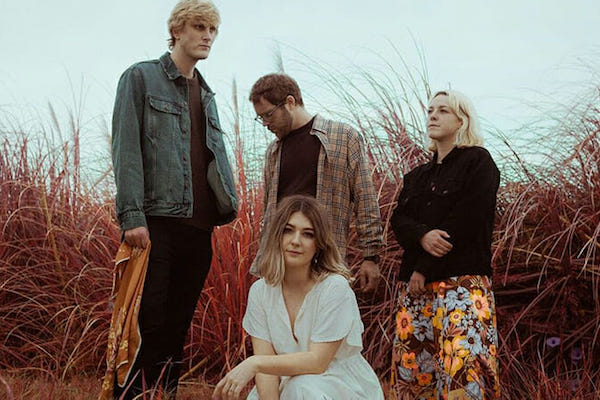 Yumi Zouma
After the 2011 Christchurch earthquake destroyed much of the city, Yumi Zouma's members took off for other parts of the globe and soon began writing their first songs over email.
As a result, the band was born, and distance became a recurring theme in Yumi Zouma's work. This makes sense given the farflung cities the group of musicians currently call home: New York City for Burgess, London for Ryder, Wellington for Campion, and Simpson remaining in their native Christchurch. Of course, distance can also manifest metaphorically, and it's in these figurative chasms that Truth or Consequences,Yumi Zouma's third album and first for Polyvinyl, finds its narrative: romantic and platonic heartbreak, real and imagined emotional distance, disillusionment, and being out of reach. There are no answers, there's very seldom closure, but there is an undeniable release that comes from saying the truth, if only to oneself.
"In the age we're living in, there's an emphasis on making things clear cut" says Burgess about the album's title."But in life and in art, nothing is ever that definitive. The truth is usually in the gray zones, and I think that's so much of what we were trying to explore and understand on this album." Yumi Zouma deliberately pursued a deeper sense of collaboration in order to craft a record that reflects the bond between them. Produced by the band and mixed by engineer Jake Aron (Solange, Grizzly Bear, Snail Mail), Truth or Consequences stems from sessions in Los Angeles, London, and Christchurch, where the band actively took a collegial approach to ensure the foundations of the album reflected a sense of togetherness. "We wanted to make the songwriting process as egalitarian as possible. Completely sharing the process helped us feel like we were capturing a purer sense of atmosphere," says Ryder. Throughout, Simpson's voice gives weight to whispers of impressionistic poetry, shielding hard truths with soft tones, while Burgess' vocals reveal a rarified dimension of raw and lucid romanticism. With this being the first Yumi Zouma album to feature live drums, courtesy of Campion, Truth or Consequences is a testament to the success of the band's approach—a unified body of melody that mines the spaces in between.

This album contains no booklet.