---
Album info
Album including Album cover
I`m sorry!
Dear HIGHRESAUDIO Visitor,
due to territorial constraints and also different releases dates in each country you currently can`t purchase this album. We are updating our release dates twice a week. So, please feel free to check from time-to-time, if the album is available for your country.
We suggest, that you bookmark the album and use our Short List function.
Thank you for your understanding and patience.
Yours sincerely, HIGHRESAUDIO
1

Shotgun

03:55

2

Crocodile Inn

04:45

3

Voodoo

03:53

4

Ten Million Slaves

06:08

5

The Flying Carousel

04:29

6

Lorane

06:14

7

Dream Eyed Little Girl

04:32

8

Mamãe

03:49

9

Sweetheart on Fire

05:12

10

Shotgun (single edit)

03:16

Total Runtime

46:13
Info for Demons Of The Mind

A twisted haven of creative sounds and fresh thinking. Delightfully dark in places whilst fantastically Funkadelic in others. Let Rob Vitacca and Thomas Teufel take you on an inspirational and experimental mind trip with this incredible album.
A rising of organ notes and a cackle of birds. A deep voice draws you in with talk of suffering. It sucks you down and then spits you out with a shout of "Shotgun" and the music takes off. It is upbeat, drum-heavy Rock 'n' Roll but there's a hint of something else. A clip-clop of cowbell, a gesture of Jazz in places? One track in and it is already difficult to believe that there are just 2 members in this band and no guitars.
The song 'Crocodile Inn' wouldn't seem out of place as part of a Lost-Boys-type movie soundtrack. It has an eerily slow dreamlike quality with some great Moog sounds and the husky tones of "Don't fear the Gator" could quite easily see you floating above an ocean (or a swamp). The song picks up the pace and gets darker still, plummeting you into a chamber of haunting laughter. Something reptilian this way lurks. There's an almost tribal sensation with the stomping whoops and brusque singing of 'Voodoo.' Every syllable of this song is meant. It is energizing and tuneful to boot. Maybe the most Hammond sounding of all the organ playing features in 'Ten Million Slaves' along with some bongo/ djembe action and that raspy addictive voice. While as far as strong rhythms go, 'The Flying Carousel' pops to the top of the chart with its disco vibe and quirky lyrics. Lie back and listen for a few minutes and you'll find true escapism as the song moves and shakes your own body.
The wisely placed 'Lorane' is an atmospheric come-down of sorts. Weighing in at just over 6 minutes, this delectably gothic mood-cloud whips you back off of that dancefloor and reaches for your deepest darkest core. You can feel the pain, the longing and the sorrow with this one and it will bring your senses to the fore. Though fear not, for the playful drums of 'Dream Eyed Girl' will perk you back up with its near-tropical flavor. Funky and whoopie is 'Mamae,' chock full of zoomy keyboard rushes it is synthesized yet not synthetic. It has a catchy tune and chorus and the ending will check that your ears are alert.
The final track of the album 'Sweetheart on Fire' wraps up everything you've experienced throughout the album. This track has a solemn pace and a gentle melody. Just singing to start, light percussion, and then the drums but they are simple and spaced out. Close your eyes with this one and it is all of the fiery colors but with an overarching tinge of scarlet at its roots. This track will ground you again. Ending with the sound of a muffled underwater heartbeat like the sonar ping of a submarine, the song gently winds down and then it is gone.
This album will pull you in, hype you up, tease you down, gently lull you, play with your brain, funk you up, set fire to your heart and calmly return you. Go and listen. Seek out those demons!
Thomas Teufel, drums, vocals, percussion
Rob Vitacca, vocals, organ, synthesizer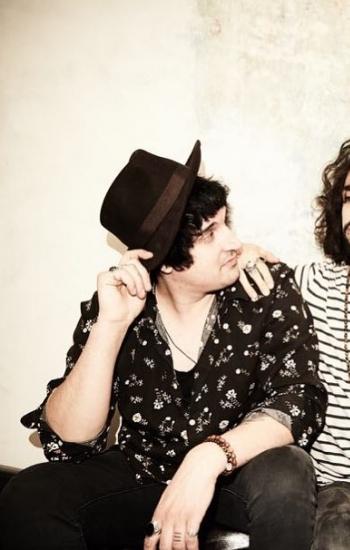 The Alligator Wine
Vintage Rock without guitars? The Alligator Wine make it happen. With sounds that bridge decades without appearing too "old-fashioned", The Alligator Wine throw you into a mix of psychedelic moog sounds, distorted organs and thick synth basses that fuse together in a fresh sounding danceable package.
The electronic soundscapes that the band explores throughout this EP are strictly created with analogue equipment that notably features an illuminated Leslie speaker as a centerpiece on stage and in the studio. This approach leads to an incredibly organic sounding record that combines classic instruments and modern songwriting that simply draws you into a world of lush synth basses.
Even more impressive? All of this is created by a two-man band that was only founded in 2016! If there is one right way to listen to this EP, it is on vinyl, which is why Century Media is releasing this three-track EP physically on vinyl only. Combined this with the analogue style recording of the album, this format makes for a truly unique listening experience for everyone who is looking for a record that really feels authentic and alive.

This album contains no booklet.