---
Gioachino Rossini (1792 - 1868):

1

Ermione: Sinfonia

07:46

La riconoscenza (Excerpts):

2

La riconoscenza (Excerpts): Cara sempre al nostro affetto

10:59

3

La riconoscenza (Excerpts): Al conforto inaspettato

05:04

4

La riconoscenza (Excerpts): È ardito il tuo pensiero

04:22

5

La riconoscenza (Excerpts): In giorno sì bello

05:10

6

La riconoscenza (Excerpts): Vedi il coro festivo

01:53

7

La riconoscenza (Excerpts): Gratitudine, cara ai Celesti

10:08

8

La riconoscenza (Excerpts): Sui nostri voti, o Nume

04:41

Gioachino Rossini:

9

Il vero omaggio: No. 7, De' gigli nel candor

03:46

10

Cantata a quattro voci: No. 5, Splenda vivissima d'Imen la face

00:54

11

Elisabetta, regina d'Inghilterra: Sinfonia

06:57

Total Runtime

01:01:40
Info for The Rossini Project, Vol. 2: From Naples to Europe

Gratitude (1821), a pastoral cantata of the Neapolitan period of Rossini, is here available in its world premiere recording. One year after the publication of the first volume dedicated to the Rossini's youth period (already nominated for the next ICMA), Markus Poschner and l'Orchestra della Svizzera Italiana enter the composer's Pesaro Neapolitan years, to rediscover rare and unpublished works . The score of the Gratitude, composed of seven large numbers, was appreciated for virtuosity (the air of Fileno represents one of the vertices of the difficult Rossinian tenor writing) and for the ability to harmonize exclusively instrumental, choral and solo moments. The Cantata was reworked for numerous other circumstances: the Cantata Il vero homage (1822) and the Cantata with four voices with choirs (1823) are offered two pieces in the first recording. The performers are Edgardo Rocha (in the role of Fileno) tenor, Michela Antenucci (Argene) soprano, Laura Polverelli (Melania) mezzosoprano and Mirco Palazzi (Elpino) bass. The choral parts are entrusted to the Swiss Radio and Television Choir. Opening and closing the album are the Symphonies by Ermione (1819) and by Elizabeth, Queen of England (1815).
Orchestra della Svizzera
Markus Poschner, conductor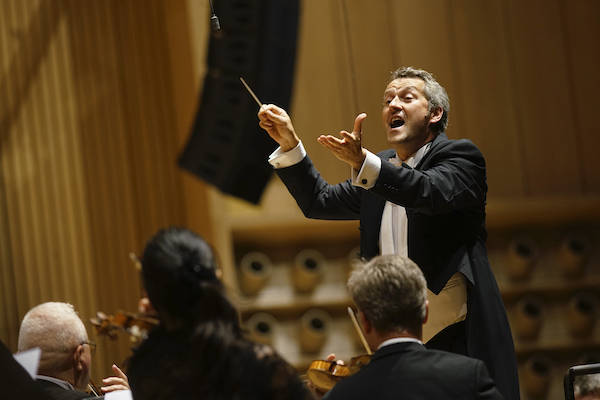 Markus Poschner
was born in 1971 in Munich, where he then studied; he was assistant to conductors such as Roger Norrington and Colin Davis. In 2000 he was appointed principal conductor of the Georgisches Kammerorchester Ingolstadt. Having been awarded the Deutscher Dirigentenpreis in 2004, he was appointed to the Komische Oper Berlin.
Since 2007 he has been Generalmusikdirektor at Bremen, where the University made him an honorary professor in the Faculty of Musicology in 2010. He has been guest conductor of many of the world's leading orchestras, including the Staatskapelle Dresden, the Munich Philharmonic, the Vienna Symphony Orchestra, the Bamberg Symphony Orchestra, the Berlin Radio Symphony Orchestra, the Stuttgart Radio Symphony Orchestra, the WDR Symphony Orchestra Cologne, the Danish National Symphony Orchestra, the Konzerthausorchester Berlin, and the NHK and Metropolitan Symphony Orchestras in Tokyo.
He was also guest conductor at the Berlin State Opera, the Opernhaus Zürich, the Frankfurt Opera, the Hamburg State Opera and the Cologne Opera.
From 2011 to 2014 he was principal guest conductor at the Dresden Philharmonic, where he directed a remarkable cycle of concerts dedicated to Beethoven.
Since 2002 he has been principal guest conductor of the Deutsches Kammerorchester Berlin. From 2017–18 he will take over from Dennis Russell Davies in Linz as director of opera at the Landestheater and principal conductor of the Bruckner Orchestra Linz. From 2015–16 he works with the Orchestra della Svizzera italiana as its principal conductor.

This album contains no booklet.