---
Album info
Album including Album cover Booklet (PDF)
I`m sorry!
Dear HIGHRESAUDIO Visitor,
due to territorial constraints and also different releases dates in each country you currently can`t purchase this album. We are updating our release dates twice a week. So, please feel free to check from time-to-time, if the album is available for your country.
We suggest, that you bookmark the album and use our Short List function.
Thank you for your understanding and patience.
Yours sincerely, HIGHRESAUDIO
1

While Love Died

04:37

2

Get What You Give

04:00

3

Storm in a Glass

03:48

4

Drifting Islands

03:46

5

Paragon

05:19

6

Let Me Out

04:18

7

Big Boy

04:28

8

Timebomb

04:37

9

Bridle Passion

02:54

10

I Need

04:43

11

Northwards

07:27

Total Runtime

49:57
Info for Northward

It was during the All Star Jam at Progpower USA Festival in 2007 that current Nightwish singer Floor Jansen and Pagan's Mind guitarist Jorn Viggo Lofstad spontaneously joined forces on stage for some cover songs and noticed the creative magic between them. Although the two musicians had never met before, they soon discovered their mutual love for stripped down hard rock and decided to write some songs together. In 2008, still barely knowing each other, they composed an entire album's worth of material in next to no time. But due to their tight schedules with their main bands, their new project, named Northward, never found its way into the spotlight - until this day! In 2017, the year of Nightwish's break, Floor took the opportunity to contact her old friend Jorn Viggo again, to see if he was still interested in resurrecting Northward and of course he was! "Jorn Viggo was positive about the project and we started to make the overall plans, meeting again in March of 2017 in Sweden to go through all the material together to see if we still felt happy with what we had created", remembers Floor Jansen.
Stepping free from all boundaries, Northward's sound is strong, euphoric and straight in the tradition of Skunk Anansie, Foo Fighters and Alter Bridge, but also older bands such as Deep Purple and Led Zeppelin, the music is coming straight to the point and makes no compromises. With the help of producer Jacob Hansen (Volbeat) who mixed the record, they forged a raw diamond composed of heavy riffs and Floor's incomparable voice, free from influences of the musicians' main bands. And although the songs had originally been written in 2008, they just felt as fresh and alive upon a second hearing, as they had on the very first day of their creation. "The music is melodic, but also in your face and kick ass rock. Cool riffs, good melodies & tasteful arrangements. We would simply like to call it good music", commented the singer and adds: "We wanted to explore a basic rock sound, with drums, bass, guitar and vocals. Not the heavy layers of keyboards, choirs etc.".
Alongside Floor Jansen and Jorn Viggo Lofstad, Morty Black (TNT) handled bass duties, while drums were handled by Jango Nilsen and Stian Kristoffersen (Pagan's Mind). You will also hear a guest appearance by Floor's sister Irene Jansen, singing a duet on the song "Drifting Islands". And finally, Ronny Tegner from Pagan's Mind played the piano on one song.
Floor Jansen, lead vocals
Jørn Viggo Lofstad, guitars
Guest musicians:
Morty Black, bass
Jango Nilsen, drums
Stian Kristoffersen, drums
Irene Jansen, co-lead vocals on "Drifting Islands"
Ronny Tegner, keyboards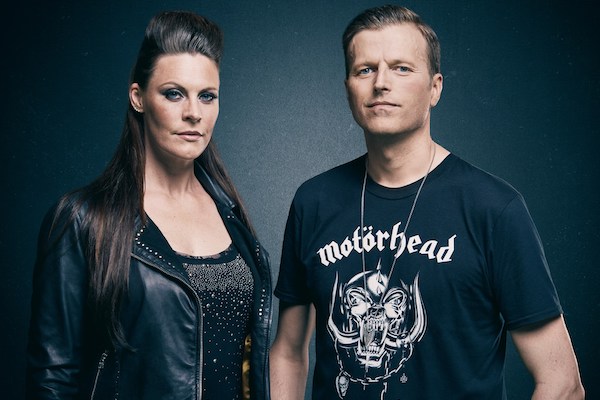 Northward
During the 'all star jam' at Progpower USA in Atlanta in 2007 the first musical magic was found on stage when After Forever singer Floor Jansen and Pagan's Mind guitarist Jørn Viggo Lofstad joined forces doing some cover songs. 2008: the two 'strangers' managed to write an entire album in no time. The style of music is not to be compared to the bands we know this duo from. It can be described as melodic rock/hard rock music based on drums, bass, guitars and vocals. Without opera, orchestra's or progressive elements; back to basic in a mixture inspired by such as Skunk Anansie/Led Zeppelin and Foo Fighters.
After 2008 the project was put on hold by Floor because of the end of After Forever. 'Northward' had to stay a side project and not her new band so her focus had to be placed into starting a new band. Much happened since and never was there time to record the music and to release it.
When Nightwish announced a break in 2017 Floor contacted Jørn Viggo with the question to start up the project again. The music is timeless and written so well they could pick up where they left off. Not often can a musician stay satisfied for almost 10 years without the need to change things. The confidence in the songs spiked up the enthusiasm directly and in this very year the songs are being recorded.

Booklet for Northward