---
Album info
Album including Album cover
I`m sorry!
Dear HIGHRESAUDIO Visitor,
due to territorial constraints and also different releases dates in each country you currently can`t purchase this album. We are updating our release dates twice a week. So, please feel free to check from time-to-time, if the album is available for your country.
We suggest, that you bookmark the album and use our Short List function.
Thank you for your understanding and patience.
Yours sincerely, HIGHRESAUDIO
1

Out Of My Life

03:17

2

No Halos In Hell

04:07

3

Battle From Within

04:17

4

I Am The One

03:50

5

Bye Bye Forever

03:50

6

Dreams Gone Wrong

03:35

7

Lost In Time

04:38

8

Kings Tonight

03:13

9

I Had Your Back

03:58

10

Blood Brothers

04:03

11

Hit Me

03:47

12

Man Of Eternal Rain

04:36

13

Kings And Queens

03:57

14

Lies

04:09

15

Lost In Time (Full Band)

04:33

16

Dreams Gone Wrong (Acoustic)

04:22

17

Kings Tonight (Acoustic)

03:51

18

I Am The One (Acoustic)

04:33

Total Runtime

01:12:36
Info for No Halos in Hell

Modern melodic metal highflyers Cyhra are happy to announce that they have signed a worldwide deal with Nuclear Blast records. After the release of their critically acclaimed debut "Letters To Myself" in 2017 (that brought the band a nomination as 'Best Debut Album' at last years' Metal Hammer Awards), the quartet toured extensively with SABATON, KREATOR and BATTLE BEAST and they are now ready to reach out for new shores. Just recently, the combo consisting of singer Jake E (ex-AMARANTHE), guitarists Jesper Strömblad (ex-IN FLAMES) and Euge Valovirta (ex-SHINING) as well as drummer Alex Landenburg (RHAPSODY, KAMELOT) have finished the recording, mixing and mastering of their sophomore full-length record "No Halos in Hell"
"My final thoughts on this album; Cyhra is a group deserving of your attention. They are highly talented and have the ability to translate that talent into writing and top notch performance. I think this is a band that music lovers should definitely seek out and 'No Halos In Hell' should already be in your shopping carts! Passing this album and this artist up would be a mistake. So go discover them today, if you have already!" (Diane Webb, yesterdazenews.com)
"Equally as strong as their debut, even as it moves into a slightly different direction, No Halos in Hell is simply a delight to listen to. It can be hyper-catchy and make you want to sing-a-long with it without resorting to being saccharine, instead delivering a message that many will quickly identify with on an emotional level. You can't get much better than CyHra if you enjoy modern metal." (Kyle McGinn, deadrhetoric.com)
Cyhra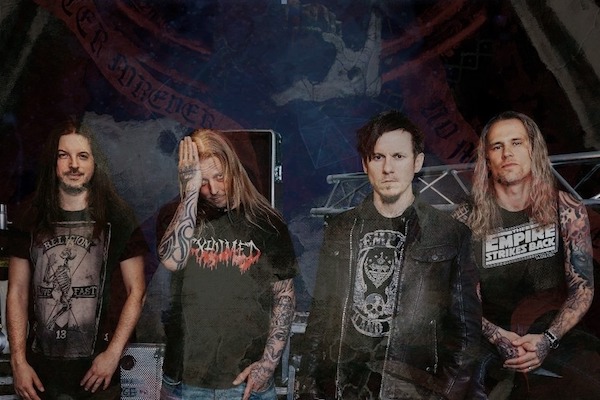 Cyhra
Boosted by the success of their 2017 debut, Letters To Myself, Swedish bashers Cyhra are using that momentum and pushing forward with a new album, No Halos In Hell, and Nuclear Blast fully behind them. Founded by vocalist Jake E (ex-Amaranthe) and guitarist Jesper Strömblad (ex-In Flames), Cyhra has gone from being reminiscent of the duo's former bands to having an identity all its own. In fact, No Halos In Hell is one of those rare albums that defies being placed neatly in a boxed-up metal genre coming out heavy and dynamic, yet loaded with melodic vocal hooks that stay nailed to the brain for days while keeping the impact hard and heavy. Fusing these two elements in the best way possible was Cyhra's main focus this time out.
"When I was writing, I sat down and thought about what worked and what didn't work on the first album. What I was focusing on the most for No Halos In Hell was making the songs more live oriented, and I think that live 'friendliness' of the songs also brings the catchiness up to another level. I was constantly thinking about hook lines that should stick in your head." says Jake E.
As strong as Letters To Myself was as a debut, No Halos In Hell is head and shoulders above it in every way.
The addition of guitarist Euge Valovirta (ex-Shining) as a full member has raised the creative process to a level where, according to Jake E, "Everyone is playing to the point of what is best for the song." There is no showboating, no push-pull of the individual members trying to claim their moments in the spotlight. Cyhra is a unit and everyone involved is striving to get the most out of the songwriting. This included Jake E, as the principal songwriter, being open to ideas from his bandmates and working with American songwriter / keyboardist Mark Mangold (Michael Bolton, Cher) on the ballad "Lost In Time".
No Halos In Hell also showcases Jake E's growth as a lyric writer, digging deep and going so far as to address his brother's suicide on "Battle From Within". He calls it a personal album but the lyrics are open to interpretation for the listener.
"I was trying to write the lyrics in a way that they mean something to me, clearly," says Jake E, "but I want the listener to hear the lyrics and know what those feelings are that I'm talking about."
For those that want to try and label Cyhra with a genre stamp, one listen through No Halos In Hell will instantly solidify the stance that Jake E and his bandmates think and play outside the box. This is reflected in the multi-faceted spread of tracks from lead-off track "Out Of My Life", the thundering "Kings Tonight", the soaring folk - flavoured "Blood Brothers", the tender "Lost In Time", and the schizophrenic "Hit Me". And this is just the tip of the iceberg.
As for the unique title of the album, it was Jesper Strömblad that came up with No Halos In Hell. In fact, it was proposed as the title for the first album before it was completed but Cyhra chose to wait for album #2. Trusting their instincts paid off in a big way.
"The great thing is that the title can be interpreted in many different ways," says Jake E. "I look at it as 'You've been good your whole life; you can't be here partying with us (laughs)."

This album contains no booklet.