---
Album info
Album including Album cover Booklet (PDF)
1

Endless Highway

04:49

2

Let The Music Flow

05:26

3

All Is One

07:29

4

We Stood As One

05:34

5

I Followed Her Into The West

04:29

6

One Last Smile

04:57

7

Plenty For The Few

04:36

8

The Sky

08:39

9

Like A Cloud (Canzone del Ripensamento)

03:26

10

The Best I Can

02:22

Total Runtime

51:47
Info for All is One
On previous albums Allan Taylor sang songs about the road, about all the different countries and all the hotel rooms… The new album goes deeper – into time and ultimately to the recognition: "All is one". A powerful philosophical statement delivered with virtuoso lightness.
Someone who is approaching 70 and calls his album "All Is One" obviously has something to say. Just recently Allan Taylor faced one of life's tests – a severe shoulder disfunction prevented him from playing guitar – not an easy situation for a musician. In the meantime that is thankfully all healed and forgotten. Not shying away from the strain and frustration involved, he worked his way back to his instrument, his fans and to the recording studio at Stockfisch Records. He could have presented this album as a big comeback, a resurrection, but that is simply not the style of this master of contemplative tones.
Insiders will recognise a stringent continuation of his 2009 album "Leaving At Dawn". Even then it was about leaving, about long journeys, the poetry of movement – subjects even more strongly represented on this album. Instead of driving on asphalt it's about moving through time, and the title song is the best example. He wrote the first lines back in 2004, which kept flickering back to him and could finally now be completed. The lyrics tell of old guitars and of velvet gloves which close doors - but the song is a long way from drowning in sentimental resignation. Those who can read between the lines will discover a clever mixture of dance and march: "One final dance unites us all".
It is Allan Taylor's very own rhythm, for he sees himself as part of the "Travelling Troubadours" tradition: dance, sing and travel onwards … with good news: a new tour starts, he is currently touring through Germany, Scotland and his English homeland.
Taylor plays his favourite Martin guitars with the same sensitivity for body, expression and autonomy which one finds in his vocal performance – always moving, and never merely vague. In the last song Allan Taylor summarizes: "I may not be the perfect man, I guess I'll do the best I can" – and ends the album with the bemused lightness of a simple D-major chord. Maybe a touch too modest for a master?
Allan Taylor, vocal, guitar
Ian Melrose, guitars, flute, tremolo guitar
Lutz Möller, piano, keyboard, Hammond B3
Barnaby Taylor, piano
Lea Morris, harmony vocals
Lucile Chaubard, violoncello
Grischka Zepf, electric bass
Hans-Jörg Maucksch, fretless bass
Sven von Samson, percussion
Beo Brockhausen, percussion, bowed psaltery, saxophone
Vlado Kreslin, vocal
Arranged and produced by Allan Taylor
Recorded by Günter Pauler
Recording assistance from Inés Breuer
Mastering by Hans-Jörg Maucksch
DSD: The here offered DSD is a DSD PCM-to-DSD conversion. Not native DSD! Future Stockfisch productions are produced in PCM 88,2 kHz / 24bit. The Stockfisch DMM-CD/SACD always has a native DSD layer. With a high quality DSD D/A converter, the sound quality should be better than the FLAC 44.1 kHz, 24 bit.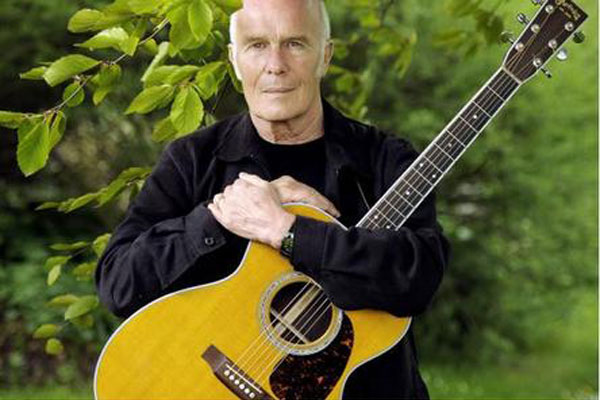 Allan Taylor
is one of the last of the traveling troubadours who came through the social and artistic revolution of the nineteen sixties and carved out a career as a solo singer-songwriter. Born in Brighton, England in 1945 he experienced the Beatnik times, the Skiffle days, the Mods and Rockers and the early Hippy days, all played out on Brighton Beach. At the age of twenty one he left home and became part of the vibrant folk music of London, playing all of the major folk clubs of the time (for example, the famous Troubadour Club) and then to Greenwich Village, New York, playing legendary clubs such as Gerde's, The Gaslight, The Bitter End, The Mercer Arts Center. He embraced the issues, images and emotions of his time and used these experiences as the basis of his songs. Signed to the international record company United Artists and recording in London, Nashville and Los Angeles his albums were released world-wide. By the mid-seventies he returned to Europe to live and then started on the second part of his career, having now established his modus operandi – collecting the stories for his songs in the bars and cafes of Europe and throughout the rest of the world.
For more than forty-five years Allan Taylor has travelled the world performing at festivals, concert halls and clubs. He is considered to be one of the foremost singer-songwriters and guitarists in his genre, with more than one hundred recorded versions of his songs by Artists in ten different languages. One song in particular, "It's good to see you" was a hit in many countries, and to date, there are eighty cover versions of this song. Looking back as well as forward, few people can convey with such eloquence their life experiences. His songs are written from a lifetime of traveling; always the observer passing through, each song is a vignette of life, like a story told over a drink in a bar. He writes his songs in cafes, bars and hotel rooms throughout the world, songs for the lost and lonely, for the unsung heroes of life, for those marginalized by society – they all find a place in his songs. Each song has an integrity that tells you it comes from something real; characters come to life as people you know and places become as familiar as if you had been there.
Allan is considered to be one of the music scene's great guitarists, creating during his stage performance a distinctive rich and mellow sound, and with a voice that speaks of a life-time of travel he can make each song a vignette of life, like a story told over a drink in a bar. His songs have an integrity that tell you they come from something real, where characters come to life as people you know and places become as familiar as if you had been there. When this happens, you know it's an Allan Taylor concert.
Allan Taylor is also a Master of Arts and a Doctor of Philosophy and Music, having written his thesis for the Queen's University of Belfast.

Booklet for All is One