---
Album Info
Album Veröffentlichung:
2014
HRA-Veröffentlichung:
20.09.2019
Das Album enthält Albumcover Booklet (PDF)
1

Endless Highway

04:49

2

Let The Music Flow

05:26

3

All Is One

07:29

4

We Stood As One

05:34

5

I Followed Her Into The West

04:29

6

One Last Smile

04:57

7

Plenty For The Few

04:36

8

The Sky

08:39

9

Like A Cloud (Canzone del Ripensamento)

03:26

10

The Best I Can

02:22

Total Runtime

51:47
Info zu All is One
In den vergangenen Alben besang Allan Taylor Reisen über den Asphalt, über Länder und Hotelzimmer. Mit dem neuen Album geht es tiefer. In die Zeit und in die Weisheit: "All Is One". Ein Machtwort. Mit leichter Geste.
Wer so langsam auf die 70 zugeht und sein Album "All Is One" nennt – hat etwas zu sagen. Allan Taylor wurde erst kürzlich von den kleinen Prüfungen des Lebens gestreift. Ausgerechnet die Schulter versagte beim Gitarrenspiel den Dienst – mittlerweile alles vergessen und überstanden. Doch wenn er partout wollte, könnte Allan Taylor sein neues Album als große Auferstehung inszenieren. Was dem Meister der nachdenklichen Töne aber fern liegt. Egal wie mühsam der Weg zurück zu seinem Instrument war, zu seinen Fans und in das Tonstudio von Stockfisch Records.
Die Insider hören zuerst die stringente Fortsetzung seines Albums "Leaving At Dawn" von 2009. Auch damals ging es um Aufbruch, weite Wege, die Poesie der Bewegung. Die noch stärker das neue Album "All Is One" prägt. Statt über den Asphalt geht es durch die Zeit. Der Titelsong selbst ist das beste Beispiel. Taylor schrieb die ersten Zeilen bereits 2004, sie flackerten durch die Jahre immer wieder auf und erscheinen nun vollendet. Von alten Gitarren ist die Rede – und samtenen Handschuhen, die Türen schließen. Trotzdem ist der Song maximal weit entfernt von beschaulicher Resignation. Wer in die Schichten zu hören vermag, erkennt einen cleveren Mix aus Tanz und Marsch: "One final dance unites us all".
Es ist der Rhythmus von Allan Taylor selbst – der sich in der Tradition der "Travelling Troubadours" sieht: tanzen und weiterziehen. Mit guten Botschaften: Eine neue Tournee ruft, dieser Tage geht es durch Deutschland, Schottland und die Heimat England.
Allan Taylor hat sich nie der Show verschrieben. In diesem Sinn ist "All Is One" auch die tiefste Versammlung seiner Kunst – und seiner Lieblinge. Taylor spielt die Favoriten unter seinen Martin-Gitarren. Mit genau der gleichen Sensibilität für Korpus, Ausdruck und Souveränität, die auch seine Stimme trägt. Immer berührend, nie vage. Im letzten Song fasst es Allan Taylor zusammen: "I may not be the perfect man, I guess I'll do the best I can" – und beendet das Album mit einem lächelnd-leichten D-Dur-Akkord. Fast schon wieder zu bescheiden für einen Meister.
"Der promovierte ,,travelling troubadour' aus Brighton zupft entspannt die Saiten seiner Lieblingsgitarren vom Instrumentenbauer Martin ...' (Stereo)
"Mit offenen Saitensounds und einem hörbaren Faible für die Folk-Tunes von Davey Graham und John Renboum erreicht der Troubador aus Brighton einen erstaunlichen Tonumfang auf seinen Martin-Gitarren (...). Dass dies schlicht famos klingt, dafür sorgte diesseits des Studioglases die Stockfisch-Crew um Günter Pauler, die dem Instrumentarium eine fast greifbare Stofflichkeit einhauchte.' (Audio)
Allan Taylor, vocal, guitar
Ian Melrose, guitars, flute, tremolo guitar
Lutz Möller, piano, keyboard, Hammond B3
Barnaby Taylor, piano
Lea Morris, harmony vocals
Lucile Chaubard, violoncello
Grischka Zepf, electric bass
Hans-Jörg Maucksch, fretless bass
Sven von Samson, percussion
Beo Brockhausen, percussion, bowed psaltery, saxophone
Vlado Kreslin, vocal
Arranged and produced by Allan Taylor
Recorded by Günter Pauler
Recording assistance from Inés Breuer
Mastering by Hans-Jörg Maucksch
DSD: Das hier angebotene DSD ist eine PCM-zu-DSD Konvertierung. Kein natives DSD! Zukünftige Stockfisch Produktionen werden mit 88,2 kHz / 24bit produziert. Die Stockfisch DMM-CD/SACD hat immer einen nativen DSD layer. Mit einem hochwertigen DSD D/A-Wandler dürfte die Klangqualität besser sein als das FLAC 44.1 kHz, 24 Bit.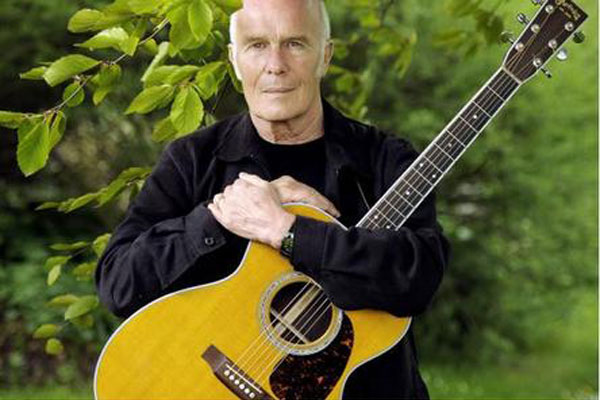 Allan Taylor
is one of the last of the traveling troubadours who came through the social and artistic revolution of the nineteen sixties and carved out a career as a solo singer-songwriter. Born in Brighton, England in 1945 he experienced the Beatnik times, the Skiffle days, the Mods and Rockers and the early Hippy days, all played out on Brighton Beach. At the age of twenty one he left home and became part of the vibrant folk music of London, playing all of the major folk clubs of the time (for example, the famous Troubadour Club) and then to Greenwich Village, New York, playing legendary clubs such as Gerde's, The Gaslight, The Bitter End, The Mercer Arts Center. He embraced the issues, images and emotions of his time and used these experiences as the basis of his songs. Signed to the international record company United Artists and recording in London, Nashville and Los Angeles his albums were released world-wide. By the mid-seventies he returned to Europe to live and then started on the second part of his career, having now established his modus operandi – collecting the stories for his songs in the bars and cafes of Europe and throughout the rest of the world.
For more than forty-five years Allan Taylor has travelled the world performing at festivals, concert halls and clubs. He is considered to be one of the foremost singer-songwriters and guitarists in his genre, with more than one hundred recorded versions of his songs by Artists in ten different languages. One song in particular, "It's good to see you" was a hit in many countries, and to date, there are eighty cover versions of this song. Looking back as well as forward, few people can convey with such eloquence their life experiences. His songs are written from a lifetime of traveling; always the observer passing through, each song is a vignette of life, like a story told over a drink in a bar. He writes his songs in cafes, bars and hotel rooms throughout the world, songs for the lost and lonely, for the unsung heroes of life, for those marginalized by society – they all find a place in his songs. Each song has an integrity that tells you it comes from something real; characters come to life as people you know and places become as familiar as if you had been there.
Allan is considered to be one of the music scene's great guitarists, creating during his stage performance a distinctive rich and mellow sound, and with a voice that speaks of a life-time of travel he can make each song a vignette of life, like a story told over a drink in a bar. His songs have an integrity that tell you they come from something real, where characters come to life as people you know and places become as familiar as if you had been there. When this happens, you know it's an Allan Taylor concert.
Allan Taylor is also a Master of Arts and a Doctor of Philosophy and Music, having written his thesis for the Queen's University of Belfast.


Booklet für All is One