---
Album info
Album including Album cover
1

Pathos Piece

07:39

2

Advertency

05:15

3

Divine Traces

06:00

4

Cadenza

02:09

5

No Change please

08:41

6

Gift

08:09

7

Bondi Boy

04:05

Total Runtime

41:58
Info for Divine Traces

German-Australian pianist Max Petersen takes his listeners on a transformative journey through an audacious amalgam of classical and jazz influences. His new trio explores the tension between a traditionally Western approach to performance and composition, and African American improvisational techniques and rhythmic sensibilities. This mercurial blend of influences guarantees that every single concert is unique – as the tempestuous harmonic shifts, elegant melodies, the organic ebb and flow of groove unfold in unison you can expect a truly transcendental experience.
The signature sound of this trio comes from the sonic union of three highly seasoned, telepathically-synched and courageous musicians. Max's compositions clearly serve as the point of departure for an aural journey based on personal interpretations and free playing. Genre delineations remain liquid throughout – in a blink of an eye the group might shift from contemporary jazz to retro swing, and then over to the 20th century classical avant-garde or nuances that seem to be rooted in a singular German romanticism.
These volatile, yet decisive stylistic turns are made possible thanks to the broad musical horizons and expert-level musical knowledge of each individual player. Max Petersen – currently based in Zurich – has been polishing his technique in New York, studying under the likes of Fred Hersch and Vijay Iyer. Dominique Girod is one of Switzerland's most in-demand bassists and side-men, and also a composer in his own right. His highly acclaimed operas premiered in 2013 ("L'Homme Qui Rit") and 2018 ("Orpheus"), respectively. Drummer Fabian Arends is a rising star on the jazz and improv scene in Germany. He performed alongside Lee Konitz, Pablo Held and Nils Wogram. His latest album ("Levitate") was nominated for the prestigious "echo" award.
Max Petersen's debut album "Dream Dancing" (Unit Records, 2016) made quite a commotion in the German press. The iTunes website featured it on its starter page for an entire week! The Frankfurter Allgemeine Zeitung (FAZ) referred to the album as "one of a kind in the history of the jazz piano trio".
With this new band and new set of compositions Max Petersen is determined to add his legacy to the long, elaborate "history of the jazz piano trio." "I'm not playing African American music per say. I am not a classical musician. I try to understand the essence of the sources and to take my own stand. I want to do that in a respectful way. But for those expecting a clean copy of a style that was popular 70 years ago, my trio will definitely ruin their expectations. I think it takes courage to take a stand on this." (Max Petersen)
Max Petersen, piano
Dominique Girod, bass
Fabian Arends, drums
Recorded by Thierry Looser, Zurich January 2019
Mixed by Thierry Looser at tenement.audio GmbH
Mastered by Sina Steiner at tenement.audio GmbH
Produced by Max Petersen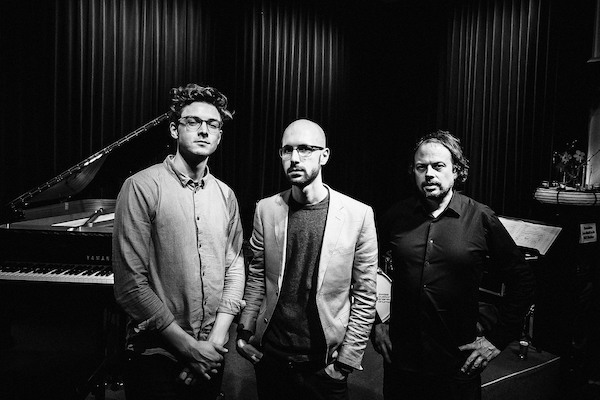 Max Petersen
Born in Sydney, Australia in 1994, Max began playing piano at the age of three, learning with the Suzuki method. When the Petersen family moved to Germany in 1998 he began taking regular piano lessons. At the age of 13 Max started playing in his first band with local musicians from Konstanz, Germany. This was when he began to practice more intensively and started composing original music for the group. At the age of 15, Max joined a special high school program in Kreuzlingen, Switzerland through which he started to take piano lessons at the conservatory in Zurich with Chris Wiesendanger. With only 17 years, Max was enrolled at the conservatory in Zurich, studying Jazz.
In summer 2013 his high school's classical orchestra performed Max' composition for orchestra entitled "Fantasie".
In 2013/2014 Max studied at Manhattan School of Music in New York at the age of 19, attending the studio of Vijay Iyer, Jim Mcneely, Phil Markowitz and Donny Mccaslin.
Max released three Albums as a Bandleader. The latest of which was released on the swiss label unit records in June 2016 and was highly praised by critics in Germany, Switzerland and Austria.
In 2015 Max founded his trio with bass player Lukas Traxel from Zurich and New York based drummer Jimmy Macbride which tours Switzerland and Germany regularly.
Back in Zurich since 2015 Max studied with classical concert pianist Hans-Jürg Strub.
Max was a semifinalist at the "International Montreux Jazz Competition 2017"
He has recorded and performed with a variety of musicians from New York and Europe including Eric Harland, Donny Mccaslin, Philippe Lemm, Nicole Johänntgen, Rudresh Manhanthappa and others.
He is currently based in Zurich.

This album contains no booklet.