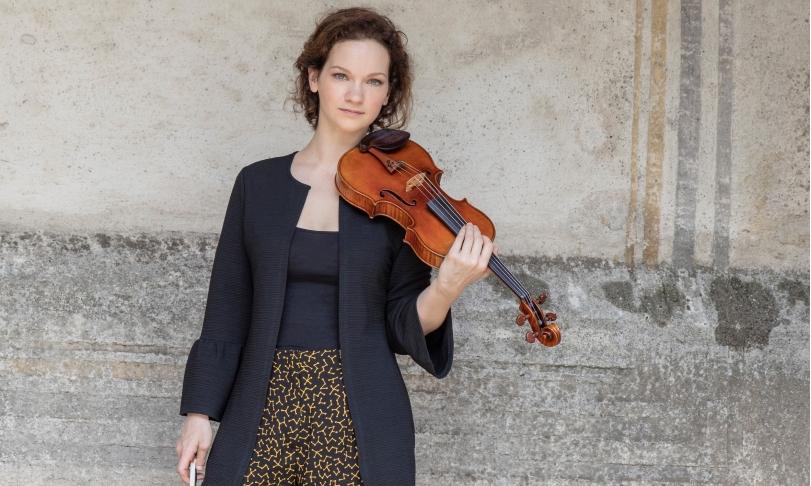 Paris is the first album by US violinist Hillary Hahn after a one-year sabbatical. Her classification as an "exceptional violinist" already corresponds to quite worn-out promotion hype, but with the difference that in comparison to many a young violinist treated as an exceptional violinist, her classification is justified despite promotion hype.
Hillary Hahn impressively demonstrates on the album Paris, supported by the Paris Radio Philharmonic under its chief conductor Mikko Franck, that her violin playing combines emotional precision and range, musical sensitivity and technical finesse, which is demonstrated by each of the three so different compositions on the album Paris, of which only the Poème for violin and orchestra is by a Parisian composer, Ernest Chausson. Chausson's compositions are characterized by a melancholy mood and a preference for broadly spun melodic arcs. Such is the case with his best-known composition, Poème for violin and orchestra, for which the orchestra under Mikko Franck provides a lyrically dreamy, ever-bright earthy sound, on which Hillary Hahn develops long, seamlessly joined melodies with mysteriously sparkling trills based on a sumptuous tone that structures seemingly effortlessly played double stops.
The album's central focus is Sergei Prokofiev's First Violin Concerto, written between the Russian February and October Revolutions that led to the founding of the Soviet Union. The concerto's lyricism is convincingly crafted by Hillary Hahn and the Paris Orchestra with appropriate elegance. In the opening movement, Hillary Hahn shines with sheer athleticism even in quiet passages, reaching a muscular climax in the Scherzo to give way to deep serenity in the final movement with perfect assistance from the orchestra.
The final work on the album Deux Sérénades is by Finnish composer Einojuhani Rautavaara, who dedicated the two serenades to Hillary Hahn, who premiered them in 2019. The violinist's many years of study of works by the Finnish composer, who died in 2016, has resulted in an interpretation of the Deux Sérénades that puts the work's great simplicity and beauty of sound in the very best light.
With the album Paris Hilary Hahn consolidates her position in the Olympus of the currently very best violinists. By the way, she demonstrates impressively that the self-chosen sabbatical has not harmed her artistry.
Paris is a consistently beautiful album on the very highest violinistic and overall musical level, which truly does not deserve the old-fashioned cover photo. Even in the 50s, which were considered stuffy, such a cover photo would not have had a chance to find access to the cover of a full-price LP of DGG, which at the time was considered a premium label. At that time, DGG afforded so much kitsch now and then at best on the Heliodor offshoot, on which mainly DGG original recordings received their second and third exploitation. If back, then please back into the future.
Hilary Hahn, violin
Orchestre Philharmonique de Radio France
Mikko Franck, conductor