---
Slash & Myles Kennedy And The Conspirators
---
Biography Slash & Myles Kennedy And The Conspirators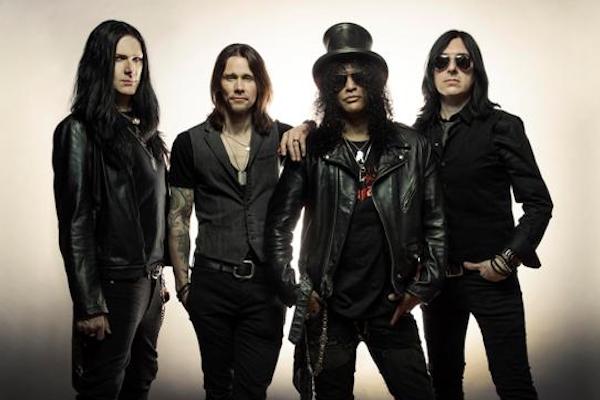 SLASH
was born in Hampstead (London), England on July 23, 1965, and he was raised in Stoke-On-Trent, Staffordshire, England. His given name is Saul Hudson. His mother was a Black American, and his father is a white Englishman. Both artistic parents worked in the entertainment field. His mother was a clothing designer for entertainers. She designed some of David Bowie's unforgettable costumes. His father provides art direction for record albums. Two notable clients are Neil Young and Joni Mitchell. On Friday, June 5, 2009, SLASH's mother Ola Hudson died of lung cancer in Los Angeles.
At age 11 SLASH moved to Los Angeles with his mother while his father remained based in England. Born in the UK, SLASH was an immigrant in the United States and was to remain one for many years. The family eventually lived together again in L.A. where SLASH had a rough transition to conservative Southern California. The long hair, jeans and t-shirts that he wore even then didn't exactly fit with the other kids. An outsider at school, he lived a bohemian life at home. Surrounded by artistic friends of his parents, SLASH grew accustomed to the moods and eccentricities of those in the music world. Frequent visitors at the Hudson household included Joni Mitchell, David Geffen, David Bowie, Ron Wood and Iggy Pop. SLASH has said that these surroundings prepared him for coping with the stress of the music industry, the conflict between artistry and business.
In the mid-1970's, his parents separated. SLASH moved in with his beloved grandmother until he could sort out the situation at home. About this time SLASH discovered BMX (bicycle motorcrossing), joined up with a group of kids, and rode with a passion. It's not surprising to hear that SLASH would ride without brakes! SLASH eventually became a professional BMX biker winning awards and money for his great riding.