---
Isabel Vinardell & Isabelle Laudenbach
---
Biography Isabel Vinardell & Isabelle Laudenbach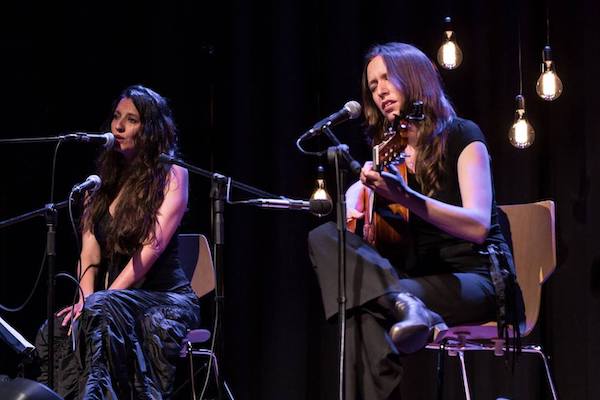 Isabelle Laudenbach
The musical world of this French guitarist is extensive. She is passionate about flamenco and settled in Barcelona in 2002 to train at the ESMUC-School of Music of Catalonia, being the first graduate in flamenco guitar. In addition to flamenco, her curiosity leads her to be interested in many styles, from Brazilian music, to pop, to South American folklore, French song or classical music. Her language, both in arrangements and composition, is naturally nourished by these influences, always open to new sounds and techniques.
She is a founding member of the group Las Migas (from 2003 to 2013) with which she has recorded two albums and given hundreds of concerts throughout Spain and abroad. Since 2017, she has been part of the project LaboratoriA (experimental flamenco) with Cristina López, Aina Núñez and Ana Brenes, with which she has presented the show "Una mujer fue la causa" (2018) and is currently on tour presenting the company's second stage proposal, "Y perdí mi centro" (2020). She is a regular accompanist of the Catalan singer María Rodés. He is used to move in interdisciplinary projects (theater, circus, dance, poetry, soundtracks, ...) In January 2019 he accompanies live the silent film "Carmen" (Jacques Feyder, 1926) and "Arabesque for Kenneth Anger" (Marie Menken, 1961) at the Filmoteca de Catalunya within the cycle "El ojo partido" organized by Pedro G. Romero in collaboration with El Dorado Sociedad Flamenca Barcelonesa and the Filmoteca. Composes and performs the BSO of "A comme Azur" (2020) by Chiara Malta.
Isabel Vinardell
This restless dancer and singer has been professionally dedicated to the world of music and dance since 2001, performing in Japan, Algeria, Jordan, Finland, France, Belgium, Holland, Italy, Germany... with different groups of the music scene.
Her desire to travel and see the world led her to get involved in the first musical project in which she worked: Cheb Balowski, with whom she recorded three albums and toured nationally and internationally. One of her musical projects, "Alkut", was selected by Rubén Blades in the Rubén Blades Show (SHDB). She has collaborated in albums of different artists: Calima, Morosito...As a dancer she has participated in the videoclips of Ojos de Brujo, DjVadim... and was selected by Cirque du Soleil in the 2012 audition. She has choreographed and participated in different shows: "Tácata" (2009) (co-directed together with Marcel Pie) was presented at the Flamenco Festival of Ciutat Vella in Barcelona (tapes). He also participated in the show "Volver2" (Morioka, Japan). He has choreographed several water shows (fountains) such as Les Fonts Bessones de Plaça Catalunya, (The Twin Fountains of Plaça Catalunya), Yeni Hayat (Azerbaijan), Socchi (Russia).