---
Ståle Kleiberg, Trondheim Symphony Orchestra, Peter Szilvay
---
Biography Ståle Kleiberg, Trondheim Symphony Orchestra, Peter Szilvay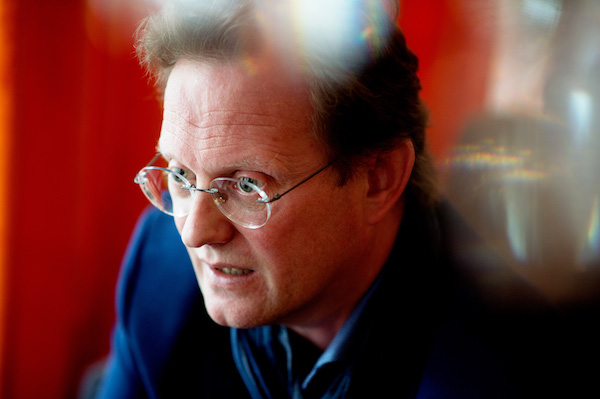 Ståle Kleiberg
(born 1958) is a Norwegian composer with a notable international reputation. His music is mostly commissioned by well- established orchestras, ensembles and soloists, and has been widely recorded. Ståle Kleiberg: Concertos is the tenth album to feature music by Kleiberg alone. Kleiberg's music is characterised by a highly distinctive form of extended tonality and by meticulous attention to colouristic details. This is especially the case in his orchestral works, including his first symphony, The Bell Reef, and his Violin Concerto No. 1, issued on the Grammy-nominated 2L album Treble and Bass: Concertos by Ståle Kleiberg.
Kleiberg's large-scale works in oratorio and opera format constitute an important part of his output. These works have all been widely disseminated after their premières. Mass for Modern Man is his latest work of this kind. The Norwegian and German premières took place in Nidaros Cathedral and Münchner Dom in 2015. The following year, Mass for Modern Man was recorded by 2L. The opera-oratorio David and Bathsheba was also premièred in Nidaros Cathedral. It has subsequently been performed in Stavanger Cathedral and in several cities in the Netherlands and Poland. 2L's recording of the work was nominated for a Grammy in the category Best Opera Recording.
Requiem – for the victims of Nazi persecution is one of Kleiberg's most frequently performed works. In the wake of its première in Nidaros Cathedral, the work was performed in Washington National Cathedral in 2004 on 11 September, a day with special significance. It was broadcast nationally in the US, recorded on CD with the Washington National Cathedral choir and chamber orchestra and has since been given many international performances. Kleiberg's Requiem is the principal work in a trilogy of compositions dealing with the same subject matter; the others are the orchestral work Lamento: Cissi Klein in memoriam and the cello concerto Dopo.
Kleiberg's formal command is not least apparent in his extensive chamber music oeuvre. A selection of six works was published in 2015 on another 2L album, Mezzotints – Chamber Music by Ståle Kleiberg, and this was followed by Do You Believe in Heather? – Chamber Music by Ståle Kleiberg in 2019. Ståle Kleiberg is Professor of Music at the Norwegian University of Scienceand Technology (NTNU) in Trondheim.
In her capacity as a founder member of the Leopold String Trio (1991-2006) and leader of the Nash Ensemble of London (2000-2015), Marianne Thorsen (born 1972) has per- formed widely throughout Europe, the USA and Australia. She returned to her hometown Trondheim in 2008 as Professor of violin and chamber music at the Department of Music at the Norwegian University of Science and Technology (NTNU). As a soloist, Thorsen has played with the BBC Symphony Orchestra, the Philharmonia, the City of Birmingham Symphony, Orchestre de la Suisse Romande, and several orchestras in Norway and else- where in Scandinavia. She has also featured as a soloist on numerous recordings, including the 2L albums Mozart Violin Concertos with the Trondheim Soloists, Treble & Bass: Concertos by Ståle Kleiberg with the Trondheim Symphony Orchestra and Mezzotints: Chamber Music by Ståle Kleiberg. Chamber music remains close to Thorsen's heart. She was artistic director of the Winter Festival in Røros from 2009 to 2013 and she participates frequently at Norwegian chamber music festivals as well as festivals abroad, including the Edinburgh, Bath and Cheltenham International festivals and at the BBC Proms. Thorsen plays a violin by G. B. Guadagnini from 1745, kindly on loan from the Dextra Musica Foundation.
Fredrik Sjölin
(born 1982) has, since 2009, been cellist in the Danish String Quartet, "one of the best quartets before the public today", to quote the Washington Post after the quartet's performance in the Lincoln Center in 2014. As a soloist, Fredrik Sjölin has played with the Stavanger Symphony Orchestra, The Bergen Philharmonic and the Trondheim Symphony Orchestra. Sjölin grew up in Trondheim in a house filled with music. He received his first professional tuition at the Trondheim Municipal Music School, and later studied with Torleif Thedéen at the Royal College of Music, Stockholm/ Edsberg. He completed his diploma studies in 2007 and was then selected to take part in a two-year programme for promising young musicians run by Concerts Norway. Fredrik Sjölin plays on a F. Ruggieri (1688) cello, loaned through the Anders Sveaas Charitable Foundation.
Eivind Ringstad
(born 1994) made his breakthrough as a viola player by winning first prize in the 2012 European Broadcasting Union (EBU) competition for young musicians. One year later, he made his debut as a soloist with the Oslo Philharmonic Orchestra. Ringstad grew up in Oslo and started playing the violin aged five. He changed to viola as his first instrument nine years later and completed his degree at the Barratt Due Institute of Music in 2017, studying under professor Soon-Mi Chung Barratt-Due. In 2013, Ringstad won the Arve Tellefsen Music Prize, and was awarded Statoil's Talent Scholarship the following year. He was selected as a BBC New Generation Artist, which led to several engagements in the United Kingdom, including a recital at the Wigmore Hall. Ringstad received the Borletti-Buitoni Trust Fellowship Award and has been part of the Nordic mentor programme "Crescendo". Ringstad's first recording as soloist was with the Oslo Philharmonic Orchestra, in William Walton's Viola Concerto. His second album, Correspondances, where he plays alongside pianist David Meier, was released in 2020. As chamber musician, Ringstad has played with performers such as Janine Jansen, Guro Kleven Hagen, Steven Isserlis, Beatrice Rana and Leif Ove Andsnes. Ringstad plays the "ex-Vieuxtemps" viola made by G. B. Guadagnini in 1768, loaned from Dextra Musica.
In the wake of his diploma concert at the Norwegian Academy of Music, Peter Szilvay (born 1971) was invited by Mariss Jansons to be his assistant with the Oslo Philhar- monic. This was followed by a similar position with the Stavanger Symphony Orchestra. Szilvay works regularly with all the symphony orchestras in Norway, and has conducted several orchestras elsewhere, including the St Petersburg Philharmonic, the symphony orchestras in Gothenburg, Umeå and Malmø, the Radio Orchestra in Paris, and the Royal Danish Orchestra. He has also worked extensively in opera, having conducted productions at the Norwegian Opera and Ballet, North Norwegian Opera, Opera South, and the Mainfranken Theater Würzburg. Peter Szilvay has made recordings with the Oslo Philharmonic, the Norwegian Radio Orchestra and the symphony orchestras of Stavanger and Kristiansand. He won the Norwegian "Conductor of the Year" competition in 1999 and was awarded the Norwegian Society of Composers' "Performer of the Year" prize in 2010 for his contribution to Norwegian music.
The Trondheim Symphony Orchestra and Opera (TSO)
makes a dynamic contribution to the cultural life of central Norway. The orchestra's goal is to offer a broad spectrum of music at a high artistic level, and thus foster interest among the public at large wherever it plays. In addition to playing what might be called orthodox symphony concerts, TSO is active in a large range of musical activities, including opera, musical theatre, concerts and projects for younger people, contemporary music, teaching activities, early music, chamber music and popular concerts with popular artists. The Trondheim Symphony Orchestra plays at many venues, mostly in and around Trondheim, but also further afield in Norway and on foreign tours. The Trondheim Symphony Orchestra and Opera consists of 86 full-time musicians. In partnership with the Trondheim Soloists, TSO can muster a regular orchestra of 90 musicians. The Trondheim Vocal Ensemble is part of the TSO organization.