---
Michele Rabbia, Gianluca Petrella, Eivind Aarset
---
Biography Michele Rabbia, Gianluca Petrella, Eivind Aarset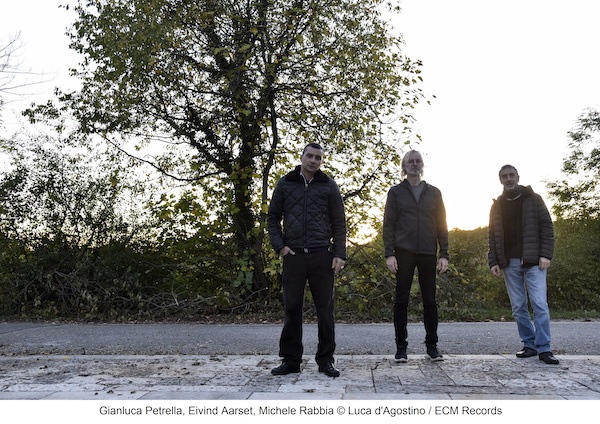 Gianluca Petrella
Born in Bari in the South of Italy in 1975, Gianluca Petrella took up the trombone at the age of 10, following in the footsteps of his father, also a trombonist. The younger Petrella immersed himself in the history of jazz, exploring its mutating styles while also keeping an ear open to the sounds of the city. Recognized now as one of the important figures in the new Italian jazz, he is also interested in contemporary composition, R & B and the roots of hip hop, film music and more. He has performed with Ricardo Villalobos and Max Loderbauer, leads several bands of his own, and has created soundtracks for movies. A co-leader on the ECM album Ida Lupino (recorded 2015), with Giovanni Guidi, Louis Sclavis and Gerald Cleaver, Petrella can also be heard on four records for the label with Enrico Rava - Easy Living (2003), The Words and the Days (2005), Tribe (2019), and Wild Dance (2015) - and as a member of the Orchestre National de Jazz under the direction of Paolo Damiani on Charmediterranéan (2001).
Michele Rabbia
was born in Turin in 1965, and studied drums firstly with Enrico Lucchini in Italy and subsequently in the US with Joe Hunt and Alan Dawson. He has worked with a huge cast of musicians, with collaborators including Marilyn Crispell, Vincent Courtois, Roscoe Mitchell, Andy Sheppard and Dominique Pifarély. Rabbia has previously appeared on ECM recordings with Stefano Battaglia including Raccolto (recorded 2003), Re: Pasolini (2005), and Pastorale (2009). With Maria Pia De Vito, François Couturier and Anja Lechner, he is a founder member of the group Il Pergolese, whose eponymous debut album (2012) draws freely upon compositions of Giovanni Battista Pergolesi.
Eivind Aarset
born in Kolbotn, Norway in 1961, started playing guitar at the age of 12, inspired initially by Jimi Hendrix. Other early influences included fellow Norwegian Terje Rypdal and Pete Cosey with Miles Davis's Agharta group. Aarset has helped to shape a new role for the electric guitar in creative music, working in an almost painterly way with texture and colour and atmosphere. Eivind's ECM album Dream Logic was recorded in 2011 and 2012. It was followed by Atmosphères (2014) with an improvising quartet with Tigran Hamasyan, Arve Henriksen and Jan Bang. Other ECM recordings with Eivind include Nils Petter Molvӕr's influential Khmer (1996-97) and Solid Ether (1999) , Small Labyrinths (1994) with Marilyn Mazur's Future Song, Arild Andersen's Electra (2002-03), Arve Heriksen's Cartography (2005-06), John Hassell's Last Night The Moon Came Dropping Its Clothes In The Street (2008), Ketil Bjørnstad's La Notte (2010), Food's Mercurial Balm (2010-11), Michel Benita's River Silver (2015), and three albums with Andy Sheppard: Movements In Colour (2008), Surrounded by Sea (2014) and Romaria (2017).