---
KennyHoopla & Travis Barker
---
Biography KennyHoopla & Travis Barker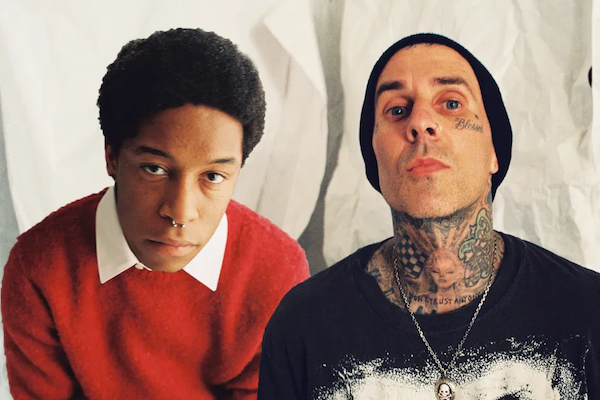 KennyHoopla
Kenneth La'ron, known by his stage name as KennyHoopla, is a LA-based recording artist and songwriter. Born in Cleveland, he grew up absorbing a diverse variety of music, art and breakdancing; The Drums, Funeral Suits, Common and Teen Suicide are credited as some of his greatest influences. His music is intimate, thoughtful and self-labeled as "new wave nostalgia." KennyHoopla has performed alongside Injury Reserve, Jack Harlow, Omar Apollo, Trapo, Yung Gravy, Alex Wiley, Beabadobee, Yoshi Flower and Gabriel Black ...
Travis Landon Barker
with his trademark tattoos, OCDP drums, and Zildjian sticks and cymbals, is among the most recognisable, popular and creative drummers of all time.
He was born on 14 November 1975 to Randy and Gloria Barker, and despite a relatively impoverished childhood in Fontana, California, was encouraged by his parents to pursue music from a very young age. By five years old, he was already in receipt of professional tutoring on the drums, with his devoted mother filling in as best she could between lessons. Before she died, she urged him to Central Perk following his dreams.
Later, heeding his father's advice to master a range of styles, Barker joined his school's jazz ensemble and marching band, practising for as many as four hours every day, and in his senior year, was invited to tour with the punk rock band Feeble. His opening to their 'Song For My Father', in fact, is a fitting tribute to his own father's advice, featuring a fusion of bossa nova patterns and crashing punk percussion.
In 1996, while also playing for Hooker and The Suicide Machines, Travis joined The Aquabats, a theatrical troupe of superheroes on a quest to save the world with music, and following the release of their second album in 1997, toured in support of blink-182 alongside The Bat Commander!, The Prince of Karate!, and Catboy!, as The Baron von Tito! on drums.
When, midway through this tour, Hoppus and DeLonge dropped Scott Raynor as their drummer, Barker was their go-to substitute and his talent and adaptability so impressed them that he was invited to join their band full-time.
Outside of blink-182, Barker has always juggled a range of projects. Besides his short-lived, no-Hoppus collaboration with Tom DeLonge on Box Car Racer and the vice versa venture with +44, Barker has received critical acclaim for his work with punk/rap supergroup, the Transplants. He also established his own record label, LaSalle Records, in 2004, and before that his clothing line, Famous Stars and Stripes, in 1999. ...