---
Trijntje Oosterhuis, Residentie Orkest Den Haag
---
Biography Trijntje Oosterhuis, Residentie Orkest Den Haag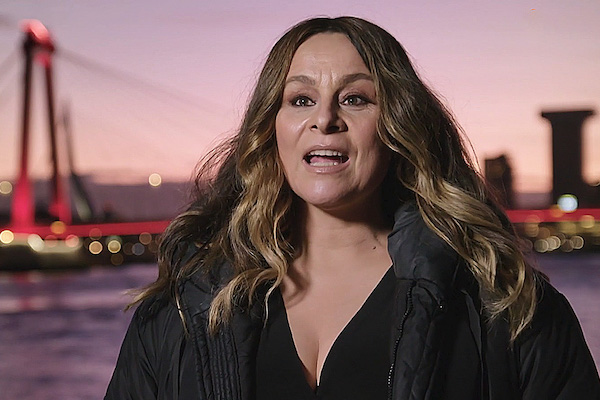 Trijntje Oosterhuis
Amsterdam, 1994. On the club circuit, a then-unknown band is playing. A brother and sister, and a handful of befriended musicians. The music they make: catchy pop songs. So that was us, says Trijntje about the early days of Total Touch, which is also the start of her career.
Trijntje grew up in a musical family. Her mother is a violinist, her father a pastor and poet. Even as a little girl, she stood between the sliding doors at her grandmother's house, singing and writing a song to the tune of The Sound of Music for her father's birthday. Singing is therefore second nature to her. There has never been any other plan either, ever since she was very small she has known no better than that she wants to be a singer. Together with her brother Tjeerd, she founded Total Touch in the early 1990s. In 1994 she toured the world with Candy Dulfer, and two years later her band's first single, Touch Me There, was picked up by radio. Her real breakthrough comes after Trijntje opens the Amsterdam ArenA with the anthem De Zee, surprising all of the Netherlands with her vocal prowess. Not much later, Total Touch's second single, Somebody Else's Lover, becomes a big hit. The first album becomes one of the most successful debut albums in Dutch pop history.
In the years that follow, Trijntje emerges as one of the most versatile artists in the Netherlands. She just as easily sings a pop song with Total Touch as a Dutch duet with Marco Borsato, soul songs by Stevie Wonder, but also jazz standards. From 2001, she continued as a solo artist and worked with Toots Thielemans, Herbie Hancock, Al Jarreau, Lionel Richie, John Ewbank, Carel Kraayenhof, Janine Jansen, Candy Dulfer, Anouk and was one of the Ladies of Soul for many years. Together with the Metropole Orchestra, she recorded two albums with the repertoire of master composer Burt Bacharach, who even provided new song material for this, and performed with him, including again at the North Sea Jazz Festival in 2019.
2019 was the year when Trijntje fully celebrated her 25-year career. Besides a sold-out anniversary concert at Ziggo Dome, she released her new Dutch-language album 'Dit is voor mij', produced by Jett Rebel. On this album, she collaborated with a combination of old hands in the business and young, new talent.
She also returned to the club circuit with her band for a tour in autumn 2019, to close the year with the 4th edition of her A Christmas Evening with Trijntje church tour.
Despite the Corona pandemic rocking the world in 2020, Trijntje stays busy with music. She and her husband Alvin Lewis launch Lovestream, a musical heartbeat from their living room. She also gets to sit on the jury of Talpa's new talent programme 'We Want More'.
Trijntje will celebrate the fifth anniversary of her 'A Christmas Evening with Trijntje' in a special way in December, together with Jazz Orchestra of the Concertgebouw, she recorded a big band Christmas album "Wonderful Christmastime" in the summer of 2020. This album has long been on her bucket list and is inspired by classics by Frank Sinatra, Ella Fitzgerald, Donny Hathaway and Paul McCartney, among others.
The Jazz Orchestra of the Concertgebouw and Trijntje had worked together before, but in the middle of the warm of summer together (remotely) in a studio full of Christmas lights was a new experience for everyone. One with a swinging outcome... Wonderful Christmastime, release 27 November 2020.
The third album, featuring songs by master composer Burt Bacharach accompanied by the fantastic Metropole Orchestra, will be released in November 2021. In the summer of 2019, Trijntje and Burt are on stage together at the North Sea Jazz Festival and after the show, the idea of working together again emerges in the dressing room. The third album consists of a number of evergreens and some previously unreleased pieces. The album is produced for Vince Mendoza and includes a duet with one of Trijntje's heroes, none other than Gregory Porter.