---
Uwe Grodd, Czech Chamber Philharmonic Orchestra Pardubice & Michael Halász
---
Biography Uwe Grodd, Czech Chamber Philharmonic Orchestra Pardubice & Michael Halász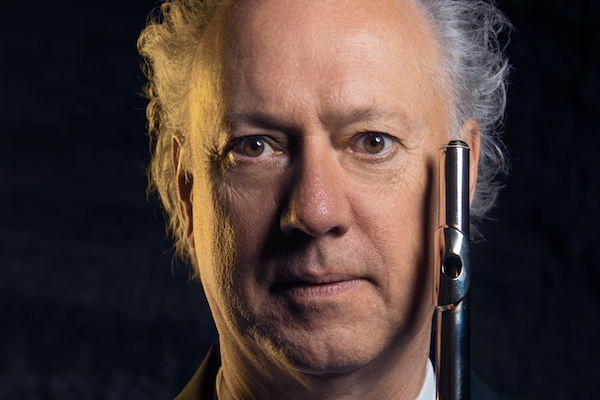 Uwe Grodd
New Zealand based German conductor and flautist, has performed and recorded internationally for over 25 years.
For Uwe Grodd, conducting, a solo career, chamber music, teaching and music editing are complementary disciplines. Every aspect of music-making, each musical engagement, every activity makes a vital contribution to the development of the whole musician; and to the fascinating complexity of musical interpretation, that magical process of discovery that is a distillation of rigor and imaginative intuition. Uwe goes on to say: "And during the 18th century one would also have composed, and even made one's own instruments! "
Uwe Grodd first gained worldwide recognition when he won First Prize at the Cannes Classical Awards 2000, for the 'Best 18th Century Orchestral Recording' with his CD of Symphonies by Johann Baptist Vanhal conducting the Nicolaus Esterhazy Sinfonia in Hungary. This was followed by a recording of Ignaz Pleyel's Symphonies with the Capella Istropolitana from Slovakia. In 2002, this CD was one of three finalists in the 'Best 18th & 19th Century Orchestral Recording' category at Cannes. It also reached the 'Critics' Choice' TOP 60 Discs of the recording year in the BBC Music Magazine.
Uwe Grodd's world premier recording of the Missa Solemnis, by Johann Nepomuk Hummel, with the New Zealand Symphony Orchestra and Tower Voices NZ, was voted 'Editor's Choice' by British Gramophone Magazine in May 2004. This distinction was awarded again in March 2008 with the 'Editor's Choice' by Gramophone for the recording he conducted of music by Hummel for piano and orchestra with the Gävle Symphony Orchestra, Sweden.
2006-08 was a very creative and exciting season for Uwe. In less than two years and across four countries, he produced seven different recordings for Naxos Records: four CDs as a conductor and three as a flautist, performing his own editions of music by Schubert and Vanhal.
This period also marks the halfway point on the journey towards the complete recordings of the works for piano and orchestra by Beethoven's longstanding friend and student, Ferdinand Ries. Uwe conducted Volume Three with the Royal Liverpool Philharmonic Orchestra and Volume Four with the Bournemouth Symphony including a remarkable set of variations to 'Rule Britannia' for piano and orchestra.
Following the success of Ries' Volume One, the second in this series of world premier recordings was made in Sweden with the Gävle Symphony Orchestra and the same team:
Grodd – Hinterhuber, which includes 'Swedish National Airs and Variations'.
" …Hinterhuber and Grodd are the ideal team for Ries' (1784-1838) music. …What an exciting start to this series!" Piano News 2/ 06.
Uwe Grodd has made other interesting discoveries: previously unheard music by the 'Swedish Mozart', Joseph Martin Kraus. Uwe Grodd and Takako Nishizaki, with the New Zealand Symphony Orchestra, recorded his violin concerto as well as the Orchestral Ballet to 'Azire' and the Incidental Music for 'Olympie'.
Performance highlights in recent years include the final concerts of the 53rd and the 54th Händel Festival in Halle, Germany. This prestigious event – a televised open-air concert – involves a combined choir of 280 and the State Philharmonic Orchestra. The previous year Uwe conducted the gala opening night of the HÄNDEL FESTIVAL HALLE with 'Le Choeur des Musiciens du Louvre' from Grenoble, a number of front-line soloists and the Halle Opera Orchestra performing on original instruments. This was followed, in 03 and 04, by a highly successful season in the Halle Opera House of Händel's recently re-discovered opera, IMENEO. The season marked the launch of a new performing edition, by Baerenreiter, the foremost European publishing house. The reputable German opera magazine, OPERNWELT, nominated the performances as the RE-DISCOVERY OF THE YEAR 2003.
Uwe made his Mexican debut in March 2004, with the Mexico City Philharmonic, conducting Beethoven's 1st Symphony, Liszt's Mazeppa and Dvorak's Czech Suite. This was followed by an immediate return invitation in June to conduct Bruckner's Fourth and Mozart's Elvira Madigan Concerto. Subsequently, Uwe conducted eight concerts which included master works such as ' Ein Heldenleben' by Richard Strauss, Beethoven's and Schubert's Fifth Symphonies and Haydn's Sinfonia Concertante.
Other highlights have included the opening concerts of the Thüringen Philharmonic's 05/06 subscription season, in Gotha and Suhl, Germany, performing Schumann, Beethoven and Tchaikovsky. In the same month he appeared in the Auckland Town Hall, New Zealand, performing, with the Auckland University Symphony Orchestra, a programme entitled 'Landscapes', that included Copland's 'Appalachian Springs', Douglas Lilburn's 'Songs of Islands' and Tchaikovsky's symphony, 'Winter Daydreams'.
From 1998 until 2002, Uwe was Artistic Director of the INTERNATIONAL MUSIC FESTIVAL NEW ZEALAND and has been conductor and Music Director of the Auckland University Symphony Orchestra from 1989 – 2004. In 1989, before an audience of 250,000, he appeared in Symphony Under the Stars with the Auckland Philharmonia.
In 1993 he was appointed Music Director of the Manukau Symphony Orchestra, a position he still holds today. In 2005, for the opening celebration of the new concert hall – the Genesis Energy Theatre – in Manukau City, a ceremony led by New Zealand's Prime Minister, he combined five choirs with the MSO in a special project named "The Genesis". It included a world premier for choir and orchestra, "The Journey", written especially for Uwe Grodd and the MSO by Leonie Holmes.
An avid supporter of contemporary music of all genres, Uwe has been central to numerous commissions and given many first performances including, in 2002, conducting the premier season of the multi-media opera GALILEO, with music by John Rimmer and libretto by Witi Ihimaera.
Uwe Grodd is an Associate Professor of Conducting and Flute at the University of Auckland. His reputation as an inspiring teacher is well documented by his students' international performances and prizes. His editions of music by Vanhal, Beethoven and Ries, published by Artaria Editions, are increasingly in demand.
A graduate of Mainz University, Germany, Uwe Grodd studied with teachers of international repute, including Manfred Schreier, André Jaunet and Werner Peschke. He attributes his major musical growth to the guidance of two of Europe's finest musicians: Robert Aitken and Maestro Sergiu Celibidache.
In addition to the many concerts and recordings Uwe was invited to take up the position as Music Director in July 2008 of New Zealand's longest established symphonic choir, the AUCKLAND CHORAL SOCIETY.
The 2010 season will include some exciting programmes such as Brahms' Requiem with the Auckland Philharmonia and J S Bach's B minor Mass. Uwe's recording catalogue will expand this year with music by New Zealander Jenny McLeod including her new 'ROCK CONCERTO' with the New Zealand Symphony Orchestra.