---
Calefax Reed Quintet & Eric Vloeimans
---
Biography Calefax Reed Quintet & Eric Vloeimans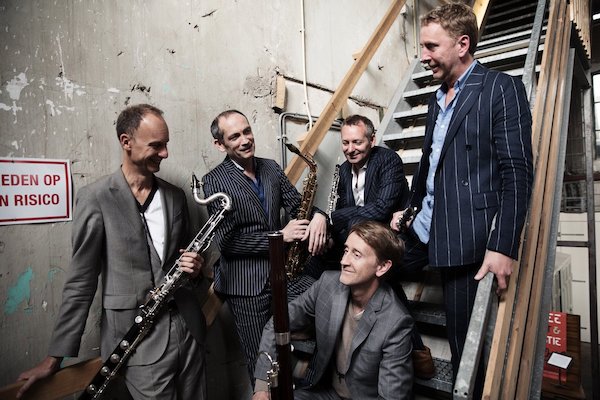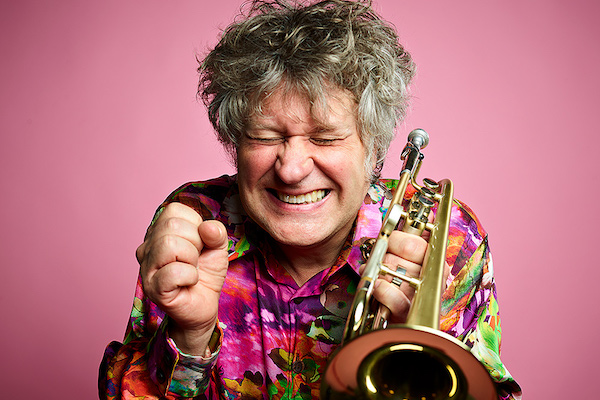 Calefax
is a close-knit ensemble of five reed players united by a shared passion. For more than three decades they have been acclaimed in the Netherlands and abroad for their virtuosic playing, brilliant arrangements and innovative stage presentation.
They are the inventors of a completely new genre: the reed quintet. They provide inspiration to young wind players from all over the world who follow in their footsteps. Calefax can be defined as a classical ensemble with a pop mentality.
In 1985 the Amsterdam Barlaeus gymnasium celebrates its 100 years anniversary. To mark this anniversary, the school orchestra performs an opera by Willem van Manen. Four boys from the orchestra, saxophone players Raaf Hekkema and Lucas Helsdingen, bassoonist Alban Wesly and oboist Eduard Wesley, decide to found a wind quartet. Bold as they are, they ask Willem van Manen to write a piece for them. To their surprise, in the summer of 1985, the composer tells the boys that the piece is finished.
Van Manen calls the piece the Barlaeus Blaaskwintet. Indeed a quintet…, the composer added a clarinet to the instruments, what turns out to be an enrichment of the sound spectrum. The piece premiers on 21 November 1985 in the Ysbreker (Amsterdam). Calefax is a fact. German teacher from the Barlaeus Geert Kapteijns, plays the clarinet part.
Kapteijns says farewell to Calefax soon after the first concert and after some personnel changes on the clarinet, Ivar Berix joins the quintet in 1987. With two saxophones, the midsound of the wind quintet is still a bit too strong. But when Lucas Helsdingen switch to bass clarinet this creates a better balance. With the oboe, clarinet, saxophone, bass clarinet and bassoon, the current instrumentation is found. The ensemble it so satisfied and happy about this line up that it aims to make it as common as the string quartet and saxophone quartet. And with success! Throughout the world arise reed quintets, from Argentina to Japan and from Denmark to Australië. In 1994, after some changes of the bass clarinet stand, Jelte Althuis joins the quintet and oboist Oliver Boekhoorn started in 1997. This is the current occupation of Calefax.
Calefax takes an adventurous approach to presenting its programmes and has an astonishingly varied repertoire ranging from 1100 to the present day. They perform their own arrangements and newly commissioned compositions for the unique combination of oboe, clarinet, saxophone, bass clarinet and bassoon. Calefax is open to the influence of world music, jazz and improvisation as a result of countless international tours and collaborations with all kinds of musicians.
The group publishes sheet music of their own arrangements for reed quintet under the name Calefax Edition, so that they play a pioneering role and put this new genre on the map. All over the world new reed quintets are springing up, following Calefax' example; from Argentine to New-Zealand and from the United States to Europe. By offering master classes and workshops at conservatories and universities, Calefax passes its specific methods and musical experience on to the next generations.
In this way, the group functions as an inspiring laboratory for musicians and composers alike. It does so, for example, during their annual PAN festival; a musical feast where the musicians of Calefax act both as hosts and performers. The festival ensures a motley selection of music adventures, unexpected excursions into other art forms and a composition competition.
Eric Vloeimans
has been active in a wide variety of ensembles all over the years. He has toured the US twice with his acoustic 'chamber/jazz' 'Fugimundi' trio, featuring the surprising Anton Goudsmit on guitar and rising star Harmen Fraanje on piano. Their broad repertoire ranges from contemporary jazz, hymns, world music to occasional standards, all of which is presented with warmth and wit. His other band is Eric Vloeimans' Gatecrash, which features soundscape master Jeroen van Vliet on Fender Rhodes and keyboards, the inventive Gulli Gudmundsson on bass, electric basses and effects, and the up and coming Jasper van Hulten on drums. Vloeimans expands his trumpet mastery with electronics special effects. Gatecrash has earned a reputation as one of Europe's top cross-over bands between jazz and pop. The music ranges from lazy lounge music to hard core uptempo beats and spaced out moods, with Zappa-influenced odd meters. It's a band that sweeps the audience away. Gatecrash has toured throughout Europe, Asia and the USA.
Vloeimans' performances and recordings with a multitude of other formations has shown his versatility. His musical talent, easy-going attitude and great sense of humour have brought him to play with national and international artists such as Mercer Ellington, John Taylor, Peter Erskine, The Rotterdam Philharmonic Orchestra, Jasper van 't Hof, Wayne Horvitz, Charlie Mariano, Nguyên Lê, Jimmy Haslip, Philippe Catherine, Joey Baron, the Holland Baroque Society, Lars Danielsson, Michael Moore, Tuur Florizoone, the Matangi Quartet, Bojan Z., Eric Vaarzon Morel, Martin Fondse, soundartist Michel Banabila, the Royal Concertgebouw Orchestra and many, many others.
His most recent cd is with German pianist Florian Weber, an astonishing performance "Live at the Concertgebouw" recorded in April 2011. That year saw Eric do seven concerts in that venerable institution – four concerts in the recital hall and three in the large hall, all of which were on a carte blanche basis. He performed with the Metropole Orchestra, the Marinierskapel (the Navy Band), the Paradiso Ochestra – his other forays into the classical world include a world premiere of a new trumpet concerto "Evensong" (written by Eric and Martin Fondse) which he performed with the Limburg Symphony Orchestra on October 26th and 30th 2011.
Eric has also ventured into film music, writing (with Fons Merkies) and performing the music for the feature film "Majesteit" (premiered in September 2010), as well as for the animation film "Audition" (with Martin Fondse).
His musical collaborations have taken Eric Vloeimans abroad many times. With diverse artists and ensembles he played all over Europe, Indonesia, China, the Middle East, South Africa and Japan. Experiences from his travels influence his music constantly and can be heard in many of his compositions.
Recently he was asked to perform a solo trumpet intermezzo at the reknowned "TED-x" conference in Amsterdam that left the audience quite speechless.
He has been honored because of his many works, in all possible genres that cover the range from classical to pop, film music, world and jazz. In between playing all over the world, being on tour and picking up Edison Awards, he shares his talent with the students of the Codarts College for the Arts in Rotterdam, and the Royal Conservatory in the Hague.
Eric Vloeimans plays from the heart and has shown a remarkable power to create bridges and reach the hearts of audiences all over the world.