---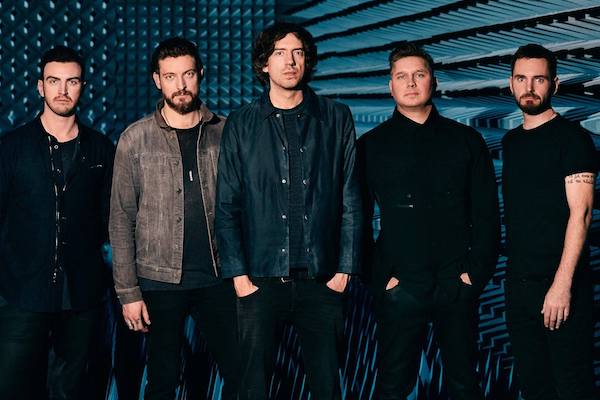 Snow Patrol
The main thing to get about Snow Patrol is that, 14 years after they started out as a student band at Dundee University, they're still flying, gloriously and unpredictably, by the seat of their pants. "The great and terrifying thing about our band," declares their leader and main songwriter Gary Lightbody, "Is that everything has always happened as it's going along. There's been very little masterplan. We allow things to happen as much by accident as by deliberate intention." One notable early accident was their name. Lightbody's band used to be known as Polar Bear - hence their 1998 debut album Songs For Polarbears - but were obliged to change it after discovering that this was what the bassist of Jane's Addiction was calling his side project. 'Snow Patrol' had already been chosen for them by a friend who didn't care for the Polar Bear moniker; and so it came to pass that Snow Patrol signed in 1995 to the Jeepster label, home of their Glaswegian indie heroes at the time, Belle and Sebastian.
Now that the band have become feted as commercial giants - their last album Eyes Open was the UK's best-seller of 2006, it's worth remembering that Snow Patrol spent the 1990's so broke that at one low point Lightbody had to sell his record collection to pay the rent. Jeepster finally dropped them in 2001 after their second album, the presciently titled When It's All Over We Still Have To Clear Up, failed to connect beyond their passionate but stubbornly tiny fanbase. "We spent 10 years making records that 6000 people bought," Lightbody confirms. "Success to us isn't a chart thing, it's when you turn up to play a gig and find the place is full." In the early days, their largest audiences were back in Northern Ireland and the Republic of Ireland, as Bangor-born Lightbody grew up in Northern Ireland before moving to Scotland as a student. "We're very lucky in that we seem to have three home town audiences in Belfast, Dublin and Glasgow, although we get an extraordinary reception whenever we play anywhere in Ireland or Scotland."
Snow Patrol began to get considerably bigger all over the UK and in America after signing to the Fiction label in 2003 and hooking up with the producer Garrett 'Jacknife' Lee. "An amazing influence," in Lightbody's estimation, "Jacknife has become like an indispensable member of the band. I can't imagine working with any other producer." Under Lee's inspired guidance, Snow Patrol and their increasingly charismatic vocalist Lightbody, shed some of their indie rough edges and began to hone their pop smarts. In 2003 they released Final Straw their first number one album, which yielded the band's first top 5 hit, Run. It also won them the inaugural Ivor Novello for best album in 2004. In 2005 they moved into a remote studio in the middle of Ireland, Grouse Lodge, and completed Eyes Open, home of one of the most emotionally potent tunes of the 21st century, Chasing Cars. With over 100,000 radio plays in the UK, 2m downloads in the US, and the accolade of 'Best Song of All Time' from the listeners of Virgin Radio, Chasing Cars also had the rare distinction of closing the BBC's long running TV chart show Top Of The Pops in July 2006. The effect on the Eyes Open album was phenomenal, leading to a final sales tally of 4.7m copies worldwide.
At this point most similarly blessed bands would probably have either taken a long, expensive holiday, or re-grouped for another assault on the global pop charts. Lightbody and co did neither, opting instead to call up Jacknife Lee and make an album which took them on an unexpected creative odyssey from Galway in the West Of Ireland, back to Grouse Lodge in County Meath and on to the legendary Hansa studio in Berlin where Bowie and many other luminaries from the 1970's recorded seminal work. In line with the innovative traditions of the studio the album, A Hundred Million Suns, is Snow Patrol's most ambitious and exhilarating collection so far; and one in which Lightbody feels his band has, accidentally of course, squared its own circle.
"This is our most complete record by far. A Hundred Million Suns sounds like the marriage of everything we learned from the Jeepster years and the Fiction years made into something new and bolder. Our spikiness and our indie-ness are coming through again with all the poppiness of the last two records. There's a lot of melody here and you can't cloak that whatever you do with it. This album is touched by our entire history, and hopefully sounds like our future too."