---
Mick Fleetwood and Friends
---
Biography Mick Fleetwood and Friends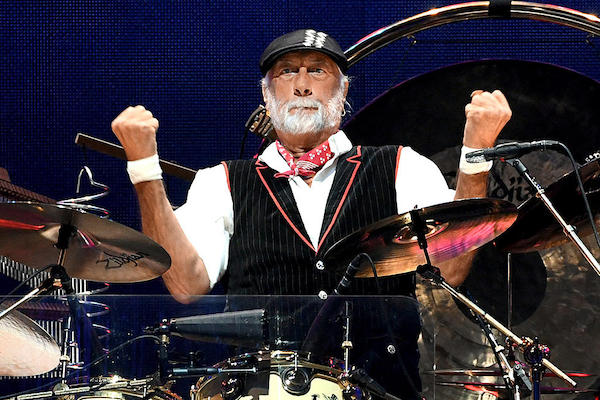 Mick Fleetwood
Michael John Kells "Mick" Fleetwood was born in Redruth England. Mick's father Mike; a Wing Commander in the Royal Air Force, bought his son his first drumkit at the age of thirteen. Mick was mostly self taught and learned how to play by listening to and playing along with records by The Everly Brothers, The Shadows and Cliff Richard.
At the tender age of Fifteen, Mick decided to pursue drumming and music as a career. After playing on the London club circuit with various bands for a few years, he met and became friends with bassist John McVie and guitarist Peter Green who were both playing with John Mayall's Bluesbreakers. After Mayall's drummer (Aynsley Dunbar) had quit in the spring of 1967, Mick was invited to come and play. It was during his short tenure with Mayall's Bluesbreakers that Mick solidified his relationship with McVie and Green. Soon after Green decided to form his own band with Mick and McVie, and Fleetwood Mac was born.
After numerous albums and personnel changes, in 1974/75 Mick recruited the talented duo of Lindsey Buckingham and Stevie Nicks. This new Fleetwood Mac lineup, John McVie and Mick Fleetwood joined by Christine McVie, Stevie Nicks and Lindsey Buckingham, became one of the most successful bands in the history of modern Rock/Pop music. In 1977, Fleetwood Mac's Rumours album was released and to this day, remains one of the biggest selling albums of all time. The album has been certified with sales of over 17 million copies. Through past decades, Mick has managed to keep the band he founded together and active.
In 1990 Mick wrote his autobiography which chronicled his life and adventures in the music business. In 1997, Fleetwood Mac reunited with its classic hit lineup of Christine McVie, John McVie, Lindsey Buckingham, Stevie Nicks and Mick Fleetwood keeping the beat. The band enjoyed much renewed success with a world tour, live album and video concert release. "The Dance" concert video is a great insight into Mick Fleetwood's ever tasteful playing and exciting stage presence.
On January 12th 1998, Mick Fleetwood and his bandmates were inducted into the Rock and Roll Hall of Fame. Mick continues to play and record with various musicians in the Los Angeles California area. In 2003, Mick released a DVD biography entitled "Two Sticks And A Drum". In the same year Fleetwood Mac released Say You Will, their first studio release in more than 15 years, and toured for two years straight in support of the album. In June of 2004, the band released a live recording and DVD video or their show during the same tour. It was taped in 2003 at the Fleet Center in Boston Massachusetts.