---
Soumik Datta & City of London Sinfonia
---
Biography Soumik Datta & City of London Sinfonia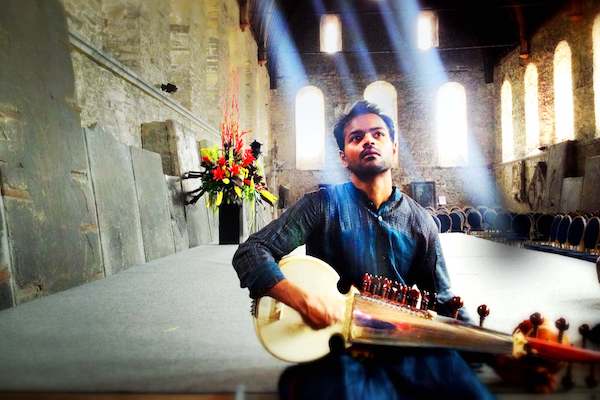 Soumik Datta
is a British Indian composer and virtuoso player of the sarod – a 19-stringed, fretless instrument with a nomadic history spanning ancient Afghanistan and colonial India. Soumik is not only a solo virtuoso. He is also innovative and generous, working with other musicians to create fabulous new pieces, bringing his sarod and their instruments to new and wider audiences around the world.
Trained by the sarod legend Pandit Buddhadev Das Gupta while completing his Masters in Composition at Trinity College of Music, Soumik's concerts bridge the world of Indian classical and contemporary music. In 2014 he played his sarod for the instrument's first concerto, composed by Param Vir bridging the worlds of contemporary western music and Indian raga music. In the same year, Soumik was commissioned by Edinburgh Mela and the Commonwealth Games to re-score Satyajit Ray's 1969 epic Goopy Gyne Bagha Byne. The show has received rave reviews and has been played by leading orchestras such as the Scottish Chamber Orchestra, the London Philharmonic Orchestra and the Moroccan Orchestra.
Conceived as a cine concert, King of Ghosts features Satyajit Ray's cult and off-beat film projected on a large screen with a reimagined live cinematic score. The new orchestration features the haunting sounds of Soumik's sarod, Cormac Byrne's Irish folk rhythms and a string sextet from the City of London Sinfonia. The film follows the magical journey of Goopy and Bagha, who are granted three wishes by the benevolent yet terrifying King of Ghosts. It will take the audience on a breathtaking and magical journey across rural India – a vintage superhero film at its best!