---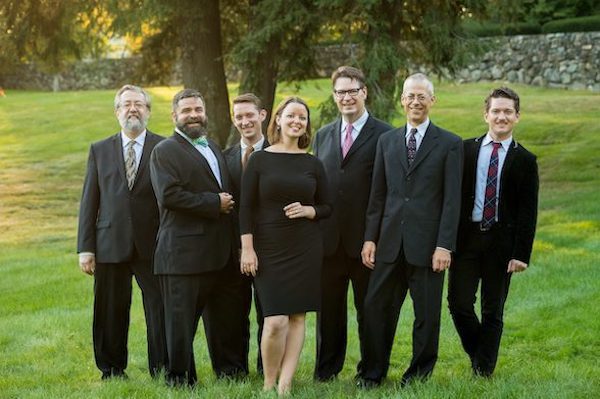 Blue Heron
The vocal ensemble Blue Heron has been acclaimed by The Boston Globe as "one of the Boston music community's indispensables" and hailed by Alex Ross in The New Yorker for the "expressive intensity" of its interpretations. Combining a commitment to vivid live performance with the study of original source materials and historical performance practices, Blue Heron ranges over a wide repertoire, including 15th-century English and Franco-Flemish polyphony, Spanish music between 1500 and 1600, and neglected early 16th-century English music, especially the unique repertory of the Peterhouse partbooks, copied c. 1540 for Canterbury Cathedral. The ensemble also regularly performs earlier and later music, including a concert version of Guillaume de Machaut's Remede de Fortune to a collaboration with A Far Cry featuring Gabriel Fauré's Requiem and Le Cantiques des Cantiques for twelve voices by Jean-Yves Daniel-Lesur, composed in 1952.
Blue Heron's first CD, of music by Guillaume Du Fay, was released in 2007. In 2010 the ensemble inaugurated a 5-CD series of Music from the Peterhouse Partbooks, featuring world premiere recordings of music by Hugh Aston, Robert Jones, Nicholas Ludford, John Mason, Richard Pygott, and others. The fifth volume won the 2018 Gramophone Classical Music Award for Early Music and a boxed set of all five discs, entitled The Lost Music of Canterbury, was released in September 2018. Blue Heron's recordings also include the live disc Christmas in Medieval England and a CD accompanying the book Capturing Music: The Story of Notation by Thomas Forrest Kelly (W. W. Norton, 2014).
Beginning in 2019 Blue Heron will issue a series of recordings of 15th-century music, including the complete songs of Johannes Ockeghem. Also in preparation is the world premiere complete recording of Cipriano de Rore's first book of madrigals (1542), for which Jessie Ann Owens (University of California, Davis) and Blue Heron won the 2015 Noah Greenberg Award from the American Musicological Society; the 2-CD set will be out in the fall of 2019.
Blue Heron presents a subscription series in Cambridge. The ensemble has appeared at the Boston Early Music Festival; in New York City at Music Before 1800, The Cloisters (Metropolitan Museum of Art), and the 92nd Street Y; at The Library of Congress, the National Gallery of Art, and Dumbarton Oaks in Washington, D.C.; in California at the Berkeley Early Music Festival and Festival Mozaic in San Luis Obispo; in Chicago, Cleveland, Milwaukee, Philadelphia, Pittsburgh, St. Louis, and Seattle; for a visit of His Holiness the Dalai Lama to the Massachusetts Institute of Technology; and in the UK in Cambridge and London. Blue Heron has been ensemble in residence at the Center for Early Music Studies at Boston University and at Boston College. In 2015 the ensemble embarked on a long-term project to perform the complete works of Johannes Ockeghem (c. 1420-1497); entitled Ockeghem@600, it will wind up in the 2020-21 season, just in time to commemorate the composer's circa-600th birthday.
Blue Heron is a highly flexible performing organization which draws from a roster of musicians in order to constitute the ensemble best suited to the repertoire at hand; thus the ensemble may range in size from three singers (for a fifteenth-century song) to around a dozen (for a large-scale early sixteenth-century English mass) and adds instruments (slide trumpet, trombone, fiddle, harp, dulcian) when appropriate.
Why "Blue Heron"? Back in 1999 we thought long and hard about the right name for a new professional vocal ensemble that would specialize in Renaissance music. All the good historical names were already long gone—used over and over again—and anyway we wanted something that would suggest that historical correctness was not our ultimate goal. We wanted something that was memorable and easily pronounceable; preferably in English, with some local flavor to it. Now, there are Great Blue Herons all over Boston and Massachusetts; they can be seen around ponds everywhere and up and down the Charles River. (In fact, they are found along the entire east coast, from Cape Breton Island to the Gulf of Mexico, and along the entire Pacific coast, too. They are even found as occasional vagrants in Europe.)
Striking, memorable, good graphic possibilities… But it's a dada name, really. Does anyone remember the recorder trio Sour Cream? Frans Brüggen, Walter van Hauwe, and Kees Boeke. A truly countercultural enterprise from the 1960s. They dressed all in white and played both old and new music.
Someone once mentioned to us a medieval legend which had it that the heron was the only bird that sang in parts, but we have been unable to substantiate the tale.