---
Lucile Richardot, Les Cris de Paris & Geoffroy Jourdain
---
Biography Lucile Richardot, Les Cris de Paris & Geoffroy Jourdain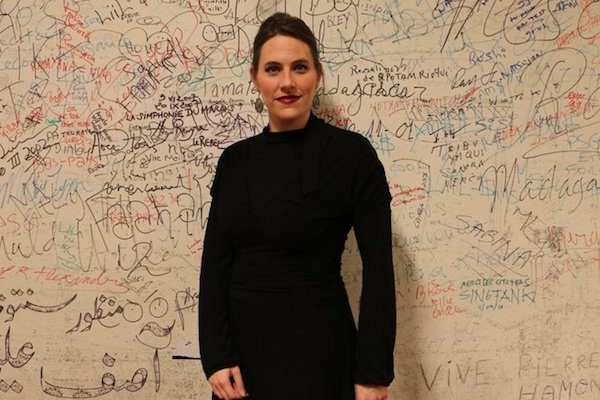 Lucile Richardot
mezzosoprano, started singing at 11 in a children's choir in the East of France, she worked first as a journalist until she was 27.
Graduated in 2008 from the Maîtrise de Notre-Dame de Paris and in 2011 on Early Music from d Conservatoire à rayonnement régional e Paris, she attended teachings of Margreet Hoenig, Noëlle Barker, Paul Esswood, Howard Crook, Jan van Elsacker, Martin Isepp, François Le Roux, Monique Zanetti, Jill Feldman.
In 2012, she founded her own Ensemble, named Tictactus, with two friends lutenists and also multi-instrumentalists.
She works in early music as in contemporary repertoire, on stage as in concerts, with Les Solistes XXI (conductor Rachid Safir), Correspondances (Sébastien Daucé), Pygmalion (Raphaël Pichon), Le Poème Harmonique (Vincent Dumestre) or since 2012 with Les Arts Florissants for full implementation of Madrigals Books of Monteverdi, conducted by Paul Agnew. He even invited her to perform in Bach's "St John's Passion", with the Liverpool Philharmonic Orchestra.
In 2009, she created the role of the first Aunt in the Philippe Boesmans' opera, "Yvonne, Princesse de Bourgogne", held in Paris Opéra Garnier and in the Theater an der Wien. End of 2014, she was invited by French Ensemble intercomporain, for "Omaggio a Kurtag" by Luigi Nono, in Festival d'Automne in Paris, and by the viola player Christophe Desjardins with composer Gérard Pesson. She is also delighted in designing some recitals with keyboard players, viols consort or string quartet.
In 2017 she will embody Lisea in the Antonio Vivaldi's Opera "Arsilda" performed in Czech Republic and the whole Europe with Collegium 1704 (Vaclav Luks).
Sébastien Daucé
The organist and harpsichordist Sébastien Daucé is fired with the urge to revive an abundant yet little-known repertory, the sacred and secular music of seventeenth-century France. It was during his training at the Conservatoire National Supérieur de Musique de Lyon that he met the future members of Correspondances. Key influences among his teachers there were Françoise Lengellé and Yves Rechsteiner. Initially in demand as a continuo player and vocal répétiteur (with the Pygmalion ensemble, the Festival d'Aix en Provence, and the Maîtrise and Orchestre Philharmonique de Radio France among others), he formed the Correspondances ensemble in Lyon in 2009, assembling around him singers and instrumentalists with a passion for the French sacred repertory of the Grand Siècle.
With this ensemble, which he directs from the harpsichord or the organ, he now travels throughout France and around the world, and frequently broadcasts on radio. Sébastien Daucé and Correspondances are in residence at the Théâtre de Caen, where they developed their first staged projects (Trois Femmes directed by Vincent Huguet in 2016, Le Ballet Royal de la Nuit directed by Francesca Lattuada in November 2017), and are associate artists at the Centre Culturel de Rencontre d'Ambronay, at the Opéra and Chapelle of the Château de Versailles, and at La Chapelle de la Trinité with the support of the Ville de Lyon.