---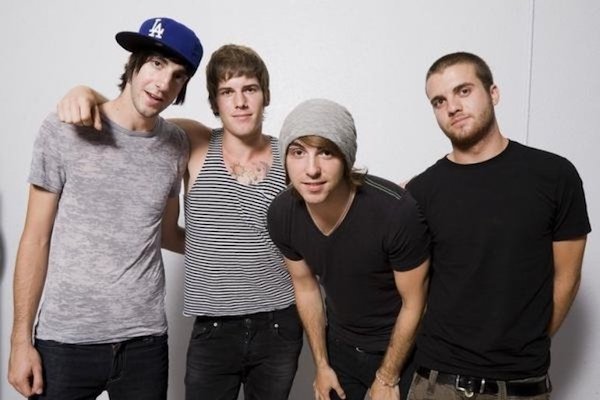 All Time Low
Formed in 2003 in the suburbs of Baltimore, Maryland, All Time Low started out as a high-school cover band before morphing into a melodic emo-pop act. Singer/guitarist Alex Gaskarth and guitarist Jack Barakat were All Time Low's co-founders, with bassist Zack Merrick and drummer Rian Dawson rounding out their energetic pop-punk sound and rowdy live shows, which often included silly string and beach balls. Honing their skills between homework and other teenage commitments, the guys managed to tour across the East Coast and the South during school breaks. They issued a four-song EP, 2004's The Three Words to Remember in Dealing with the End, with help from local label Emerald Moon, and followed its release with a full-length album, The Party Scene, one year later.
Touring across the country that summer, the guys found themselves on bills with similar acts like Motion City Soundtrack, the Early November, and Plain White T's. Along the way, All Time Low also bumped into fellow pop-punkers Amber Pacific, who brought the young band to the attention of their label, Hopeless Records. The label was immediately impressed, and All Time Low had officially become part of the Hopeless family by March 2006, just a few months shy of the members' high-school graduation. Finally done with schoolwork and able to concentrate full-time on music, the group issued Put Up or Shut Up -- a seven-song EP that mostly featured new recordings of older material -- that July.
All Time Low supported the EP's release with a handful of Warped Tour dates before hitting the road again with Amber Pacific. So Wrong, It's Right appeared in 2007, marking the band's first full-length release for Hopeless. After being named 2008's Band of the Year by Alternative Press, All Time Low returned with their second album, Nothing Personal, in July 2009. Debuting at number four on the Billboard charts, Nothing Personal helped make All Time Low one of the top emo-pop acts in the business. Two CD/DVD packages, MTV Unplugged and Straight to DVD, were released the following year, tiding fans over while the guys returned to the studio to begin work on their major-label debut for Interscope Records.
Dirty Work, featuring the single "I Feel Like Dancin'," was released in 2011. The album reached number six on the Billboard charts the week it was released, and the band hit the road. In 2012, All Time Low announced they had parted ways with Interscope and released a new song, "The Reckless and the Brave," on their website in June. Soon after, they re-signed with Hopeless and began work on a new album. Don't Panic was released in November of 2012, then reissued almost a year later with four newly recorded songs and four acoustic versions under the name Don't Panic: It's Longer Now! In 2015, All Time Low returned with their sixth record, Future Hearts, which found them reuniting with their Dirty Work producer, John Feldmann. In 2016, they released Straight to DVD 2: Past, Present & Future, a sequel to the 2010 live album. In February 2017, All Time Low issued the single "Dirty Laundry" in anticipation of their seventh studio long-player, Last Young Renegade, which dropped in June of that year. Renegade was their first effort issued on Fueled by Ramen, and featured the singles "Nice2KnoU" and the pop-focused "Life of the Party." The following year saw the release of the summery and anthemic one-off single "Everything Is Fine."