---
Yosvany Terry & Baptiste Trotignon
---
Biography Yosvany Terry & Baptiste Trotignon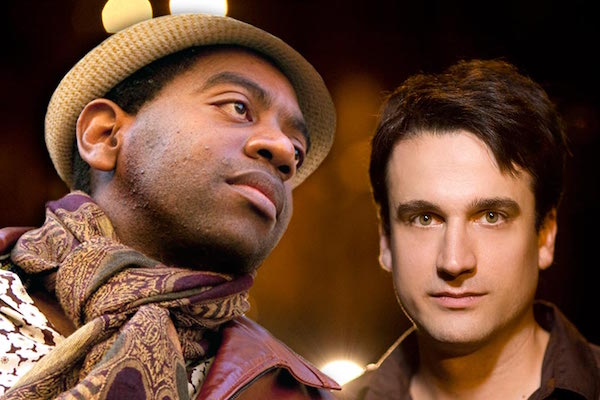 Yosvany Terry
Born into an illustrious musical family in Camaguey, Cuba, Yosvany Terry is an internationally acclaimed composer, saxophonist, percussionist, bandleader, educator and cultural bearer of the Afro-Cuban tradition. After immsersing himself in the European classical tradition at Havana's prestigious National School of Arts (ENA) and Amadeo Roldan Conservatory he went on to perform with major figures in every realm of Cuban music, including celebrated nueva trova singer/guitarist Silvio Rodriguez, pianists Chucho Valdes and Frank Emilio, and Don Pancho y Los Terry, the band led by his father, violinist and shekere master Eladio "Don Pancho" Terry Gonzales.
From his earliest days in New York, Terry has been embraced by the jazz and contemporary music community, playing with Branford Marsalis, Rufus Reid, Dave Douglas, Steve Coleman, Roy Hargrove, Henry Threadgill, trumpeter Avishai Cohen, Jeff "Tain" Watts, Gonzalo Rubalcaba, Taj Mahal and the Eddie Palmieri Afro-Caribbean Sextet. While best known as a blazing improviser, he's rapidly gaining renown as a composer, bandleader and educator with a string of high-profile awards, appointments and commissions. In 2015, Terry was named a recipient of the prestigious Doris Duke Artist Award, and was hired by Harvard University as Director of Jazz Ensembles and Senior Lecturer on Music. He has received recent commissions from San Francisco's Yerba Buena Garden Festival ("Noches de Parranda" for 12-piece ensemble with the support of The MAP Fund), the French-American Jazz Exchange with support from the Mid Atlantic Arts Foundation and Doris Duke Charitable Foundation ("Ancestral Memories" with French pianist Baptiste Trotignon), and the Harlem Stage (the score for the opera "Makandal," premiering in 2016-17). Terry also received a grant from Rockefeller Philanthropy Advisors and New York State Music Fund to create Afro-Cuban Roots: Yedégbé, a suite of Arará music documented on his acclaimed 2014 album.
His latest release, 2014's GRAMMY Award-nominated "New Throned King" (5Passion), features music based on cantos and rhythms of the Arará people of the western Cuban province of Matanzas, who hail from the Dahomey kingdom's Fon culture in what is now Benin. His previous album, 2012's "Today's Opinion" (Criss Cross), was selected as one of the Top 10 Albums of the Year by the New York Times' Nate Chinen. Terry's latest project, The Bohemian Trio, is a genre-defying contemporary music ensemble based in New York slated to release its first album in the spring of 2016.
Baptiste Trotignon
(born in 1974) began playing the piano at the age of six. He discovered and taught himself jazz and improvisation as a teenager. In 1994 he played both the piano and a role in Alain Corneau's film "Le Nouveau Monde", and one year later he decided to move to Paris.
In 1998 he formed his trio with Clovis Nicolas (double bass) and Tony Rabeson (drums) and they signed to the independent label Naïve. His first two albums "Fluide" and "Sightseeing" at the age of 26 brought him to people's attention as one of the most spectacular, complete and charming member of a new generation of pianists. He won various awards - a Django d'Or, the Prix Django Reinhardt de l'Académie du Jazz, Best French Newcomer at the 2003 Victoires du Jazz - as well as winning the Grand Prix at the 2002 Martial Solal International Jazz Piano Competition. Baptiste followed this up with two solo piano albums ("Solo" and "Solo II") in 2003, which both received major public and critical acclaim, and he began to perform at many major French and international venues: the Salle Pleyel, Marciac, Montréal, Vienne, Nice, Montreux, Toronto, La Roque d'Anthéron, Piano aux Jacobins, etc. In 2005 he began a period of artistic collaboration with the saxophonist David El-Malek, which gave rise to two albums as a quartet, and worked with Aldo Romano (including the album "Flower Power" containing covers of Seventies pop songs).
Over the years that followed he developed a number of eclectic encounters, while also continuing to play music that was resolutely open-minded and imaginative. This included performing alongside top-quality improvisers like Tom Harrell and Brad Mehldau and classical pianists such as Nicholas Angelich and Alexandre Tharaud, and he was also artistic director for tribute evenings to Edith Piaf and Claude Nougaro at Montreux, composed film music for Claude Goretta's "Sartre", and did some Hammond B3 organ tours with Stefano Di Battista's "Trouble Shootin'".
Baptiste's first "American" album, "Share", was recorded in New York and came out in early 2009. He made it with Eric Harland and invited Tom Harrell (a living and inimitable jazz legend) and Mark Turner along. The album was a hit and was followed by a highly charged live album recorded in London ("Suite…" 2010). In the next few months he wrote a version featuring a string and wind orchestra that was performed for the first time at the Jazz in Marciac Festival.
In November 2011 he was awarded the Sacem's Grand Prix
In 2012, as well as playing over 80 concerts in France and around Europe and Asia, Baptiste released a stunningly bold album in the autumn called "Song Song Song", on which he celebrated his love of the vocalist's art and invited a prestigious group of artists including Miossec (with whom he co-wrote two tracks) and Melody Gardot to take part in his project. Around the same time his piano concerto "Different Spaces", his first major non-improvised orchestral piece, was commissioned by the Orchestre National de Bordeaux Aquitaine and performed for the first time by Nicholas Angelich. It received an enthusiastic welcome and Baptiste was named Composer of the Year at the 2014 Victoires de la Musique Classique. He has continued to develop this new aspect of his work, venturing into chamber music with his "Empreintes" string quartet and a Sonata for Flute and Piano.
After recording an album of acoustic ballads with saxophonist Mark Turner ("Dusk is a Quiet Place" 2013), the 40-year-old musician Le Monde has described as "a lesson, a model, perfection from A to Z" has now returned to the art of the trio with "Hit", for which he has teamed up with his faithful partner Thomas Bramerie and American groove master Jeff Ballard.
In 2016, he signs with the prestigious label SonyMusic - Okeh Records, and the album "Chimichurri", duet with Argentinian percussionist Minino Garay, is the first fruit of this new collaboration.