---
Biography Alan Hewitt & One Nation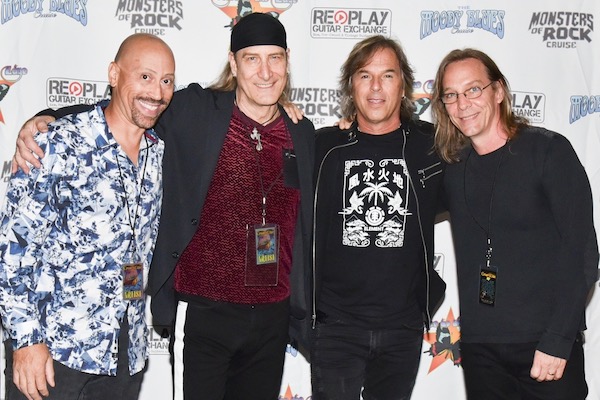 Alan Hewitt
has made his living painting musical tapestries about the lives of others. Hewitt began his career performing in the club scene but quickly graduated to the production room, where he had the honor of working as co-producer alongside Maurice White of Earth Wind and Fire (EWF) for over half a decade with EWF's Greatest Hits album going platinum in 2000. However, it was co-writing and piano/B-3 contributions on the platinum record Cherry Pie with Warrant that would solidify Hewitt as a monster musical talent capable of crossing genres. Alan is currently the keyboardist for legendary rock band The Moody Blues touring with them world wide since 2010. They were inducted into the R&R Hall of Fame in 2018.
Hewitt's list of record production credits as both a producer and recording artist spans across the various major labels and genres with over 12 million records sold. A first call composer for a long list of major film and television productions, Hewitt's credits include National Lampoon's Van Wilder, Bridget Jones: The Edge of Reason, Survivor, MTV, Access Hollywood, Tom Holland's Twisted Tales and composer for 50 television shows world wide . The list of accolades from the industry includes "The Golden Planet Award" Best Score at New York International Film Fest and the "ESPY Award for Excellence."
As a solo artist with 14 albums to his credit , the uniqueness of the Hewitt signature sound lies in his ability to draw from the diverse worlds of contemporary jazz, fusion, pop and rock, while simultaneously bridging the gap between instrumental music and the urban scene with intoxicating stage performances that are a combination of energy and inspiration.
His new group , Alan Hewitt & One Nation released their first Cd "Evolution" in 2015 on Sony, which is a fusion of rock, jazz & prog with a return back to Alan's roots where he was inspired by Chick Corea, Herbie Hancock and Weather Report.
Alan is featured on piano and keyboards and is joined by JV Collier (Bruce Hornsby Noisemakers) Grammy winner, Sonny Emory (Steely Dan, Earth, Wind & Fire, Stanley Clark) Jamie Glaser (Anderson/Ponty Band, Chick Corea's Electrik Band, Lenny White Band) and current member guitarist Duffy King also special guests Orianthi (Michael Jackson, Alice Cooper) and #1 YouTube Artist of the Year Alex Boye.
The upcoming 2nd release "One Step Closer" ventures more into Prog with lush vocals and intense arrangements reminiscent of early Yes, and Genesis but still retains their fusion elements. The new line-up includes Duffy King (Guitars & Vocals) David C. Johnson (Bass & Vocals) and Billy Ashbaugh (Drums). There is a huge buzz already happening about this band!