---
Album info
Album including Album cover
Anonymous:

1

El cant dels ocells (Arr. for Cello & Marimba)

03:07

Carlos Puebla (1917 - 1989):

2

Puebla: Hasta Siempre, Comandante (Arr. for Cello & Marimba)

04:37

Luis Naón (b. 1961):

3

Naón: Romanza

08:51

Jason Noble (1972 - 2012): Folk Suite for Cello & Marimba:

4

Noble: Folk Suite for Cello & Marimba: I. Overture

01:01

5

Noble: Folk Suite for Cello & Marimba: II. Air

01:16

6

Noble: Folk Suite for Cello & Marimba: III. Ceilidh

01:24

7

Noble: Folk Suite for Cello & Marimba: IV. Ballad

01:05

8

Noble: Folk Suite for Cello & Marimba: V. Jig

00:25

9

Noble: Folk Suite for Cello & Marimba: VI. Reel

01:31

Anonymous:

10

She's Too Good for Me (Arr. for Cello & Marimba)

03:40

Total Runtime

26:57
Info for Studio Piccolo Sessions

Recorded at the prestigious Studio Piccolo in the heart of Montreal, Quebec, Canadian duo Stick&Bow bring life and energy to 'Studio Piccolo Sessions'.
This audio release accompanies a series of five videos presenting works by: Sting, Pau Casals, Luis Naon, Jason Noble and Carlos Puebla. The dynamic duo highlight the technical finesse and energetic performance between cello and marimba.
Stick & Bow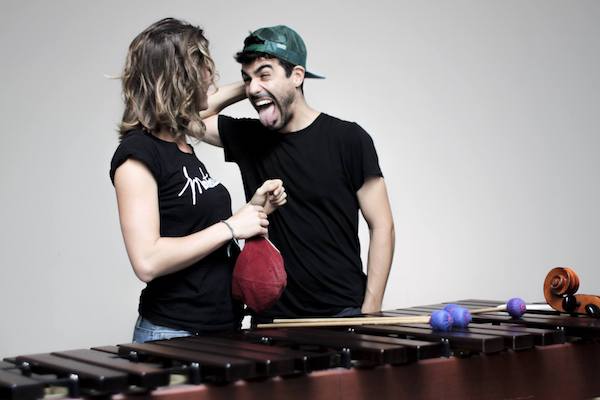 Stick&Bow
The energetic duo Stick&Bow was formed by the encounter of Canadian marimba player Krystina Marcoux & Argentinian cellist Juan Sebastian Delgado in the vibrant city of Montreal. Classically trained musicians, they strive to present a wide spectrum of musical styles, ranging from rock to gypsy-jazz, baroque or tango. Their eclectic repertoire features original arrangements of some of the most celebrated works in history, showing the potential of their instruments combined. In their creative process, they unite musical narration with humour and storytelling in which the powerful arrangements for cello&marimba transform the listening of familiar works in refreshing and unexpected ways. Stick&Bow is also strongly committed to the music of our time, commissioning works that are daring yet accessible to composers such as Luis Naon, Camille Pépin, Luna Pearl Woolf, Jason Noble & Marcelo Nisinman.
First-prize winner at the Latin-American cello competition (2008), Juan Sebastian holds a Doctoral degree in cello performance from McGill University and Krystina, first-prize winner of the OSM competition (2012) holds her PhD from the Conservatoire national supérieur de musique de Lyon. Their music has brought them to share magical moments from Banff to Colombia, passing by Armenia, Italy, the USA, Ecuador, France and two extensive Canadian tours in 2019&2020 as "Emerging Artists" of Jeunesses Musicales du Canada.

This album contains no booklet.