---
Album info
Album including Album cover
1

When We Were Young

03:12

2

Runnin' Blind

03:45

3

Talks All the Time

03:24

4

Baby's Come Around

05:19

5

Haunted

04:38

6

In America

03:29

7

Playin' on the Radio

04:42

8

Give It a Try

04:10

9

Good Girl

03:25

10

Long Day

05:10

Total Runtime

41:14
Info for The Future is What It Used to Be

The Future Is What It Used To Be, is the long-awaited album of new material from The Guess Who, one of the longest-running rock groups in history. Classic rock giants, The Guess Who, are back with their first studio album of new material in over 30 years.
In 2008, vocalist, multi-instrumentalist, songwriter and producer D#, who has worked with a who's-who of artists in the classic rock genre, joined The Guess Who. He wrote and produced the bulk of the new album with guitarist, producer, songwriter and fellow band member, Will Evankovich, who has worked/performed with a lengthy list of chart-topping artists. Most recently, Will was the co-producer of the current Styx album, The Mission, with vocalist/songwriter Tommy Shaw, who actually sings on five tracks on The Future Is What It Used To Be.
"The approach Will and I took with the album was to try and make it sound as vintage as possible – new songs recorded in the old style while staying true to the sound of that classic rock era," explains D#. "I think for the most part we achieved that. It certainly helped to have multi-GRAMMY Award-winning producer/engineer Jim Scott (Tom Petty, Sting, The Rolling Stones) mix the record."
On The Future Is What It Used To Be there's a little nostalgia and some looking in the rear view mirror with songs like the lead single "Playin' On the Radio" and the similarly reflective "When We Were Young," which, in historical context, refers to the much-travelled group as "Manitoba million milers on a million dollar ride to the other side." Leonard Shaw of the group had just become a million-miler with Delta Airlines but the song is actually a nod to the origins of the individual members of the band with its mentions of "California wine vines" and "cotton fields in Carolina."
Features what could be the most rockin' line-up of the band since it's '60s heyday, anchored by original GW drummer Garry Peterson along with vocalist Derek Sharp, superstar bassist Rudy Sarzo (Quiet Riot/Ozzy), guitarist Will Evankovich, and multi-instrumentalist Leonard Shaw. Also featured on the album are several special guests including, Tommy Shaw (Styx) on vocals, Brent Fitz (Slash, Gene Simmons) percussion, Jim Kale (Guess Who founding member) and Michael Devin (Whitesnake) on bass guitar. The album includes the single "Playin' On The Radio".
Garry Peterson, drums, vocals
Leonard Shaw, keyboards, flute, saxophone, vocals
D#, lead vocals, guitar, piano
Will E., guitar, harp, vocals
Rudy Sarzo, bass, vocals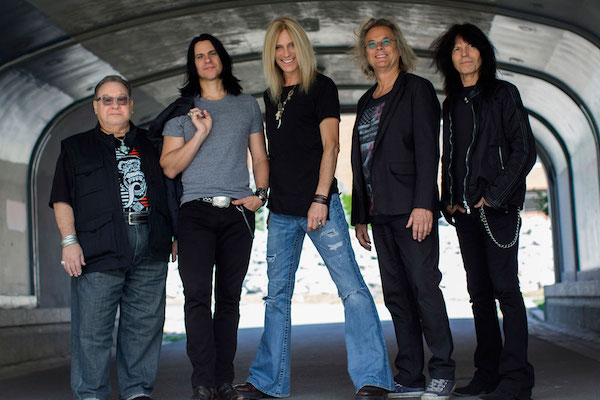 The Guess Who
the band that became Canada's first international rock music superstars, began in 1962 in Winnipeg as Chad Allen & the Reflections. Including members Randy Bachman (guitar), Jim Kale (bass) and Garry Peterson (drums), Chad Allen and the Reflections had become Chad Allen and the Expressions by the time they recorded a cover of 'Shakin' All Over' released by Quality Records in 1965. The song was a #1 single in Canada and reached #22 in America. Burton Cummings joined the group that same year, replacing the keyboard player and sharing lead vocals.
In 1968, the first single, 'These Eyes,' reached #1 in Canada, earning the band a U.S. contract with RCA Records. Heralded as the beginning of the Canadian Invasion, 'These Eyes' reached #3 in America in 1969 with total sales of more than one million copies. Their second album for RCA, Canned Wheat Packed by The Guess Who, also released in 1968, contained the Top 10 hits 'Laughing' (the B-Side of 'These Eyes') and 'No Time' as well as Top 40 hit 'Undun.'
Ironically it was 'American Woman' from March of 1970 that gave The Guess Who a #1 single in the U.S., unseating The Beatles for three weeks straight. The Top 10 album, also entitled American Woman contained the hits 'No Sugar Tonight/New Mother Nature' (the B-Side of 'American Woman'). It was during the peak of this success that Randy Bachman decided to leave the band (replaced by guitarists Kurt Winter and Greg Leskiw) and formed Bachman Turner Overdrive shortly thereafter.Over the next few years the group continued to chart with the singles 'Albert Flasher,' 'Rain Dance' and 'Clap for the Wolfman,' which reached #6, and the album Greatest Hits. After 10 years with the band, Burton Cummings left in 1975 to pursue a successful solo career; the band appeared together when they were inducted into the Canadian Recording Arts & Sciences (CARAS) Hall of Fame in 1987.

This album contains no booklet.