---
Album info
Album including Album cover
I`m sorry!
Dear HIGHRESAUDIO Visitor,
due to territorial constraints and also different releases dates in each country you currently can`t purchase this album. We are updating our release dates twice a week. So, please feel free to check from time-to-time, if the album is available for your country.
We suggest, that you bookmark the album and use our Short List function.
Thank you for your understanding and patience.
Yours sincerely, HIGHRESAUDIO
Astor Piazzolla (1921 - 1992):

1

Fuga y misterio (Arr. Chiacchiaretta)

03:57

2

Le Grand Tango (Arr. Chiacchiaretta)

13:00

Leo Brouwer (b. 1939):

3

Folía a través de los siglos

13:50

Tomas Gubitsch (b. 1957):

4

Villa Luro

06:09

Astor Piazzolla:

5

Romance del diablo (Arr. Scaramuzza)

07:40

6

Tango del diablo (Arr. Scaramuzza)

04:37

Maximo Diego Pujol (b. 1957):

7

Maximo Diego Pujol: Dos aires candomberos: Nubes de Buenos Aires

07:06

Astor Piazzolla:

8

Remembrance (Arr. Chiacchiaretta)

06:28

Total Runtime

01:02:47
Info for Tango y Folia

Decca recording artists Giampaolo Bandini (classical guitar) and Cesare Chiacchiaretta (bandoneon) duo, currently celebrate their 18th year anniversary of music making and deep commitment to present Argentina's music through the charm and magic of its most representative instruments. The duo immediately became an important point of reference in the international concert circuit thanks to their great communication style coupled with an extraordinary stage charisma. Regularly invited by the festivals and theatres around the world, they have toured over 50 countries and have annual or biannual tours to the United States and Canada, receiving outstanding critical and audience approval.
The duo had the privilege to play Astor Piazzolla's Double Concerto "Hommage a Liegi" conducted by Maestro Leo Brouwer at the Auditorium Paganini of Parma and for the Unione Musicale of Turin with the renowned Moscow Virtuosi Chamber Orchestra conducted by Pavel Berman. Mo. Brouwer wrote and dedicated a new work on the folia theme to the duo in 2017. They are frequently invited to perform as soloists with orchestras and recent invitations include Baden-Baden Philharmonic Orchestra (Germany), Brno Soloists (Czech Republic), the Camerata Santiago de Querétaro and Silvestre Revueltas Orchestra (Mexico), the Round Top Chamber Orchestra and Brazos Valley Symphony (USA), the Asian-European Symphony Orchestra (Korea), and the Philharmonic Orchestra of Kiev (Ukraine) among others.
In 2004, Bandini-Chiacchiaretta Duo was awarded the 15th "Beniamino Joppolo" Città di Patti Prize (in the province of Messina, Italy) for remarkable artistic achievements in the field of music. In 2005, the duo made their debut in the prestigious Grand Hall of Saint Petersburg Academic Philharmonic achieving such great success that they were immediately asked to play for the following years. Important composers have written original compositions for Bandini-Chiacchiaretta Duo, among them Daniel Binelli, Fernando Tavolaro, and Maximo Diego Pujol, who dedicated the Double Concert for guitar, bandoneon, and orchestra "Luminosa Buenos Aires" (2009) to them. The duo recorded the work and it is distributed all over the world through the Concerto label.
Their unique style of living music to the fullest and without boundaries leads them to work together with prominent artists such as Arnoldo Foà, Elio delle Storie Tese, Amanda Sandrelli, Nando Gazzolo, Dario Vergassola, Monica Guerritore, Enzo Iacchetti, and musicians such as Salvatore Accardo, Fernando Suarez Paz, Michele Pertusi, Corrado Giuffredi, Danilo Rossi, Massimo Quarta, Enrico Bronzi, Franca Masu, Maria Estela Monti, and Enrico Fagone, among others.
Their first CD "Hombres de Tango" sold more than ten thousand copies and was greatly praised by critics. They have recorded for the most important radio and television stations in Italy and abroad. Recently, their Brussels concert was broadcast live via satellite in more than twenty countries. In 2013, during a long tour in Russia, they made their debut with great success at the Tchaikovsky Hall in Moscow. In the same year, they performed at the prestigious Guitar Foundation of America (GFA) Festival and International Concert Artist Competition.
As educators, they are in great demand by the most renowned academies and international Universities and hold classes at the Institutes of Higher Education "Luigi Boccherini" in Lucca and "Umberto Giordano" in Foggia. Giampaolo Bandini plays a Dennis Tolz guitar and sponsored by D'Addario Strings.
Giampaolo Bandini, guitar
Cesare Chiacchiaretta, bandoneon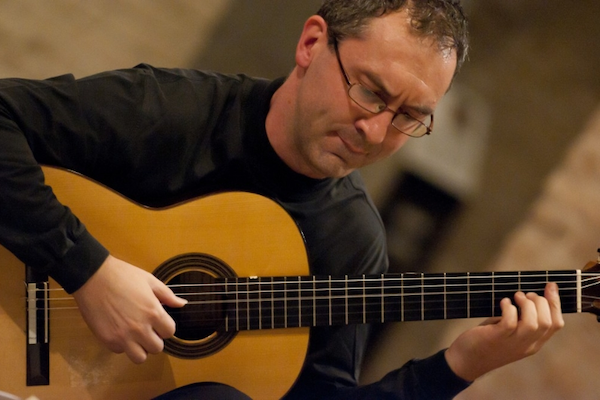 Giampaolo Bandini
is considered to be one of the best Italian guitarists on the international music circuit. In 2003, he was nominated as the best Italian guitarist of the year by Guitar magazine readers. He graduated with distinction at the age of 19 and owes his musical education to Maestro Giovanni Puddu. As far as the chamber music field is concerned, he studied at the prestigious Piano Academy of Imola with musicians such as Pier Narciso Masi, Alexander Lonquich, Dario De Rosa, Maureen Jones and Franco Gulli, earning a Master Diploma as best chamber music ensemble. Giampaolo Bandini was a member of the only guitar duo that succeeded in appearing in the roll of honour in the most prestigious national and international chamber music competitions such as the 11th"Città di Caltanissetta" Competition (member of the International Competition Federation of Geneva) in 1995, Perugia Classico, "Città di Gubbio" Prize, "F.Cilea" Città di Palmi Competition, Selezione A.R.A.M.-Roma, Selezione Nazionale Gioventù Musicale d'Italia, winning the first prize on each occasion.
Since 1990, he has featured in the most important concert institutions in Italy and abroad (Carnegie Hall of New York, Musikhalle of Hamburg, International Centre for the Performing Arts of Peking, Ravello Festival, Teatro Regio of Parma, IRCAM of Paris, Chopin Museum of Warsaw, Accademia di Santa Cecilia and Parco della Musica in Rome, Unione Musicale of Turin, Amici della Musica of Florence, Palermo, Pistoia, Festival Verdi, etc.) as a soloist and as part of different chamber music ensembles. In November 2002, he made his debut in the Grand Hall of the prestigious St. Petersburg Academic Philarmonic, an honour which is rarely granted to a guitarist, achieving such great success that he was asked to play for the following five years.
He regularly features as a soloist, in chamber music ensembles and with orchestras in the most important music Festivals around the world, from Europe to the United States, from Africa to South America (Mexico, France, Croatia, Germany, USA, Slovenia, Switzerland, Hungary, the Czech Republic, Poland, Russia, Austria, Serbia and Montenegro, Libya, Holland, Romania, Spain, Moldova, Slovakia, England, China, Belgium, Turkey and Bosnia). He collaborates with prominent musicians such as Massimo Quarta, Danilo Rossi, Enrico Bronzi, Pavel Berman, Francesco Manara, Moscow Virtuosi, Corrado Giuffredi, Quartetto d'archi della Scala, Trio di Parma, I Virtuosi Italiani, Andrea Griminelli, Michele Pertusi, Massimo Mercelli, Simonide Braconi, Enrico Fagone and with artists such as Arnoldo Foà, Nando Gazzolo, Elio (delle Storie Tese), Amanda Sandrelli and many others.
Recently, he had the privilege to perform Leo Brouwer's "Concerto Elegiaco" for guitar and orchestra, conducted by the composer himself, during the Concert Season of the Teatro Regio of Parma. He has been studying with enthusiasm praxis of the nineteenth-century's performing on period instruments, collaborating and playing with the major expert in this field, the Czech guitarist Pavel Steidl. As a teacher, he is requested by the most renowned academies and institutions such as Chopin Academy of Warsaw, Rimskij Korsakov Conservatory of St. Petersburg, and the Arts Academy of Rome. He conducts courses and masterclasses throughout Europe. At present, he's a guitar and chamber music teacher at the Music Academy of Teatro Cinghio in Parma, at the Music Institutes of Higher Education "L. Boccherini" in Lucca and "R.Franci" in Siena. He holds summer classes at the festivals of Portogruaro and Gubbio.
Giampaolo Bandini has made more than ten recordings for record companies such as Stradivarius, Nuova Era, Niccolò, Fonit Cetra, Tactus, Clair de Lune, and Quadrivium "Le Vele". On the occasion of Verdi's centenary in 2001, he recorded, for the first time ever in the world, J.K.Mertz's Fantasies based on Verdi's operas, meeting outstanding critical approvals. He has recorded for the most important radio and television broadcasters in Italy and abroad (RAI 3, RTSI, Radio Tre, and Radiocapodistria).
Artistically relevant to his education has been his close relationship with Maestro Camillo Togni. Bandini gave the premiere of "In Alter Zeit" and is executant of his complete works for guitar solo. Recently, he was invited by Sylvano Bussotti to play "Rara eco sierologico", a guitar composition written by Bussotti himself, during the concert held to celebrate his 75th birthday. In 2004, he was awarded the 15th "Beniamino Joppolo" Città di Patti Prize (in the province of Messina) for remarkable achievements in the field of music. He plays a guitar expressly made for him by luthier Maestro Antonino Scandurra.

This album contains no booklet.