---
Album info
Album including Album cover
I`m sorry!
Dear HIGHRESAUDIO Visitor,
due to territorial constraints and also different releases dates in each country you currently can`t purchase this album. We are updating our release dates twice a week. So, please feel free to check from time-to-time, if the album is available for your country.
We suggest, that you bookmark the album and use our Short List function.
Thank you for your understanding and patience.
Yours sincerely, HIGHRESAUDIO
1

Freddie Mercury: Bohemian Rhapsody

06:37

2

Borzó, Brahms: Hungarian Dance No. 1

04:43

3

Art Hickman: Rose Room

02:20

4

Astor Piazzolla: Milonga Loca

03:36

5

Stephan Koncz: A New Satiesfaction

05:38

6

Stephan Koncz: Russian Overture

07:04

7

Edvard Grieg: Romanza

06:25

8

José Feliciano: Feliz Navidad

02:35

9

Erik Satie: Gnossienne

04:53

10

Sebastian Gürtler: Der Herrgott und die Geige

05:40

11

Camille Saint-Saëns: Big Elephant

01:29

12

Henry Mancini: Baby Elephant Walk

02:49

13

Gordon Sumner: Englishman In New York

04:02

14

Stephan Koncz: Balkan Party

01:38

Total Runtime

59:29
Info for The Vienna Berlin Music Club (Vol. 1)

Classical music is not supposed to be fun, right? And yet, every concert of the Philharmonix is a living, grooving, finger-snapping testament to the contrary. And who exactly is having fun here? Is it the seven world-class musicians who get to play the kind of repertoire one would never see on the playbill of their legendary orchestras? Or is it the audience, whose eyes light up at their sparkling display of virtuosity and passion? The Philharmonix' sophisticated sense of humor allows them to move seamlessly from the sublime to the ridiculous and back, taking their audience along for a madcap roller-coaster ride… Surprise!! Classical music at its most refined can be a jolly good time. This unique ensemble brings together three members of the Vienna Philharmonic, two Berlin Philharmonic soloists, one of the most versatile Austrian pianists and an improvising and singing violinist for a deliciously heady cocktail of classical, jazz, klezmer, Latin, even pop music… and yes, good old fun. With their signature blend of the "highest philharmonic quality and unrestrained joy of music-making" (Kurier, Austria) Philharmonix are synonymous with "entertainment". And what is the secret ingredient to the ensemble's runaway success? What mysterious essence binds together these virtuosos of independent artistic pursuits and individual achievements and awards that are too numerous to mention? That's right: the Philharmonix come together only if and when they are inspired by a new musical idea. There is not an ounce of routine or obligation in anything they do, and this is how they capture the elusive Holy Grail of today's classical performance: the "you had to have been there" effect, which turns a casual audience member into a passionate fan. So… who gets to have the most fun? It seems to be everyone within an earshot of this musical feast, which isn't necessarily classical but has a lot of class.
Philharmonix:
Noah Bendix-Balgley, violin
Sebastian Gürtler, violin
Thilo Fechner, viola
Stephan Koncz, violoncello
Ödön Rácz, double bass
Daniel Ottensamer, clarinet
Christoph Traxler, piano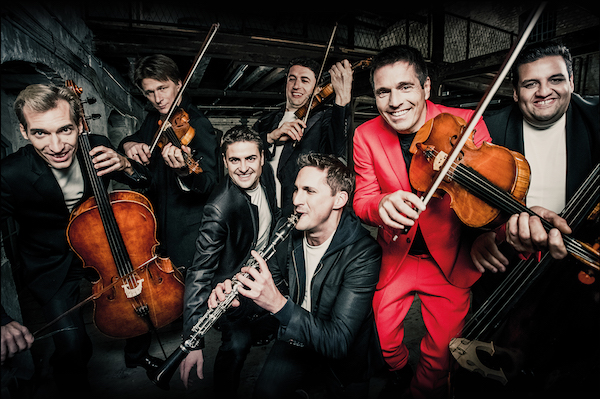 Philharmonix
Wien – New York: Den musikalischen Spagat zwischen der Wiener Vorstadt und der Metropole jenseits des «großen Teichs» bewältigen die Philharmonix mit Leichtigkeit. Auch in neuer Besetzung schreibt das siebenköpfige Ensemble seine Erfolgsgeschichte nahtlos fort. Mit seinen populären Arrangements und unterhaltsamen Ausflügen in die Welt des «bewegten Bildes» spielt es sich direkt in die Herzen des Publikums. Wer vom Reisen nicht genug hat, kann – im Rahmen eines optionalen Zusatzkonzerts – mit Simon Keenlyside ein zweites Mal gen Amerika aufbrechen.
Die Philharmonix spielen alles, worauf sie schon immer Lust hatten. Ihre Musik ist geprägt von der Klangästhetik und Tradition der Spitzenorchester, für die sie sonst tätig sind (Wiener Philharmoniker und Berliner Philharmoniker). Was sie verbindet, ist die reine Freude an der klassischen Musik. Aber ihr Programm reicht weit darüber hinaus. In ihren brillanten Neufassungen bearbeiten sie auch Jazz und Latin, jüdische Volksmusik, Hollywood-Melodien und Pop. Sie gewinnen allen Kompositionen noch nie gehörte, originelle Seiten ab – und fügen gekonnt zusammen, was sonst nicht zusammengehört. Ob die Philharmonix nun Popsong oder Wienerlied bearbeiten, Prokofjew oder Tschaikowsky, Gershwin oder Piazzolla: Kurzweiliger, unterhaltsamer und cleverer kann Klassik nicht sein.

This album contains no booklet.