---
Album info
Album including Album cover
1

Brighter Day

04:24

2

Messenjah

04:18

3

How Many Times

03:46

4

Praise Jah

03:59

5

Economical Crisis

04:11

6

Meditation

04:23

7

Praise Jah Dub

04:04

8

Messenjah Dub

04:18

Total Runtime

33:23
Info for Brighter Day - EP

Jon Moon's brand new single is all about hope. "Especially in these difficult times we shouldn't lose our courage, for brighter days will come!", that is the message the young Reggae artist, songwriter and producer from Berlin conveys.
The inspiration for his music stems from his strong connection to South Africa - and it's respective Reggae-scene -, projects with artists from all over the world and his experiences of the Berlin Reggae- and Soundsystem-scene. His lyrics carry the Rastafari spirit, are sometimes fierce, often political but remain hopeful; thus showing Moon's positive view on life.
"Brighter Day", fully displays Jon Moon's musicality, beginning with an almost melancholic intro, evolving into the first chorus when the riddim starts rolling with the words "I'n'I will see the sunshine, if we just keep holding on!"
After releasing his first selection "More Fyah Riddim" in February 2019 he joined the Berlin Boom Orchestra as trombonist and spent a huge amount of time in the studio working on his second selection as well as an EP - of which "Brighter Day" is the title track.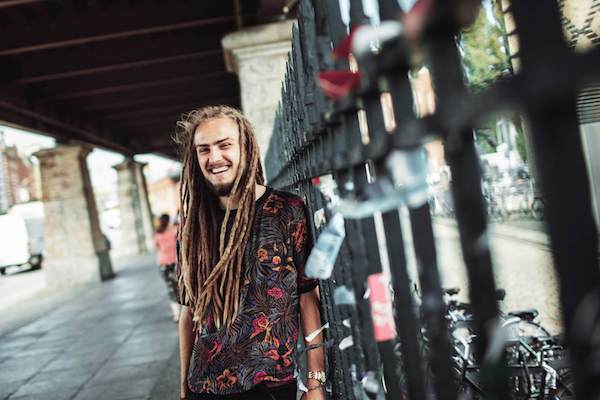 Jon Moon
has over 20 years experience working with numerous artists. Credits include: Alabama 3, Amy Winehouse, Alexandra Burke, Blue, The Buzzcocks, Daniel Beddingfield, Dionne Bromfield, Dirty Pretty Things, Example, Faithless, Fun Lovin Criminals, John Mayall, The Jersey Boys, Jessie J, The Kooks, Lemar, Mark Ronson, Mel Blatt, Mick Taylor, Ms Dynamite, N-Dubz, Ny Gray, Remi Nicole, Roger Waters, The Rumble Strips, Sam Fox, Glen Matlock, Yasmin, and Yusuf Islam formerly known as "Cat Stevens".
Jon has recorded and mixed a variety of live concerts, using sound to picture and 5.1. Credits include: Bryan Adams, Bullet For My Valentine, Clare Maguire, Deacon Blue, Diana Vickers, Earth Wind and Fire, Elton John, Florence and the Machine, Jose Gonzales, Ke$ha, The Magic Numbers, Michael Jackson, Nina Simone, Paulo Nutini, The Pretenders, Sparks, Stevie Wonder, Sting, Tina Turner, The Two Door Cinema Club, Van ,Morrison, We Are Scientists,White Lies and Whitney Houston.
Film and TV contracts include: The Buzzcocks 'Live 30th', Alabama 3 'Hear the Train a Comin', Soundtrack for 'Bad City Blues', theme and strings for 'Russell Brand's Got Issues', soundtrack for 'The Great North Run' and the mixing of Cornbury and Eden Project Festivals.
Also working with Roger Waters as Sound Designer, using 'diamond' surround for his recent 'Dark Side of the Moon' tour.
Other projects include: Amici, Avril Lavgine, The Beach Boys, The Bee Gee's, Billy Ocean, The Bratz, Chipmunk, Denny Laine, Dream Theatre, Duffy, East 17, Gloria Estafan, Grand Master Flash, The Gypsy Kings, Jamelia, Jocelyn Brown, Kings of Leon, Massive Attack, Moire Brennen, Nigel Kennedy, One Direction, Page & Plant, Paul Young, Placebo, PP Arnold, Ray Charles, Razorlight, Run DMC, Sophie Ellis Bextor, Vanessa Mae, and Wretch 32.

This album contains no booklet.