---
Album info
Album including Album cover
1

What´s New

03:55

2

I Concentrate on You

04:15

3

Don´t Smoke in Bed

03:35

4

Time After Time

03:29

5

For All We Know

04:12

6

I´ll Be Seeing You

02:58

7

You Can Have Him

04:39

8

Come Rain or Come Shine

03:42

9

Little Girl Blue

05:47

10

Answer Me

03:24

Total Runtime

39:56
Info for I Concentrate on You

'I Concentrate on You' is an atmospheric, personal and powerful album from two superb musicians and communicators, vocalist Elvira Nikolaisen and trumpeter Mathias Eick, who breath new and refreshing life into a selection of ballads from what is popularly referred to as "the great American songbook".
Featuring ten immortal songs, made famous by artists such as Sarah Vaughan, Frank Sinatra and Nina Simone, they are accompanied by three of Norway's most highly acknowledged jazz and classical musicians, the songs are presented in a variety of intimate duo, trio and quartet settings.
Since her recording debut in 2006, Elvira Nikolaisen has become one of the most prominent and successful artists of her generation. Her first album, 'Quiet Exit', sold 50,000 copies and received three nominations for Spellemannsprisen, the Norwegian ecqivalant of a Grammy. Songs such as "Love I Can't Defend" and "Egypt Song" have become modern classics.
Mathias Eick began his career as the trumpet player in Jaga Jazzist, and has been one of Norway's most highly profiled jazz musicians in recent years. He has released two critically acclaimed solo albums on the prestigious ECM label, and has appeared on over 100 records with other artists in a broad range of genres.
Elvira Nikolaisen, vocals
Mathias Eick, trumpet
Andreas Ulvo, piano
Ole Morten Vågan, double bass
Recorded in Pooka Studio January 2013, and Albatross Recorders February 2013
Mixed at Albatross Recorders April 2013
Mastered at Propeller Mastering April 2013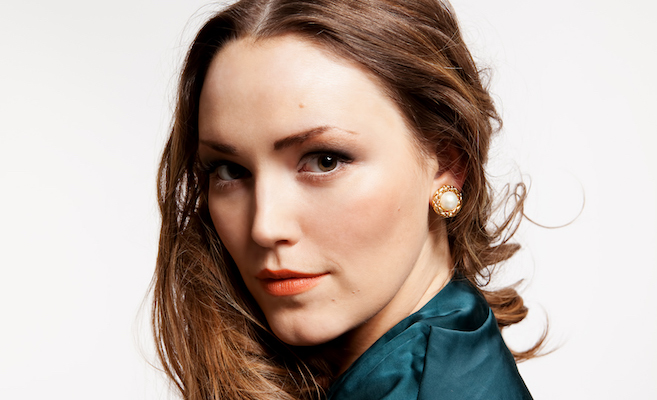 Elvira Nikolaisen
Since her recording debut in 2006, Elvira Nikolaisen has become one of the most prominent and successful artists of her generation. Her first album, Quiet Exit, sold 50,000 copies and received three nominations for Spellemannsprisen, the Norwegian Grammy. Songs such as "Love I Can't Defend" and "Egypt Song" have become modern classics. For several years, Elvira has had a secret dream of recording an album of other people's songs – namely, a selection of ballads from what is often called "the great American songbook".
Ten immortal songs, made famous by artists such as Sarah Vaughan, Frank Sinatra and Nina Simone, all have stories to tell. These are songs Elvira grew up with and has always had a strong relationship to. They all had an impact on her development both as a singer and as a songwriter.
The idea for this album has existed for a long time, but it was not until Elvira met musician and producer Mathias Eick that she felt that the idea could be realised. "This type of song material has been interpreted by many artists for decades, but together with Mathias I was able to find a unique sound, and the idea could be brought to life," says Elvira.
Mathias Eick began his career as the trumpet player in Jaga Jazzist, and has been one of Norway's most highly profiled jazz musicians in recent years. He has released two critically acclaimed solo albums on the prestigious ECM label, and has appeared on over 100 records with other artists in a broad range of genres, from Thomas Dybdahl to Turboneger. In 2007 he received the International Jazz Award for New Talent from the International Jazz Festivals Organization, and in 2009 he was awarded the StatoilHydro grant at the by:Larm festival.
Elvira and Mathias had been watching each other's careers enthusiastically for a long time when mutual friends introduced them to each other. In addition to playing a number of instruments on the album, Mathias functioned as both producer and arranger. They were joined by some of Norway's finest young jazz musicians: pianist Andreas Ulvo, violinist Ola Kvernberg and drummer Gard Nilssen.
I Concentrate on You is an atmospheric, personal and powerful album from two superb musicians and communicators. An album that will surely serve as a life buoy for countless listeners throughout the dark autumn and winter.

This album contains no booklet.