---
Album info
Album including Album cover
1

Sensing Elements

14:34

2

Roll the Seven Twice

06:38

3

Granular Blankets

05:21

4

It Is Time to Leave When Everyone Is Dancing

06:38

5

Identity Proven Matrix

05:24

6

Non-Locality Destination

10:38

7

Proton Bonfire

08:42

8

Tear Down the Grey Skies (44.1 kHz)

06:16

9

Genesis of Precious Thoughts (44.1 kHz)

09:09

Total Runtime

01:13:20
Info for Quantum Gate

The release of Quantum Gate coincides with the 50th anniversary of the foundation of Tangerine Dream! The band have been a fundamental influence on electronic and progressive music since their formation in West Berlin, 1967. Inspiring genres, musicians and other art forms, from The Future Sound of London to Porcupine Tree, the widely popular TV show Stranger Things (for which their music also featured in) to seminal video game Grand Theft Auto V (for which they helped to write the soundtrack).
The new album, Quantum Gate promises an updated, contemporary development of their trademark sound: sequencer-driven electronica covering a wide range of moods and atmospheres from ambient soundscapes to energetic, upbeat moments.
The album began as a concept and series of musical sketches by Froese before he passed away in 2015. Remaining band members Thorsten Quaeschning, Ulrich Schnauss and Hoshiko Yamane worked together to realize Edgar's visions and expectations of a conceptual album that attempts to translate quantum physics and philosophy into music. New member Ulrich Schnauss comments: "at the moment hardly any other area of science questions our concept of reality (linearity of time etc.) as profoundly as research in Quantum physics - it's no surprise therefore that Edgar was drawn to these ideas since he had always aimed at reminding listeners of the existence of 'unopened doors'.
Thorsten Quaeschning, Tangerine Dream's long term collaborator elaborates further on the continuation of the band and Froese's vision "Recently Peter Baumann, part of one of the band's most influential 70s line-ups, remarked, that to him, Tangerine Dream is 'first and foremost an idea rather than a band' – and 'ideas could last for 100 years and beyond'. To me, though, Tangerine Dream is a "band", which is one important part of TD´s strength. But I would totally agree with the idea that it could last for 100 years, because of the strong concept. And "Quantum Gate" is our first statement of the second half of that quest"
Quantum Gate was recorded at Eastgate Studios, Vienna & Townend Studio in Berlin from August 2014 to June 2017; mixing handled by Tangerine Dream's own Thorsten Quaeschning & Ulrich Schnauss; mastering by Birgir Jón "Biggi" Birgisson, Sundlaugin Studio Reykjavík, Iceland (Sigur Ros, Jon Hopkins, Spiritualized). The stunning album artwork was created by Froese's widow Bianca Froese-Acquaye
This new opus should be seen as both a new beginning and a testament to Edgar Froese's never-withering inspiration and ever-flowing creativity.
Edgar Froese, leader, founder, keyboards, guitars (1967–2015)
Thorsten Quaeschning, bandleader, keyboards, drums, vocals, guitar
Hoshiko Yamane, violin, cello, Ableton Push
Ulrich Schnauss, synthesizer, piano, Sequencer, Ableton
Produced by Edgar Froese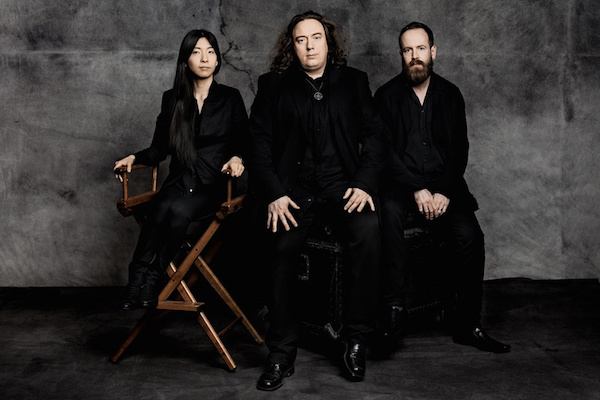 Tangerine Dream
Very different from your standard 'Heavy Metal Records' band, 'Tangerine Dream' are a German Electronic group that were first founded in 1967. There mix of Electronic, New-Age, Ambient and even Psychedelic has created a unique and iconic sound that has helped them to have a very successful career. In terms of line-up, the group have undergone many changes over the years, with founding member Edgar Froese being the only continuous member of the group until his untimely death in January 2015. During the peak of their career, the best known and most constant line up featured Froese as well as Christopher Franke and Peter Baumann, before in the late 70's keyboardist Johannes Schmoelling replaced Baumann. Over their incredible 49 year career, they have released over a hundred albums and have been hailed by many as key influential figures in the development of popular sub-genres of Electronic music including "Krautrock", "Berlin School", "Electronic Dance Music" and "New Age Music".
The group however are perhaps most famous for their work in film, and over the years they have composed and recorded the soundtracks for a number of big Hollywood films, most of which were released in the 1980's. These included the films "Sorcerer", "Risky Business", "Legend"and "Firestarter". They also composed the score for the fifth instalment of the extremely popular "Grand Theft Auto" series, "Grand Theft Auto V" which has gone on to receive worldwide critical acclaim and has won hundreds of game of the year awards. And it's film soundtracks where their association with Heavy Metal Records comes in, in 1984 the group composed and recorded the soundtrack for the film "Flashpoint" starring famous actor and musician Kris Kristofferson. The soundtrack was released through Heavy Metal Records that year with the film making $3,854,833 at the box office. In fact many of their soundtracks have gone to be more successful than some of their studio albums and in the years since, it's clear that many composers have taken influence from the groups iconic and revolutionary take on Electronic music for film scores.

This album contains no booklet.