---
Album info
Label: Warner Classics
Genre: Classical
Subgenre: Orchestral
Artist: London Philharmonic Orchestra & Ben Gernon
Composer: Richard Strauss, Giuseppe Verdi, Hector Berlioz, Johannes Brahms, Samuel Barber, Gabriel Fauré, Felix Mendelssohn, Richard Wagner, Ludwig van Beethoven, Remo Giazotto, Tomaso Albinoni, Wolfgang Amadeus Mozart, Gustav Holst, Alexander Borodin, Claude Debussy, George Frideric Handel, Johann Strauss II, John Philip Sousa, Pyotr Ilyich Tchaikovsky, Johann Sebastian Bach, Dmitri Shostakovich, Gustav Mahler, Sergei Prokofiev, Antonín Dvořák, Edward Elgar, Jacques Offenbach, Felix Mendelssohn Bartholdy
Album including Album cover
I`m sorry!
Dear HIGHRESAUDIO Visitor,
due to territorial constraints and also different releases dates in each country you currently can`t purchase this album. We are updating our release dates twice a week. So, please feel free to check from time-to-time, if the album is available for your country.
We suggest, that you bookmark the album and use our Short List function.
Thank you for your understanding and patience.
Yours sincerely, HIGHRESAUDIO
Richard Strauss (1864 - 1949):

1

Strauss, Richard: Also sprach Zarathustra, Op. 30: Opening

01:42

Giuseppe Verdi (1813 - 1901):

2

Verdi: Messa da Requiem: Dies Irae

02:17

Hector Berlioz (1803 - 1869):

3

Berlioz: La damnation de Faust, Op. 24, H 111, Pt. 1: Hungarian March

05:00

Johannes Brahms (1833 - 1897):

4

Brahms: Symphony No. 3 in F Major, Op. 90: III. Poco allegretto

06:27

Samuel Barber (1910 - 1981):

5

Barber: Adagio for Strings, Op. 11

07:24

Gabriel Fauré (1845 - 1924):

6

Fauré: Pavane, Op. 50 (Instrumental Version)

06:37

Felix Mendelssohn (1809 - 1847):

7

Mendelssohn: A Midsummer Night's Dream, Op. 61, MWV M13: No. 9, Wedding March

04:52

Richard Wagner (1813 - 1883):

8

Wagner: Die Walküre, Act III: Ride of the Walkyries (Arr. Hutschenruyter)

05:14

Ludwig van Beethoven (1770 - 1827):

9

Beethoven: Coriolan Overture, Op. 62

08:10

Remo Giazotto (1910 - 1998), Tomaso Albinoni (1671 - 1751):

10

Albinoni: Adagio in G Minor

07:44

Wolfgang Amadeus Mozart (1756 - 1791):

11

Mozart: Requiem in D Minor, K. 626: Lacrymosa

02:47

Gustav Holst (1874 - 1934):

12

Holst: The Planets, Op. 32: IV. Jupiter, the Bringer of Jollity

07:46

Alexander Borodin (1833 - 1887): Borodin: Prince Igor, Act II, Polovtsian Dances:

13

Borodin: Prince Igor, Act II, Polovtsian Dances: Andantino - Allegro vivo (Instrumental Version)

03:40

14

Borodin: Prince Igor, Act II, Polovtsian Dances: Allegro - Presto - Moderato alla breve (Instrumental Version)

02:17

15

Borodin: Prince Igor, Act II, Polovtsian Dances: Presto - Allegro con spirito (Instrumental Version)

05:47

Claude Debussy (1862 - 1918):

16

Debussy: Nocturnes, CD 98, L. 91: No. 2, Fêtes

06:37

Ludwig van Beethoven:

17

Beethoven: Die Ruinen von Athen, Op. 113: No. 4, Marcia alla turca

01:36

George Frideric Handel (1685 - 1759):

18

Handel: Messiah, HWV 56, Pt. 2: "Hallelujah"

03:47

Wolfgang Amadeus Mozart:

19

Mozart: Symphony No. 40 in G Minor, K. 550: I. Molto Allegro

05:37

Johann Strauss II (1825 - 1899):

20

Strauss Johann: An der schönen blauen Donau, Op. 314

03:23

John Philip Sousa (1854 - 1932):

21

Sousa: The Stars & Stripes Forever

03:39

Pyotr Ilyich Tchaikovsky (1840 - 1893):

22

Tchaikovsky: The Nutcracker, Op. 71, Act II: No. 13, Waltz of the Flowers

07:08

Johann Sebastian Bach (1685 - 1750):

23

Bach, JS: Orchestral Suite No. 3 in D Major, BWV 1068: II. Air

05:24

Wolfgang Amadeus Mozart:

24

Mozart: Serenade No. 13 in G Major, K. 525 "Eine kleine Nachtmusik": I. Allegro

04:01

Dmitri Shostakovich (1906 - 1975):

25

Shostakovich: Suite for Variety Orchestra, Op. 50b: VII. Waltz 2

03:47

Gustav Mahler (1860 - 1911):

26

Mahler: Symphony No. 5 in C-Sharp Minor: IV. Adagietto

09:18

Sergei Prokofiev (1891 - 1953):

27

Prokofiev: Suite No. 2 from Romeo and Juliet, Op.64ter: I. The Montagues and Capulets

04:58

Antonín Dvořák (1841 - 1904):

28

Dvorák: Symphony No. 9 in E Minor, Op. 95 "From the New World": IV. Allegro con fuoco

11:04

Edward Elgar (1857 - 1934):

29

Elgar: Variations on an Original Theme, Op. 36 "Enigma": Variation IX. Adagio "Nimrod"

03:08

Wolfgang Amadeus Mozart:

30

Mozart: Le nozze di Figaro, K. 492: Overture

04:18

Jacques Offenbach (1819 - 1880):

31

Offenbach: Les contes d'Hoffmann, Act III: Barcarolle

03:30

Felix Mendelssohn:

32

Mendelssohn: A Midsummer Night's Dream, Op. 61, MWV M13: No. 1, Scherzo

04:42

Maurice Ravel (1875 - 1937):

33

Ravel: Boléro, M. 81

16:36

Wolfgang Amadeus Mozart:

34

Mozart: Requiem in D Minor, K. 626: Dies Irae

01:44

Pyotr Ilyich Tchaikovsky:

35

Tchaikovsky: Symphony No. 6 in B Minor, Op. 74 "Pathétique": III. Allegro molto vivace

09:12

Total Runtime

03:11:13
Info for The Immersive Experience (Stereo)

The Immersive Experience is a spectacular collection of 35 of the greatest classical tracksby the London Philharmonic Orchestra & Choir and young British conductor Ben Gernon at the legendary Abbey Road Studios.
Our aim has been to ensure that each track has the edge of live performance," says conductor Ben Gernon, "to create the electrifying sensation of living inside the music." Gernon, who was mentored by the late Sir Colin Davis, is Principal Guest Conductor of the BBC Philharmonic Orchestra and has also conducted such major orchestras as the Chicago Symphony, LA Philharmonic, Czech Philharmonic and Oslo Philharmonic. The London Philharmonic Orchestra, founded in 1932, is one of the world's finest symphony orchestras, and is admired for its adventurous, forward-looking approach.
London Philharmonic Orchestra
Ben Gernon, conductor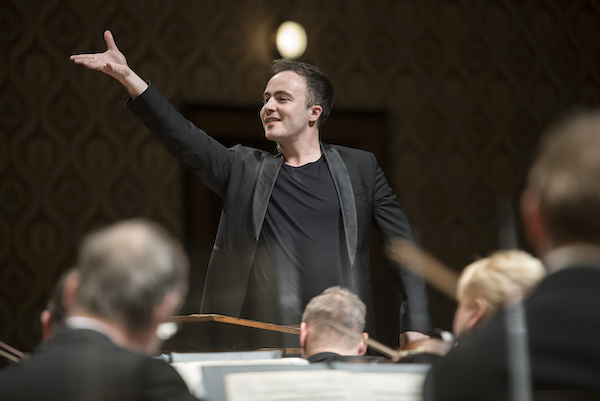 Ben Gernon
is praised repeatedly for his effortless authority on the podium, his drive and command of the orchestra and his incisive, heart-felt and evocative interpretations. Gernon has already conducted many of the world's major orchestras including the Czech Philharmonic, Los Angeles Philharmonic, Chicago Symphony, Oslo Philharmonic and BBC Symphony orchestras and he is now increasingly in demand in the opera house.
Gernon recently made his debut with orchestras including the Frankfurt Radio Symphony, NDR Radiophilharmonie, Netherlands Philharmonic and Hallé Orchestras, and has upcoming debuts with the Finnish Radio Symphony, Basel Symphony and Tampere Philharmonic, amongst others. In July 2020 Gernon's recording with the London Philharmonic Orchestra and Choir, the 3D Classical Collection, was released by Warner Classics and includes a selection of popular classical music spanning four centuries. Other recent releases include recordings with the Czech Philharmonic, BBC Philharmonic, BBC Scottish Symphony and Royal Scottish National Orchestras.
Equally at home in the opera house, Gernon made his debut in 18/19 at English National Opera conducting Simon McBurney's production of The Magic Flute and returned to Royal Swedish Opera for a new production of Madama Butterfly following his debut the previous season with The Magic Flute. Previous operatic productions have included Barber of Seville with Glyndebourne Touring Opera and The Marriage of Figaro at Stuttgart Opera.
Recent highlights have included many significant debuts across the globe with orchestras such as the Vienna Symphony, Royal Stockholm Philharmonic, DSO Berlin, Munich Chamber, Orchestre National du Capitole de Toulouse, Orchestra of St. Luke's and Swedish Chamber orchestras. He is a regular favourite of orchestras in the UK, including the Philharmonia, BBC Symphony and City of Birmingham Symphony orchestras, and the Scottish Chamber Orchestra at the BBC Proms on the occasion of Sir Peter Maxwell Davies's 80th Birthday. From 2017 until 2020, Gernon was Principal Guest Conductor of the BBC Philharmonic Orchestra, one of the youngest conductors to have held a titled position with a BBC orchestra. In 2018 he conducted them in a televised performance at the BBC Proms and he continues to work with them regularly.
Ben Gernon studied at the Guildhall School of Music and Drama with Sian Edwards, with whom he still works closely, and with Sir Colin Davis, who was a profoundly influential figure in Gernon's musical development.

This album contains no booklet.