---
Album info
Album including Album cover
1

Heroes

04:08

2

Breaking The Law

02:22

3

Bankrobber

03:28

4

Kisses Sweeter Than Wine

03:40

5

Get It On

03:34

6

Black Is the Colour

04:17

7

Love Will Tear Us Apart

03:52

8

You've Got Another Thing Coming

04:09

9

Personal Jesus

03:19

10

Should I Stay or Should I Go

03:05

11

I Was Made for Loving You

03:58

12

Over The Hill

03:42

13

Living After Midnight

03:52

14

The Number of the Beast

04:14

15

I Feel You

03:36

16

I Still Haven't Found What I'm Looking For

05:15

Total Runtime

01:00:31
Info for Songster

Ein Songster ist sowas wie ein Vorgänger des Bluesman, mit einem wichtigen Unterschied: Er spielt nicht nur den Blues, sondern alles, was er will - und genau das tut Michael van Merwyk auf seinem neuen Album "Songster".
15 Songs hat sich der Gitarrist und Sänger vorgenommen, für den Genregrenzen keine Rolle spielen. David Bowie, Judas Priest, Depeche Mode, traditionelle Folk-Songs aus vergangenen Jahrhunderten: Michael van Merwyk übersetzt alles lässig aus dem Handgelenk in seinen eigenen musikalischen Dialekt.
Er reduziert die ausproduzierten Originale auf knorrige Akustikversionen: kein Ton zu viel oder zu wenig in den sparsamen Arrangements. Dr. John oder Johnny Cash singen Songs von Iron Maiden und The Clash, mit John Lee Hooker oder Blind Willie Johnson an der Gitarre: So könnte das klingen - ein bisschen schräg, aber mit Spaß.
Seinen Stil hat Michael van Merwyk dort entwickelt, wo Songster nunmal meistens sind: unterwegs. "Meine Schule waren Kneipen, Clubs und Partys. Seit fast 35 Jahren singe ich Songs und erzähle Geschichten. Meistens spiele ich eigene Kompositionen, aber auch die von anderen Musikern in ganz eigenen Versionen. Ein guter Song ist ein guter Song." Live aufgenommen im Bielefelder Watt Matters Studio: keine Kopfhörer, keine Tricks. Das wirkt und sorgt für ein Gefühl von Nähe. Bei geschlossenen Augen glaubt man, zwischen den Musikern zu sitzen. Mit dunkler Stimme holt Michael van Merwyk alles aus den Songs heraus: "Breaking The Law" singt er um Oktaven tiefer als Rob Halford von Judas Priest - aber mindestens genauso ausdrucksstark.
"Songster" beginnt, wir hören Steve Bakers sehnsüchtige Harp, die Dobro kommt dazu, und wir sind mittendrin in Bowies "Heroes" - eine unfassbar gefühlvolle Version des Meisterwerks. "Should I Stay or Should I Go" kommt lockerer als bei The Clash, hat aber denselben Drive dank minimalistischer Begleitung von Drummer Micha Maas und Klaas Wendling am Kontrabass. Auch solo produziert Michael van Merwyk volle Energie: Hier spielt ein erfahrener Live-Performer, der weiß, wie man die Leute allein von den Stühlen holt.
Songster wie Mississipi John Hurt, Big Bill Broonzy oder Lead Belly spielten für jedes Publikum und hatten für jede Lage den passenden Sound parat. In ihrer Tradition steht Michael van Merwyk: Er spielt vor Blues-Hörern, auf Singer/Songwriter-Festivals und in Kneipen und variiert sein Repertoire, wie es ihm gefällt. Hier ist nichts durchgestylt und optimiert. Hier geht es um die Musik - und darum, sie zu den Leuten zu bringen.
Michael van Merwyk, Gitarre, Gesang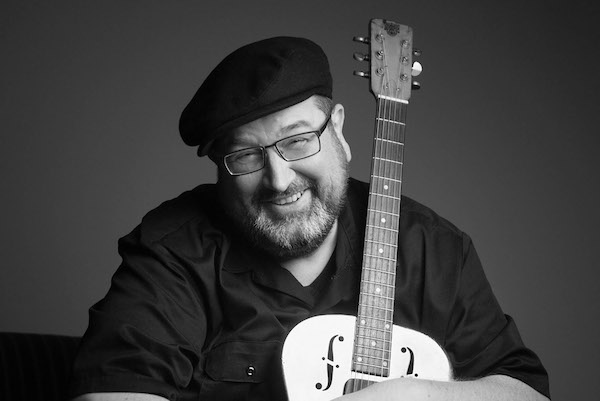 Michael van Merwyk
"Nur die Seele zählt! Wer hat eigentlich behauptet, das Blues eine schwermütige Musik ist, die dauernd davon erzählt wie schlecht es einem geht - Mumpitz! Blues soll einen aus genau dieser Stimmung herausbringen, einen guten Feierabend bereiten und den Spaß an der Musik vermitteln." - Michael van Merwyk
Michael van Merwyk gehört zu einer jungen Generation (Jahrgang ´69) von Blues-Musikern, die so ganz und gar nicht dem vorhandenen Klischee entsprechen. Weiß, Europäer und Sonnenbrillen trägt er nur im Sommer. In den letzten Jahren hat er sich einen Namen als Gitarrist gemacht, der Gefühl vor Technik stellt und sich immer als einen Teil der Band sieht.
Sein Handwerk hat er u.a. in der Hausband eines der angesagtesten Blues-Clubs in Deutschland, dem ROADHOUSE in Rheda-Wiedenbrück gelernt. Dort machten so unterschiedliche Musiker-Legenden wie Jimmy Rogers, Joe Louis Walker, Lazy Lester, Larry Garner, Jimmy Johnson, etc. Station auf Ihren Europa-Tourneen und gaben dem talentierten Nachwuchsmusiker gerne Tipps und Lehrstunden. Sie baten ihn oft zu Jam-Sessions mit auf die Bühne und engagieren Ihn für Deutschland-Touren als Begleitmusiker (Michael ist u.a. auf Larry Garners Live-CD "Emberassment to the Blues" / RUF-Records zu hören).
Die Veröffentlichungen mit seiner Band "Bluesoul" wurden von der Fachpresse hochgelobt ("Ein Knüller!" Blues News Magazin) für seinen eigenständigen Stil, die dynamische Aufnahme und vor allen Dingen für die ausnahmslos von Michael van Merwyk komponierten Songs.
Michael van Merwyk ist einer der wenigen Lap-Steel Spieler im Blues, jener mit einem Metalstück gespielten auf dem Knie liegenden Gitarre, die man sonst eher in der Country Musik wimmern hört. Seine musikalischen Vorbilder sind nicht nur im Blues zu finden, er läßt immer wieder andere musikalische Formen in seine Songs einfließen.

This album contains no booklet.