---
Album info
Album including Album cover
1

The Waiting Room

02:41

2

Austerlitz

02:35

3

Mirror

03:07

4

Low Setting Sun

03:54

5

Winter's Fall

05:10

Total Runtime

17:27
Info for Austerlitz

Following his celebrated 2020 solo album 'Exit Ghost', Paul Haslinger presents the 'Austerlitz' EP, a collection of recordings that bookend the project and offers an evocative perspective on his current work and trajectory.
'Exit Ghost' is his long thought out opus, a moment caught in time, flicking through reference points, taking an ethereal excursion that permeates musical genres as it becomes awash with intricate sounds and cross-pollinating rhythms.
Overflowing into these new compositions that were recorded and initially considered for the album. The EP borrows its title from literary hauntology inspired novelist W.G. Sebald's book and has a continuing sentiment of identity, truth and discovery from the album. The poetry, prose and biographical element of this novel proved an inspirational foundation for the composer.
"Alone at a grand piano Haslinger has a knack for evocative phrasing and suggestive cadences, while through understated arrangements, ambient undercurrents and electronic shading he manages to draw a range of dramatic implications out of his introspection." The Wire
Bringing us full circle, 'Austerlitz' summarizes the album perfectly - its haunting visions and dreamlike soundscapes sees the classically trained pianist dominating the fore.
And so we continue on our immersive and adventurous travelogue with the former member of the legendary Tangerine Dream, Paul Haslinger - a man who knows how to build tension, hold moods, illustrate contempt, lies, passion and pleasure; He can create fear, loathing and love - he's been unlocking the nuances of such emotions in a hugely successful career as a TV and film soundtrack composer.
Paul Haslinger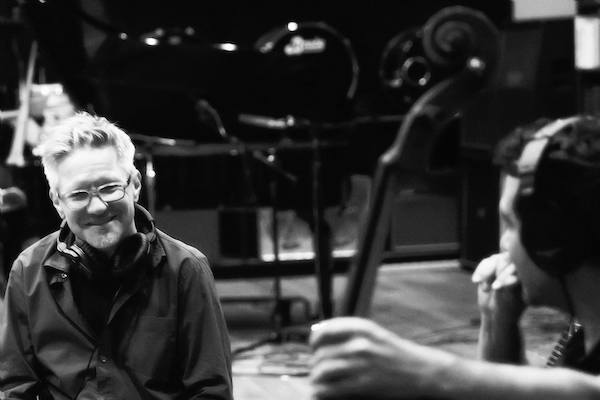 Paul Haslinger
is an Austrian musician and composer. He lives and works in Los Angeles.
Paul began his career as a member of Electronic Music pioneers Tangerine Dream. He toured with the band extensively from 1985-90 and contributed to projects such as the album "Underwater Sunlight" (1986), as well as the films "Near Dark" (1987) and "Miracle Mile" (1988). In 1990, the band received a Grammy Nomination for their score to the Miramar Documentary 'Canyon Dreams'.
Paul moved to Los Angeles in 1991 to expand his creative scope. This led to a number of collaborations and began to shift his focus towards film scoring. It was his programming work for composer Graeme Revell that caught the attention of Hollywood executives which lead to his first solo credit, scoring HBO's Cheaters in 2000.
Paul's unique approach to scoring is based on his belief that, music in any genre, including film and television, should represent and be relevant to the time in which it was written.
He received an Emmy nomination for his work on the Showtime Series 'Sleeper Cell' (2007)
Notable Projects Include:
Fear The Walking Dead (2015 and 2016) Halt And Catch Fire (2014 - 2016) Rainbow Six Siege (2016) Underworld Awakening (2012) The Three Musketeers (2011) Rise Of The Lycans (2009) Takers (2009) Death Race (2008) Shoot Em Up (2007) Crank (2006) Sleeper Cell (2006) Underworld (2003) Blue Crush (2002) Minority Report (2002)
Notable Collaborations Include:
Jon Hassell, Brian Williams (aka Lustmord), Christian Fennesz, Adam Jones, Snorri Bros, Nona Hendryx, Sussan Deihim, and Shenkar.

This album contains no booklet.