---
Album info
Album including Album cover
1

Pari Shokogun

07:03

2

Kintsukuroi

06:46

3

The Joyful Warrior

08:40

4

Cosmopolis

08:27

5

Eastern Sonata

04:53

6

Ode To The White Ape

06:41

7

Upper Welsch Side

05:54

8

Opium

04:18

9

Land Of Wonders

01:03

10

Whirlpool

03:03

11

Song For Little Shai

07:10

Total Runtime

01:03:58
Info for Eastern Sonata

Virtuoso, energetic, enthusiastic: the compositions of the Indian-Swiss violinist Baiju Bhatt are drenched in rhythmical finesse and melodious runs that go straight to the ears. Supported by his band, Red Sun, the performer from the Romandie skillfully interweaves influences from Jazz, World and Rock and thus create his very own sound somewhere between the Orient and the Occident. The band's new album, Eastern Sonata, is released on the Berlin label QFTF, and features some of the most prominent artists in the contemporary Jazz/World fusion scene.
"Red Sun burns hot and deep" (David Balakrishnan, Grammy Winner)
"auf energetisch hohem Pegel und im besten Sinn routiniert" (BeJazz Transnational Competition)
"Leader Baiju Bhatt makes a potent point for where Jazz-Violin can go in 2018" (UK Vibes)
"Des lignes rythmiques fracassantes de régularité évoquent l'épopée renversante d'un Weather Report et d'un Shakti entremêlés" (L'Abri)
"Red Sun's music appears accessible, catchy and refreshing. Bhatt manages his bandmates with a strong creative voice and vision, and forms a tight band complex, with a unique sound and outstanding repertoire." (QFTF)
Baiju Bhatt, violin
Valentin Conus, tenor saxophone, soprano saxophone
Mark Priore, piano
Blaise Hommage, electric bass
Cyril Regamey, drums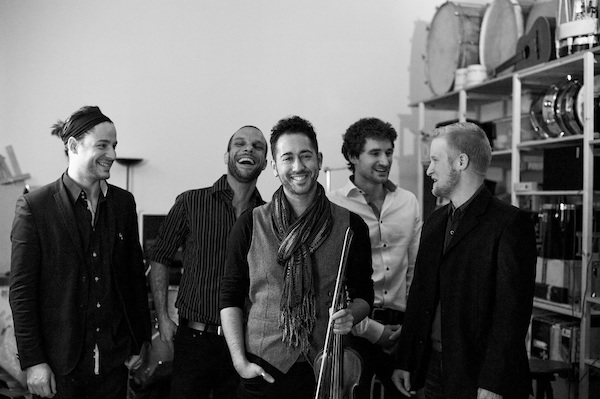 Baiju Bhatt & Red Sun
explores the common grounds that connect jazz, rock and world music, through original compositions. A strong power of expression, deep sensitivity, high energy and humor are the trademarks of the musicians in the band.
Since its creation by the Swiss-Indian violinist Baiju BHATT in 2014, rewarded with an excellency award by the Conservatory of Lausanne (HEMU), the group's compositions have been played at the Brooklyn Raga Massive in New York (USA) or the ABPI Foundation in Lausanne (CH), among others, with a constantly renewed success. The band's first album, "Alive in Lausanne," was released in 2015 on parisian label Cordes et Âmes, with Tunisian oud and qanun virtuosos Amine & Hamza as prestigious guests. The group was also scheduled for the festival Label Suisse (Lausanne, CH) in 2016, and will be taking part in the 2017 BeJazz Transnational competition in Bern (CH). Baiju Bhatt & Red Sun received the support of the ABPI Foundation in 2015, and the Dénéréaz Foundation in 2016.

This album contains no booklet.