---
Album info
Album including Album cover
I`m sorry!
Dear HIGHRESAUDIO Visitor,
due to territorial constraints and also different releases dates in each country you currently can`t purchase this album. We are updating our release dates twice a week. So, please feel free to check from time-to-time, if the album is available for your country.
We suggest, that you bookmark the album and use our Short List function.
Thank you for your understanding and patience.
Yours sincerely, HIGHRESAUDIO
1

Wasserschimmer

08:07

2

Hymn to the Stars Take 1

08:35

3

Sandstone

05:21

4

Io

04:45

5

Raindrops

05:16

6

Isonoe

10:01

7

Harpalyke

06:52

8

Windfall

04:27

9

Hymn to the Stars Take 2

07:38

Total Runtime

01:01:02
Info for Elements of Space

In August 2018 the Simon Below Quartet performed at the international Jazz Festival Avignon and won the Grand Prix du Jury: three days of recording at the famous La Buissonne studio in Pernes les Fontaines in the south of France. Countless ECM productions have already been recorded there (e.g. by Tigran Hamasyan, Florian Weber, Nik Bärtsch, Kristjan Randalu), as well as works by piano grandmasters such as Joachim Kühn, Brad Mehldau, Ahmad Jamal and Carla Bley. In addition to the studio days in the summer of 2019, the award included another appearance on the main stage of the festival, which was followed by enthusiastic articles in the French jazz media.
Elements Of Space now presents the recordings made at La Buissonne. It is certainly not only a result of the outstanding sound and the spirit of the studio that the nuanced music of the album sometimes reminds of ECM productions. "Chamber jazz with a push" is what Simon Below humorously calls the style of his dynamic band, which skillfully moves between nuanced, lyrical and powerful passages. Often even within one piece, as the opener "Wasserschwimmer" ["Water-Swimmer"] impressively demonstrates. Below's compositions are remarkably mature and multi-layered, which is doubtlessly also due to his various sources of inspiration. They include jazz classics (Bill Evans, Miles Davis, Herbie Hancock, John Coltrane) and contemporary artists (Sylvie Courvoisier, Tyshawn Sorey), as well as Bela Bartók (partly because of his for that time innovative overlapping of two different harmonies) and Frédéric Mompou.
Compared to their debut, Below's detailed compositions play a more significant role on Elements Of Space. Nonetheless, he still leaves his band partners room for their own ideas. "The pieces contain starting points that give the improvisations a certain form," explains Below. "In the modal 'Hymn To The Stars' for example, the melody always stays present and individual musicians can use it as a starting point and play different sections of the piece." The gravitational "Isonoe" is also arranged with a modal and open approach; "Raindrops" and "Sandstone" on the other hand, are based on more fixed structures - with witty breaks, like the multiple tempo changes in "Sandstone". "It is important to take risks, not to stick to the rules too much, but rather to have the courage to break out," says Simon Below. "This also includes advanced playing techniques - and the fact that Fabian always challenges me to play energetically."
And indeed, the pianist's subtle rather than boastful nature and the saxophonist's resolute, sometimes almost explosive manner create interesting fields of tension. While Below "still sounds distinguished and relatively introverted, even when he lets faster chord sequences drift into dissonance" (Frankfurter Allgemeine Zeitung), Dudek counters with striking tone, varying between warm timbre and rough modulations. "Thanks to his energetic, often ecstatic power, Fabian is the most expressive in the quartet - and we know how to handle this," Below laughs.
The perfect mutual understanding within the band (founded in 2016) clearly becomes evident in these recordings that were completed in just two days. Six of the eight pieces were already in their live repertoire; the aforementioned "Hymn To The Stars" was recorded spontaneously, just like John Taylor's "Windfall". Of "Hymn", there exist exactly the two takes that can be heard on the album; only a few titles were recorded more often and none more than four times. "The atmosphere in the studio is wonderful and we automatically soaked in the spirit of the place. Involuntarily everything became even more intimate and we paid even more attention to each other."
Below (born 6.7.1995) began with classical piano lessons at a young age, but already as a teenager he preferred jazz and improvisations - impressed among others by Keith Jarrett's solo works. In 2017 he received the Steinway Förderpreis Nordrhein-Westfalen [Steinway Prize North Rhine-Westphalia] and in 2018 he became a member of the association Live Music Now. At the college for music and dance in Cologne Below met his future band partners. "Originally we became friends at jam sessions. Then I took matters into my hands and became the band leader," Below grins. Like him, the agile drummer Jan Philipp and Fabian Dudek are also in their mid-twenties, bassist Yannik Tiemann is about four to five years ahead of them. All of them are part of the highly esteemed next generation of German jazz and each of them contributes individual qualities.
The album's title Elements Of Space, as well as the names of some pieces, alludes to Simon Below's interest in astrophysics. "Images from space always deeply touch me. The universe seems boundless and also its composition goes beyond earthly comprehension. There are undiscovered things in astrophysics that are currently conceived a certain way, but may ultimately look completely different. The magic of the unpredictable and of the moment of surprise also plays a significant role for me in music."
Fabian Dudek, alto and soprano saxophone
Simon Below, piano
Yannik Tiemann, double bass
Jan Philipp, drums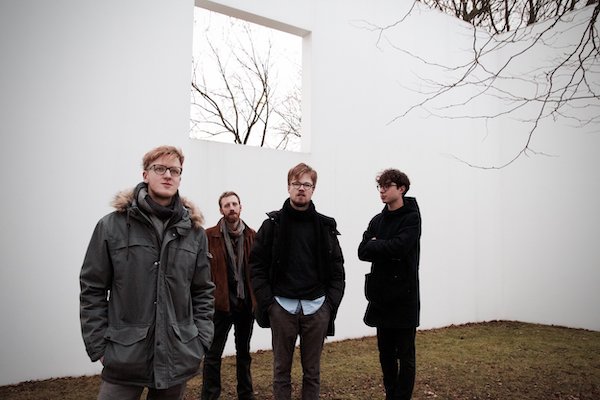 Simon Below
The 23-years old Jazz-Pianist begins playing the piano early in his life. As a teenager he discovered Jazz. Since 2014 he is studying at the "Hochschule für Musik" (HfMT Köln) in Cologne. Hubert Nuss & Prof. Hendrik Soll are his teachers. In 2016 he found his own quartet with following fellow students: Fabian Dudek (sax), Jan Philipp (dr) und Yannik Tiemann (b). The Band won several prices (e.g. the international Avignon Jazz-price, ("Tremplin Jazz D'Avignon")). In 2017 he won the "Steinway Förderpreis NRW". The Debutalbum of the "Simon Below Quartett" came out on 04th of May 2018. ("Wailing Wind's Story" - Double Moon - JazzThing-Next Generation)

This album contains no booklet.