---
Album info
Album including Album cover
I`m sorry!
Dear HIGHRESAUDIO Visitor,
due to territorial constraints and also different releases dates in each country you currently can`t purchase this album. We are updating our release dates twice a week. So, please feel free to check from time-to-time, if the album is available for your country.
We suggest, that you bookmark the album and use our Short List function.
Thank you for your understanding and patience.
Yours sincerely, HIGHRESAUDIO
1

There Are Several Alberts Here (Atlantis)

02:12

2

Violent (Atlantis)

05:46

3

Hulls (Atlantis)

03:56

4

Largo (Atlantis)

03:11

5

Last Night (Atlantis)

01:33

6

Habibi (Atlantis)

03:00

7

Maria Is That You? (Atlantis)

04:03

8

Oppenheimer (Atlantis)

03:39

9

Darling (Atlantis)

01:24

10

Interval Repeat War (Atlantis)

04:58

Total Runtime

33:42
Info for Atlantis

Loney dear releases his first-ever live album entitled Atlantis
Recorded at one of Stockholm's last great studios from a golden-era of record making, Atlantis Studios inspired not only the name of the album, but provides the backdrop for what is unquestionably a live album, but one with a difference. The performance was recorded in April 2021 with global events disrupting both audience and band members alike, "We were only allowed to have eight people in the audience," remembers Svanängen, "which happened that morning. The day before we could have had 50. It was a big crisis and I was super stressed about it, but it was a classic 'show must go on' situation."
Despite the practical obstacles, what Atlantis captures is a rather remarkable testimony to the power of Svanängen's song-writing and the skill of the band members who – with hardly a rehearsal - add depth and dimension to the compositions. The song choices are largely culled from Loney dear's last two studio records, A Lantern and a Bell and Loney dear, but older songs such as Largo and Maria Is That You? (from Hall Music) and Violent (from Dear John) also feature, given renewed energy by the ensemble of Per Texas Johansson (clarinet), Mattias Ståhl (vibraphone), Johan Lindström (pedal steel), Johan Graden (piano), Josef Kallerdahl (bass) and Konrad Agnas (drums).
"I have always enjoyed the fact that a song is any version of that song. The fact that it doesn't have to be the definitive version makes it more enjoyable. In fact, it's a bit of a relief because you can make your best album every night, combining things from all your albums and in the making of Atlantis one of the main ideas was just to collect good songs from the past that haven't really been able to shine."
Per Texas Johansson, clarinet
Mattias Ståhl, vibraphone
Johan Lindström, pedal steel
Johan Graden, piano
Josef Kallerdahl, bass
Konrad Agnas, drums
Special Guest:
Helen Sjöholm, vocals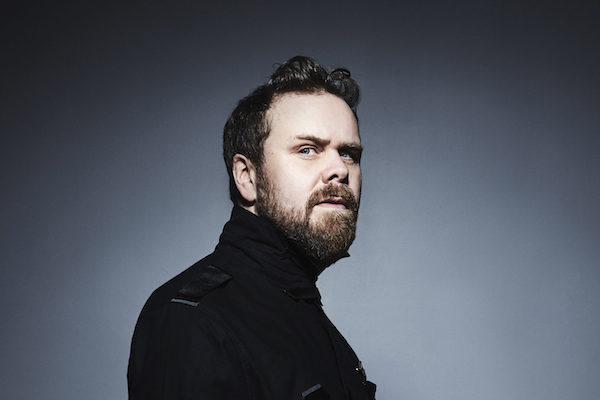 Emil Svanängen (aka Loney dear)
Swedish singer-songwriter and multi-instrumentalist Emil Svanängen makes records and plays shows under the enigmatic name of Loney dear. In the early 2000s, in his Stockholm apartment studio, Svanängen made a name for himself by creating homemade CDrs with a minidisk microphone and a home computer, self-releasing albums which by 2007 had pricked Sub Pop's ears and they released Loney Noir. Two more albums - Dear John and Hall Music - followed, as did glowing reviews in The Guardian, BBC, Drowned in Sound, Pitchfork and earlier this year the Line of Best Fit went as far as calling him a "brilliant genius".
Loney dear has consistently crafted elegant, deeply stirring music, described by The Quietus as "…the obsessive work of one man, albeit one that can sing with the vulnerable delicacy of an angel and makes bedroom recordings that sound like God's own orchestra".
Multi-layered with instrumentation and Svanängen's fragile yet irrepressible vocals, Loney dear's songs bloom with a sense of both intimacy and openness, at once uplifting and heartbreaking, tenacious yet tender.
In 2017 Svanängen finds himself at something of a crossroads. His career, in many ways, has been as unique as his music. "I've been taking some strange roads. Basically, I have a really strange career and I have no idea where it's going. Everything is always random because my career is so small and slow. I have had to learn to enjoy all the randomness of what I'm doing."
After all these years in the music industry, Svanängen has reached a stage in which he is not striving to be loved, to be big, to be recognised or feels that he is deserving of more than he has. Above all, he feels emboldened and powerful simply by the new music he is making, as featured on his latest album. "I'm moving into a more bold state, I'm confident, powerful, I became a singer, I learned my darkness and discovered my magnetism".
Since his 2017 album, live concerts in unique spaces have become a primary forum for creative exploration, and his next recordings will mirror this. Emil says, "It's such an interesting evolution... these possibilities for subtracting rather than adding. Intricate music written for just one instrument and a voice is, for me now, a way of merging worlds."

This album contains no booklet.