---
Album info
Album including Album cover
I`m sorry!
Dear HIGHRESAUDIO Visitor,
due to territorial constraints and also different releases dates in each country you currently can`t purchase this album. We are updating our release dates twice a week. So, please feel free to check from time-to-time, if the album is available for your country.
We suggest, that you bookmark the album and use our Short List function.
Thank you for your understanding and patience.
Yours sincerely, HIGHRESAUDIO
1

Beati Quorum Via

03:55

2

Salvator Mundi

03:21

3

In Dulci Jubilo

03:58

4

Temple Hymn 1

03:24

5

Third Tune for Archbishop Parkers Psalter

04:02

6

Ave Verum Corpus

04:08

7

Sixth Tune for Archbishop Parkers Psalter

04:04

8

Temple Hymn 2

03:23

9

Didos Lament

03:32

10

The Garden

04:04

Total Runtime

37:51
Info for Salvator Mundi

Salvator Mundi is the majestic and atmospherically rich album from saxophonist Mark Lockheart, organist Roger Sayer and composer and instigator of the project John Ashton Thomas recorded in the beautiful acoustic of Temple Church, London. Featuring interpretations of English composers including Stamford, Blow, Purcell and Tallis as well as new works by John Ashton Thomas, Salvator Mundi is a captivating balance of sounds, genre and musicianship at its most glorious and resonant.
"The space and acoustics of Temple Church play a massive part in the mood and character of this album. How would I describe this music? – to me it's heavenly (whatever that means!) uplifting music that is both old and new. The sense that the majority of the music was composed long ago in England is powerful but also the combining of the freedom of improvising from a jazz perspective I think is really exciting." (Mark Lockheart)
As John prosaically puts it: "This project was my idea, and I composed or arranged all of the music. I was present at the recording sessions, and I hope I was able to guide Roger and Mark through this (to start with) unfamiliar musical landscape, which they both took to with enthusiasm, great skill and wonderful musical sensitivity. I simply chose pieces from the church music repertoire, with which I'm very familiar from my childhood experience as a cathedral chorister, and wrote a few others myself, that I thought would be complementary. It's a coincidence that the music is nearly all written by English composers, but having said that, a substantial proportion of the music sung in Anglican cathedrals throughout the world is English in origin".
However it's clear from the first note that there's a rare musical intelligence in the choice of music and place. As Mark says:"The space and acoustics of Temple Church play a massive part in the mood and character of this album. How would I describe this music? – to me it's heavenly (whatever that means!) uplifting music that is both old and new. The sense that the majority of the music was composed long ago in England is powerful but also the combining of the freedom of improvising from a jazz perspective I think is really exciting."
And Roger Sayer adds: "When recording these pieces we tried to convey the sweet and singing style appropriate to the voice but to allow the expression and freedom of the saxophone and improvisation in the extraordinarily beautiful acoustics of Temple Church. As with all music, a sense of listening and capturing the atmosphere is all important and I needed to balance the large sounds of the Temple organ and find colours that both complemented and varied the sounds created by the saxophone."
The combination of place, composition and improvisation has created here a completely unique, exceptionally beautiful and emotionally uplifting album. Mark's musical intelligence imparts new life to these ancient tunes, Roger's sonorous and musically open tones demonstrate how broad his musical palette is and the new compositions give the whole project a modern edge ensuring its not simply an exercise in anachronism.
Salvator Mundi is beyond categorisation – a beautiful expression of artistic music produced with complete honesty and integrity by three extraordinary musicians and composers.
Mark Lockheart, soprano & tenor saxophone
Roger Sayer, organ
Recorded at Temple Church London on January 10th 16 & July 9th 17
Produced by John Ashton Thomas and Mark Lockheart
Engineered, mixed and mastered by Alexander Van Ingen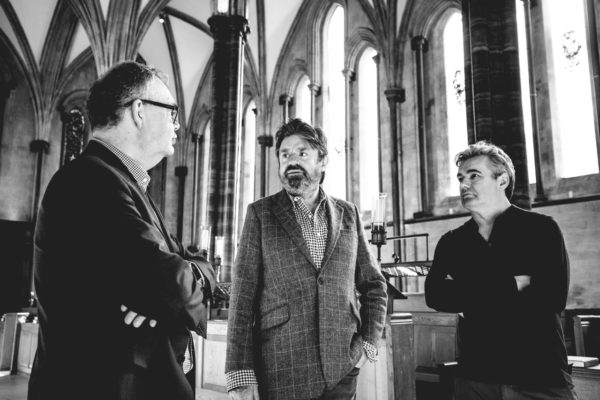 Mark Lockheart
Saxophonist and composer Mark Lockheart first came to prominence in the mid 1980s with the influential big band Loose Tubes. In 1992 Mark formed the eclectic co-led quartet Perfect Houseplants, a group that released six albums and collaborated with classical artists such as the Orlando Consort, Andrew Manze and Pamela Thorby.
The mid-90s saw Mark recording and performing with many jazz, folk and pop artists, including Django Bates, Kenny Wheeler, Norma Winstone, June Tabor, Stereolab, Jah Wobble, Robert Wyatt, Prefab Sprout, Don Um Romao, Thomas Dolby and Radiohead.
In 2003 Mark joined Seb Rochford's Polar Bear, which over a period of 12 years recorded six ground-breaking albums. The band's second album, Held On The Tips Of Fingers, was nominated for the 2005 Mercury Award and later appeared in Jazzwise's 100 Albums That Shook the World. The band's fifth album, In Each And Every Way, was also nominated for a Mercury Award in 2013.
In 2007 Mark was a featured soloist (along with John Pattitucci and Gwilym Simcock) in Mark Anthony Turnage's About Water, which premiered on the Southbank in June 2007. Mark collaborated several times more with Turnage, performing his A Man Descending with the Southbank Sinfonia in 2008 and more recently as one of the featured musicians in Turnage's opera Anna Nicole, which premiered at the Royal Opera House in London in 2011.
In 2009 Mark's quintet album In Deep was released to critical acclaim. The following year saw the release of Mark's first big band album Days Like These with the Hamburg-based NDR big band. That same year Mark was awarded APPJC Parliamentary Jazz Musician of the Year 2010.
In 2013 Mark released Ellington In Anticipation, a radical reworking of Ellington melodies with an all-star line up including Seb Rochford and Liam Noble. The album received numerous four and five-star reviews and was MOJO magazine's Jazz Album of 2013 and nominated as Best Jazz CD of 2013 by the APPJC at the 2014 Parliamentary Awards.
An invitation to perform at the New York Rochester Jazz Festival in 2014 led to the formation of Mark's trio, Malija, with bassist Jasper Hoiby and pianist Liam Noble. Malija's debut album The Day I Had Everything was released in December 2015 to critical acclaim. The group's second album Instinct was released in 2017 followed by a 21-date tour.
In 2016 Mark was awarded Jazz FM Instrumentalist of the Year and also nominated for the British Composer Awards for his composition With One Voice. Most recently Mark has just completed a major jazz/orchestral work titled Days On Earth for jazz sextet and 30-piece orchestra, released on Edition Records in January 2019.
Roger Sayer
is at the forefront of British choral and organ music. A former organ student at St Paul's Cathedral, Roger was Prize Winner at the 1989 St Albans International Organ Competition and won all the organ prizes at the Royal College of Music. Since then, he has been constantly in demand both as a recitalist and accompanist, and his playing takes him to many parts of the world.
His recent tours and events have included recitals in Italy, Germany, Holland and Denmark, a major tour of Australia, a live recital at Temple Church broadcast on BBC Radio 3, opening the 2018 Summer Organ Festival at Westminster Abbey and the release of two new recordings for Priory and Signum records. Upcoming highlights encompass recitals in Germany, Denmark and Sweden, and, in the UK, Bath Abbey and Durham Cathedral, as well as conducting a tour to Holland in Summer 2019 with the boy choristers of the Temple Church Choir. He will also be recording soundtracks for a Sony video game, and collaborating with saxophonist Mark Lockheart and composer John Ashton Thomas in a new album, Salvator Mundi, to be released this autumn.
Roger Sayer's work as organist has also extended into the film world, with his most recent performance as organ soloist for Hans Zimmer's Oscar nominated score for the motion picture Interstellar. Roger later went on to perform the work live with composer Hans Zimmer in a special concert at London's Royal Albert Hall, which was attended by the film's director, cast and supporters, including Christopher Nolan, Jessica Chastain, Professor Brian Cox and Professor Stephen Hawking.
As a recording artist, Roger has released a number of CDs of solo organ music. His latest recordings, The Complete Organ Sonatas of Josef Rheinberger and The Grand Organ of Temple Church, have received several 5* ratings and outstanding reviews. The Grand Organ of Temple Church has been recommended on MusicWeb International: 'Roger Sayer's playing has a vitality and vibrancy about it which positively exudes brightness and clarity of thought.'. Likewise, his Rheinberger CD was recently Recording of the Month on MusicWeb International: 'Roger Sayer proves himself to be an apt interpreter of Josef Rheinberger's wonderful music; his playing is superior to that of Jürgen Sonnentheil on CPO in the two sonatas that he performs on his disc. The excellence that Sayer shows in those two sonatas is continued on into the other eighteen, so much so that I hope that Priory gives him an opportunity to record further recitals of the composer's music.'.
In addition to his organ playing, Roger Sayer is also an acclaimed choral director with some of the UK's finest choirs. After founding the Rochester Cathedral Girls' choir, Roger joined Temple Church in 2013 as Musical Director and has since created an impressive portfolio of broadcasts, concerts and recordings. The choir's most recent CD, The Temple Tradition, received a 5* review in Choir and Organ Magazine: 'The richly voiced young choristers of the Choir of the Temple Church are a joy to listen to, their unison singing nothing short of miraculous, and Roger Sayer draws from his singers outstanding phrasing and subtle nuances of tone'. Under his direction, Temple Church Choir has broadcast numerous times on BBC Radio 3 and Classic FM, and undertaken several international tours of the USA, Holland, Singapore, Australia and Germany. In 2017, Roger conducted the choir at the St Albans International Organ Festival 'Three Choirs' concert, alongside the choirs of St Paul's Cathedral and St Albans Abbey, and initiated a new youth choir of Boys and Girls at Temple Church, which gave its debut in November.
Outside of Temple Church, Roger Sayer worked regularly with the London Symphony Chorus for ten years, and now works as External examiner for RCM organ final examinations. In his capacity as Accompanist and Deputy Chorus Director, Roger has collaborated with many of the world's leading conductors and soloists.

This album contains no booklet.