---
Album info
Album including Album cover
1

Froggy's

06:24

2

Quarantine

06:31

3

That Cool Groovy Beatnik Jazz

05:24

4

Bado Boy!

05:08

5

Walking on Sunshine

05:22

6

Sag 5 (As in Sagittarius)

05:21

7

A Rainy Day in Paris

05:59

8

A Little Driving Music

05:30

9

Peace

05:15

10

Jedediah's Gold!

06:56

11

The Sitting Room

05:28

12

Baton Rouge

05:40

13

Lullaby for Bado

03:10

Total Runtime

01:12:08
Info for A Little Driving Music

World-renowned bassist and producer Brian Bromberg finds inspiration during the pandemic with a funk driven album that conjures the spirit of the open road. 'A Little Driving Music' features an all-star socially distanced lineup of musicians including Dave Koz, Marion Meadows, Everette Harp, Elan Trotman, Gary Meek and Nick Colionne.
"A Little Driving Music" is Bromberg's third album created in quarantine, features a dozen brand-new Bromberg compositions as well as a surprising 80s cover song, the joyful Katrina and the Waves hit "Walking on Sunshine." The freedom of the open road on 'A Little Driving Music' shrugs off the prevailing mood of COVID-era claustrophobia and political strife for fun, funky paean to cruising with the top down and leaving your troubles behind.
Brian Bromberg, bass, upright bass, hollow body piccolo bass guitar, steel string acoustic piccolo bass guitar
Additional musicians:
Dave Koz, alto saxophone
Joel Taylor, drums
Tom Zink, keyboards
Elan Trotman, tenor saxophone
Ray Fuller, rhythm guitar
Lenny Castro, percussion
Andrew Neu, alto, tenor, baritone saxophone
Michael Stever, trumpet
Nick Lane, trombone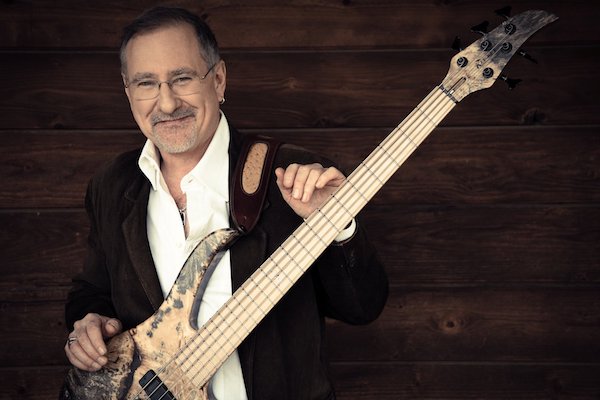 Brian Bromberg
was born in Tucson Arizona. He grew up in a family of musicians and artists. His father and brother played the drums. With all that music around the house, and drums all over the place, it was natural for Brian to start playing the drums as well. Brian was two and a half years old, beating up the furniture and banging on anything that didn't move.
After some years of playing and practicing, Brian began his professional career as a drummer at the age of thirteen. In elementary and Jr.high School, Brian also played the cello. That was one instrument that Brian did not feel very comfortable playing. One day in orchestra class at jr. high, the orchestra director came over to Brian and said, hey Brian, you see that big bass over there in the corner? You know that nobody is playing it. Don't you want to play that big cool bass over there? You see, the orchestra director had a plan. He thought that having one bad bass player was better then not having one at all. That was his way of getting Brian to stop trying to saw his cello in half!
That day was a blessing in disguise. Brian didn't realize that he had the gift for melody as well as rhythm. With his drumming background, and all this new melody available to him from the bass, Brian knew that this was going to be his path.
From ages fourteen to eighteen, Brian locked himself up in a room and practiced day and night. While Brian was a junior in High School he was already taking many music classes at the University Of Arizona. At the U of A Brian played in the Lab Band, orchestra, and jazz combo's. All that led him to test out of high school early and devote all his time to music. For the next few years Brian played every type of gig imaginable. Quite often Brian would play five to seven nights a week with several different bands.
Brian's first big break came in 1979 when Marc Johnson, the wonderful bassist with the great jazz pianist Bill Evans, heard Brian play while on the road in Tucson. Several months later while on tour, Marc ran into legendary jazz saxophonist Stan Getz. Stan was looking for a new bass player and asked Marc if he knew any new young players. Marc told Stan about Brian. Brian auditioned for Stan and joined the Stan Getz quintet in December of 1979. Brian had just turned 19 and spent nearly a year touring the world with Stan and his band. ...

This album contains no booklet.