---
Album info
Album including Album cover
1

Silence in the Tempest (Part I)

01:08

2

Godspeed

07:11

3

Escape Velocity

03:04

4

Growing Sense

07:44

5

Martial Arts

07:51

6

Airglow

02:55

7

Ceasefire

06:49

8

Cathedral

03:28

9

Drill

07:37

10

Nuclear Fusion

01:15

11

Dark Matter

06:33

12

Silence in the Tempest (Part II)

03:32

Total Runtime

59:07
Info for Godspeed

Godspeed is the hi-octane, heavyweight new album from Danish keyboardist Morten Schantz. As the founding member of the Danish group, JazzKamikaze, Morten Schantz returns with a new band under his own name featuring long-term collaborators Anton Eger on drums and Marius Neset on saxophones. With a wealth of keyboards at his disposal, the music on Godspeed is full of life, vibrant and bold. With a strong sense of friendship, warmth and an overriding sense of joy, Godspeed is impressive and represents some of the most vital new music bursting out of the European scene from some of the most important performers. All three musicians have played and toured internationally for many years building an all important trust, empathy and common goal. With this album, they are able to balance perfectly the ability to stamp their own idiosyncratic imprint in the music as well as merge and blend theirs sounds in an impressively dynamic and commanding way. Those familiar with Anton Eger and Marius Neset can expect the usual fireworks but with the added compositional talent and skill of the, albeit lesser known, Morten Schantz, this is a trio of huge importance, bursting at the seams with energy and spirit. It won t be long before Morten Schantz is demanding the same kind of attention that the likes of Anton and Marius have been subject to in the previous few years.
This a 21st Century Weather Report in its most original and creative form that will no doubt generate many fans on a global scale.
"Pianist Morten Schantz has been a prominent and pioneering figure on first the Danish, then international jazz and fusion scene for more than a decade." (The Arts Desk)
"Godspeed unceasingly rewards repeated plays and easily qualifies as one of the most exciting and engaging recordings for a long time. Schantz has surely now found his true metier" (AllAboutJazz)
Morten Schantz, Fender Rhodes, keyboards, synthesizer, handclaps
Marius Neset, soprano and tenor saxophones, Fender Rhodes, handclaps, bass synthesizer, percussion
Anton Eger, drums, percussion, handclaps
Recorded on 3rd June and 21st – 23rd September 2015 at Frostbox Studios, Copenhagen, Denmark
Recorded and mixed by Kristian Thomsen at Frostbox Studios
Mastered by Tor Bach Kristensen at King Kong Studios
Produced by Morten Schantz with Kristian Thomsen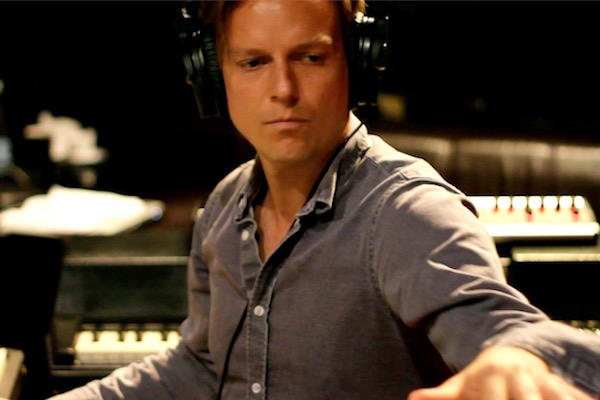 Morten Schantz
Pianist, composer and bandleader Morten Schantz, born 1980 in Aarhus, Denmark, is by no means a newcomer on the international jazz scene. In 2005 he founded and became the main songwriter for critically acclaimed supergroup, JazzKamikaze, (which also included fellow band-member Anton Eger) and the band has since won numerous awards and toured across five continents. He has released eight albums - four with JazzKamikaze and four as a soloist with his own groups Morten Schantz Trio, Unicorn and Segment.
Schantz is by no means a newcomer on the international jazz scene as he has been the main contributor and force behind the critically acclaimed supergroup, JazzKamikaze, touring all over the world for quite a few years now. Together with JazzKamikaze he has pushed the boundaries of jazz another step into the future. They have been headlining large festivals around the world such as the North Sea in Rotterdam and Bangkok International Jazz Festival. In 2007 JazzKamikaze was elected as spearheads of Danish jazz reprenting Danish music on five continents of the world. However, the depth and scope of his talent has lead to greater succes than normally experienced within the jazz society. Regular performences on MTV and live broadcast TV concerts to millions of viewers in Asia with JazzKamikaze - both as a singer and pianist - are just some of the achievements that are linked with Morten Schantz despite a relatively young age of 30.
In 2006 he formed his own trio, a platform where he could fully express himself as a pianist. A challenging prospect that demanded a new and totally different aspect of his personallity as a musician, bandleader, and not least, as a composer. In 2007 he graduated from the Rhythmic Conservatory of Music in Copenhagen with a final exam concert in front of a packed audience. The trio received rave reviews from the censor panel which included renowned American pianist Butch Lacy. However, it took another 3 years until the trio finally got together to recording this album mostly due to Schantz' activities with JazzKamikaze. Consequently, a new and sparkling energy filled the recording studio in Brooklyn, NYC. The material had already been performed on many live concerts yet it had lain untouched for quite some time. The tunes which are partly Schantz' originals mixed with pop/rock classics as well as a few jazz standards are the essence of what message Morten Schantz is trying to convey to his listeners. That jazz has the ability to both entertain, touch, surprise and hopefully inspire.

This album contains no booklet.