---
Album info
Album including Album cover Booklet (PDF)
I`m sorry!
Dear HIGHRESAUDIO Visitor,
due to territorial constraints and also different releases dates in each country you currently can`t purchase this album. We are updating our release dates twice a week. So, please feel free to check from time-to-time, if the album is available for your country.
We suggest, that you bookmark the album and use our Short List function.
Thank you for your understanding and patience.
Yours sincerely, HIGHRESAUDIO
1

Del Tabaco Y El Azúcar

04:01

2

Fitití Ñongo

02:25

3

Lengua (Pt. 1)

03:27

4

Erume Kondó

02:03

5

Benkomo

05:25

6

Tierra

06:16

7

De Ida Y Vuelta (Pt. 1)

03:43

8

Lengua (Pt. 2)

01:35

9

De Ida Y Vuelta (Pt. 2)

02:33

10

Nuná

02:40

11

Epílogo

01:56

12

Dos

04:04

13

Caracola

01:28

14

Visiones Sonoras

01:19

15

De Portal

02:36

16

De Tres

00:41

17

De Cuando Era Chiquita

02:50

18

De Coral

03:16

Total Runtime

52:18
Info for Gnosis

In Gnosis, the Santiago de Cuba-raised and New York-based pianist-composer David Virelles looks towards one melting pot from the vantage point of another. At one level an autobiographical album, a sequence of images conveyed through sound, Gnosis is a far- reaching work with deep roots. Transculturation and traditions are among the subjects under consideration, and the complex tapestry of Cuba's music: the sacred, the secular, and the ritualistic. It's an exciting, vivid and multi-faceted project of rapidly changing temperament, in which pulsating ensemble music and pristine, meditative solo piano both have their places. And it is enveloped in a feeling of mystery and magic that has made each of Virelles's albums special.
"Gnosis speaks about the intersection of cultures", Virelles says, "and of the continuing impact of that process in our present. The word 'gnosis' in this context refers to an ancient collective reservoir of knowledge. "In Gnosis, strings, woodwinds and percussion are assigned specific responsibilities, representing "several families functioning within one unit: this dynamic symbolizes multicultural interaction." Inside the ensemble pieces, Virelles' responsive piano and the vocals and percussion of poet/drummer Román Díaz, a profound figure in the transmission of Afro-Cuban musical history, are often at the centre of the action, carrying the story further.
Drawing upon Cuban sources of many kinds, Virelles cites the influence of the early 20th century composers Amadeo Roldán and Alejandro Garcia Caturia, who pioneered the inclusion of the Afro-Cuban percussion arsenal in their orchestral settings: "Their legacy guided me through the creation of this piece." A variety of percussion instruments have important roles to play. "Of particular interest are the marímbula and the biankoméko ensemble. The marímbula, a wooden box with metal keys, is used traditionally in changüí music. It was also used in son music, before the bass replaced it." The biankoméko, the sacred percussion ensemble of the Abakuá fraternity, already had a central function on Virelles' first ECM leader date, Mbókò. Gnosis, too, draws from the musical vocabulary of the Abakuá, but for all its rich historical reference, it is a forward-looking piece, billed at its concert premiere (at Toronto's Music Gallery in November 2015) as "futuristic Afro-Cuban chamber music." The work's shapes and forms could only have been created by a gifted modern player thoroughly versed in contemporary composition as well as the art of the improvisers. As the New York Times has observed, Virelles "has a sure touch and multiple musical vocabularies, of which he seems determined to create a synthesis that isn't schematic or obvious."
Most of Gnosis was written in New York, where Virelles is now recognized as one of the most consistently creative players on the improvising scene. In the words of the Wall Street Journal, he has "fully absorbed the environments of two islands, Cuba and Manhattan, and now exerts influence through subtle innovations." In addition to his own groups he is currently playing with Chris Potter and with Tomasz Stanko, as documented on several ECM recordings (refer to Potter's The Dreamer Is The Dream and The Sirens and Stanko's December Avenue and Wisława). He has also maintained close connections with musicians associated with the AACM, including Muhal Richard Abrams and Henry Threadgill, with whom he studied composition. Threadgill, who appeared on Virelles' Antenna EP, is also the arranger of "Dos", one of the solo piano pieces here. Another important ongoing association is with Ravi Coltrane. Virelles has played with the saxophonist's quartet, and latterly given duo concerts with him; a Coltrane/Virelles performance at the 2017 New York Winter Jazzfest was hailed as a highlight of the event.
David Virelles was born into a musical family in Santiago de Cuba, his mother a classical flautist, and his father a singer/songwriter. He moved to Canada in 2001 and to New York City in 2009. The pianist's album Continuum (Pi Recordings) was his initial exploration in the modernist refraction of Afro-Cuban ritual sounds and his first recorded collaboration with Román Díaz. Subsequent ECM leader-dates Mbókò and Antenna have received the highest critical praise, the latter garnering a 5-star review in DownBeat and an Editor's Pick recommendation in JazzTimes, where Mike Shanley opined that "ECM couldn't have picked more radical and freewheeling music for its return to releasing new projects on vinyl." Gnosis, too, is issued in an audiophile vinyl edition, as well as compact disc and digital download formats.
Gnosis was recorded at New York's Avatar Studios in May 2016, and produced by Manfred Eicher.
"Virelles looks set to make big differences in contemporary music for years to come." (The Guardian)
David Virelles, piano, marímbula, vocals
Román Díaz, lead vocals, percussion
Nosotros Ensemble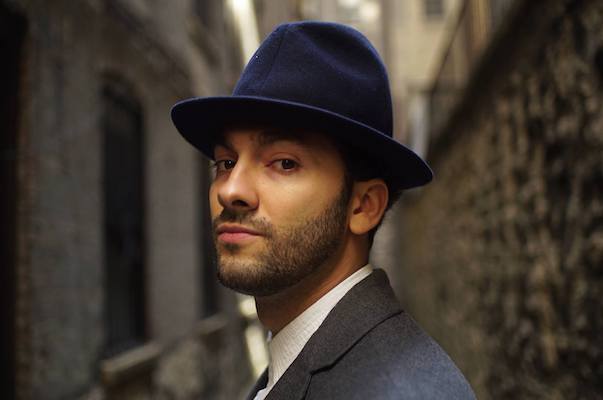 David Virelles
Named "#1 Rising Star" in the Piano category in DownBeat Magazine's Critics Poll in 2015, Cuban born pianist/ composer David Virelles grew up in a musical home. He started studying music at seven, as well as being exposed to the rich Cuban musical traditions and the music of Bud Powell, Thelonious Monk and Andrew Hill.
The Brooklyn – based Virelles, who once became the first recipient of the Oscar Peterson award, has performed or recorded with Ravi Coltrane, Henry Threadgill, Román Díaz, Tomasz Stanko, Wadada Leo Smith, Jane Bunnett and The Spirits Of Havana, Dewey Redman, Sam Rivers, Steve Coleman, Andrew Cyrille, Hermeto Pascoal, José Luis Quintana "Changuito", Stanley Cowell, Chucho Valdés, Paul Motian, Chris Potter, Mark Turner, Tom Harrell, Milford Graves, Alberto Lescay, among others.
Virelles' album Continuum (on the New York label Pi Recordings) made several "Best Of The Year" lists in 2012, being selected #1 in The New York Times. His album Mbòkó, released in 2014 on the Munich label ECM also ended up in virtually every "Best Of The Year" list, including The New York Times, NPR, ITunes, The Village Voice, DownBeat Magazine, among other sources. Virelles released his critically acclaimed Antenna (5 stars on DownBeat Magazine) in 2016. His latest offering, Gnosis, which features a program of solo piano and his piece Gnosis for piano, percussion, woodwinds and strings, will be released on September 15, 2017 by ECM.

Booklet for Gnosis