---
Album info
Album including Album cover
I`m sorry!
Dear HIGHRESAUDIO Visitor,
due to territorial constraints and also different releases dates in each country you currently can`t purchase this album. We are updating our release dates twice a week. So, please feel free to check from time-to-time, if the album is available for your country.
We suggest, that you bookmark the album and use our Short List function.
Thank you for your understanding and patience.
Yours sincerely, HIGHRESAUDIO
1

Break Down

02:28

2

40 Degrees

02:29

3

You in Your Memories (feat. Chad Price)

02:13

4

Filthy Crime

03:09

5

I Do

02:31

6

Velosolex (feat. Stereo Total)

02:11

7

Fever

03:00

8

Ponkywonky

00:55

9

Yours

03:46

10

Mrs. Right

02:45

11

Sucker Punch

01:49

12

Policoro

04:34

13

Hate to Love (feat. Jamie T)

03:22

14

L auf der Stirn (feat. Deichkind)

04:16

15

Attack and Decay

03:13

16

Come On and Get Some

03:13

17

No Surprises

03:01

18

Abbadu (feat. Farin Urlaub)

02:49

19

Gap

01:41

20

Summertime

04:09

21

The Job

02:47

Total Runtime

01:00:21
Info for YOURS

Die Beatsteaks sind zurück! Mit "Yours" präsentieren die Berliner ihr neustes Punkrock-Werk! Der Nachfolger zum selbstbetitelten 2014er Album setzt mit dem weiterentwickelten Sound neue Maßstäbe im Beatsteaks-Universum, Exemplarisch dafür steht die erste Single "I Do" mit seinem druckvollen Dance-Groove, der sich schnell zu einer positiven Beatsteaks-Hymne entwickelt. Fans des Berliner Punk-Quintetts kommen hier voll auf ihre Kosten!
Zwei Jahre nach dem Nummer-eins-Album "Beatsteaks" beginnt also ein neues Kapitel in einer besonderen Karriere: Ein ganzes Jahr haben die Beatsteaks an "Yours" gearbeitet. Nie zuvor waren so viele Ideen zusammengekommen – und nie zuvor so unterschiedliche. "Das wurde bereits klar, als wir uns gegenseitig unsere Demos vorgespielt haben", sagt Arnim Teutoburg-Weiss. "Alles hat sich vielseitiger und experimenteller angefühlt." Und weil sie all diese Ideen auch umsetzen, sich ausleben und die nötige Zeit für dieses Experiment nehmen wollten, stand schnell das Wort vom Mixtape im Raum.
"Wenn man früher Mixtapes aufgenommen hat, klang ja auch nicht jeder Song gleich", sagt Arnim. "Manche waren leiser, andere lauter, man hat Lieder aus unterschiedlichen Genres vereint. So wollten wir es auch mit diesem Album machen." Durch diesen Ansatz ist das insgesamt 8. Studioalbum das bislang vielseitigste der Berliner Band geworden. "Yours" ist ein stilistisch enorm breit aufgestelltes Werk, das alle musikalischen Facetten der Beatsteaks aufzeigt. Es gibt illustre Gäste, mehrere Produzenten – das komplette Beatsteaks-Universum in 21 Songs.
Beatsteaks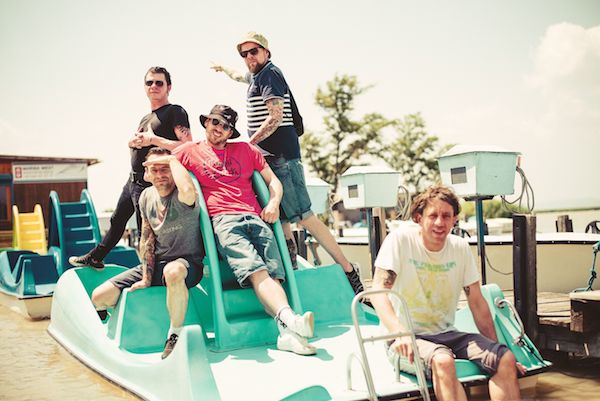 Beatsteaks
Over nearly the past two decades, Germany's Beatsteaks have established themselves as one of the country's most consistent, thoroughly exhilarating acts. In the wake of six great albums, blending juvenile, punk effervescence with crafty, infectious rock songwriting, the five Berliners dominated German subculture early on and have been a steady fixture in the German charts, on the rise and trending up, ever since releasing their fourth album "Smacksmash" back in 2004. Their previous 2011 longplayer "Boombox" entered the charts at number one, while their current, seventh album, simply entitled "Beatsteaks", topped the charts in its first week. Over the years, they've developed a highly distinguishable sound, uncompromising in nature, yet able to reveal each and every song's pure intensity.
The Beatsteaks are without a doubt considered one of Germany's most prominent groups. Their tours are regularly sold out, while their headline shows at the country's biggest open air happenings usually rank among the weekend's most memorable performances, even when they make a surprise appearance. In 2013 for example, the Beatsteaks unexpectedly entered the Rock am Ring stage (after having co- headlined there the year before) and within minutes, became the fulminant highlight of the day. This, of course, comes as no surprise. While they may sound good on their albums, they are a live band first and foremost, set to cast an immediate spell on anyone with their raw energy, be it punk, rock, pop or metal. Frontman Arnim Teutoburg-Weiß preparing to pull off one of his renowned crowd surfing moves (with a real surfboard!) will have even the most hard-nosed sceptic believing that he is indeed witnessing one of the European mainland's most brilliant live bands. Being crowned "Best Live Act" twice by acclaimed German radio station 1LIVE and deservedly winning another crown in 2011 as "Best Band" sends a clear signal. By now, word of their prowess has made its way throughout Europe, earning them collective rounds of applause during their recent UK tours. In August, the Beatsteaks also headlined this year's Rock'n'Heim and Highfield festivals, once again rocking their fans into oblivion.
It became clear pretty much from the outset, that these five Berlin boys, with their crisp harmonies, snappy beats and tongue-in-cheek lyrics, had an exceptionally promising future ahead of them. As the first German band ever, they were signed by US punk rock heavyweight Epitaph to release their second album "Launched". Their third album "Living Targets", including the excellent single "Let Me In", finally gained them a wider audience. They've been unstoppable ever since, succeeding at whatever it is, they set their mind to, be it an acoustic EP, a live DVD or the ever so regular release of a new studio album, appearing reliably every three years. Each new release is frenetically celebrated and quick to sell. Six of their longplayers ranked in the German Top Ten, including their two outstanding live releases "Kanonen auf Spatzen" (2008) and the ultimate CD/DVD fan package "Muffensausen" (2013), while all of their previously released singles entered the German Top 100, without exception. Yet, the Beatsteaks are not just about fun, energy and the next great song to blow you away. With these guys it's just as much about the inner values, which they pointedly convey in their English lyrics.
On their current, self-entitled album "Beatsteaks" they lay further proof to the fact that they are not about to rest on their laurels. Not even close, no. This band is hungry, rather insatiable, feeding from a deep, inner fire that should have other groups blushing in shame. Nothing the Beatsteaks do is a must. With them, there's no time pressure involved, no ruthless pursuit of success. Whatever happens, happens because all five members absolutely want it to happen. Because they feel it and want to bring that power out in the open.

This album contains no booklet.