---
Album info
Album including Album cover Booklet (PDF)
I`m sorry!
Dear HIGHRESAUDIO Visitor,
due to territorial constraints and also different releases dates in each country you currently can`t purchase this album. We are updating our release dates twice a week. So, please feel free to check from time-to-time, if the album is available for your country.
We suggest, that you bookmark the album and use our Short List function.
Thank you for your understanding and patience.
Yours sincerely, HIGHRESAUDIO
1

Before I Found You

03:08

2

Revolution

03:57

3

Fourth Of July

03:35

4

The Country

03:49

5

Don't Take My Love

03:36

6

Never Had Enough Of You

04:04

7

The Middle

03:26

8

Skyward

03:21

9

You'll Be On My Mind

03:59

10

Cosmic Sign

02:50

11

Taking Love

03:54

Total Runtime

39:39
Info for Countries

An enthralling solo debut, Van William's COUNTRIES signals the arrival of a gifted young artist on the rise. Known for the meticulous song craft of his former acclaimed indie outfits, Port O'Brien and WATERS, on COUNTRIES, Van William offers an auspicious glimpse into a new and promising future. Includes the single "Revolution" featuring acclaimed Swedish folk duo First Aid Kit.
Just a couple years ago, Van William thought he had life figured out. Having toured the world from age twenty – first with his band Port O'Brien, followed by his second group WATERS – he had met and cultivated a tight knit community of fellow musicians, embarked on a serious, years-long romantic relationship, even found time to spend his summers on Kodiak Island, Alaska working on his father's commercial fishing boat, as he'd done all his life.
When, in short order, his musical projects and romantic relationship dissolved, and his father announced his retirement after 49 summers at sea, Van reached an inflection point. "I was freaked out," the songwriter recalls, looking back on the most tumultuous year of his life. "But with that freak-out came a renewed sense of purpose."
And a new musical direction, heralded by the arrival of Countries, Van's vivid and open-hearted solo debut full length album, set for January 19th, 2018 release on Fantasy Records. BuzzBands.LA premiered new track and album centerpiece "The Country" today, calling it '…. the sound of a man turning the page, classic songwriting ferrying yesterday's melancholy and tomorrow's hopes on vessels of indelible melodies and poignant lyrics.'
Anchored in Van's love of melodic song craft and infused with melancholy, the eleven new, original songs on Countries don't belong to any specific style. Call them American Heartache, music that stirs up forgotten memories and feels eternal and fresh, pulling the past into the present as a way of navigating loss.
Van wrote the songs that would become Countries in a secluded part of the Sierra Nevada, then enlisted a group of musical confidants - including his co-producer Brian Phillips, Dawes drummer Griffin Goldsmith, POP ETC bassist Chris Chu and keyboardist Tam Visher - to bring the album to life in a studio in Marin County. Special vocal guests on the album include the Soderberg sisters of First Aid Kit.
"These songs sound exactly like I feel," says Van, "restless, reeling, heartbroken and ready to burst. I grew up on Fugazi and Plastic Ono Band; The Lonesome Crowded West and On the Beach. I wanted to make a record that unambiguous, that digs its hooks in deep and doesn't let go."
Countries follows Van's critically acclaimed The Revolution EP, released in September, which earned praise from NPR, Wild Honey Pie ("therapeutic and celebratory") and others.
Van William, vocals, guitar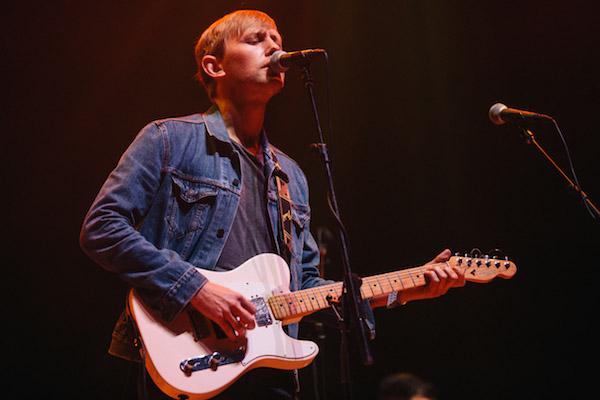 Van William
has spent every summer of his life working on his father's commercial salmon fishing boat off Kodiak Island, Alaska - a job he loved and a job that influenced every part of his life. When he wasn't fishing, he was growing up in the small coastal California town of Cambria, learning to write songs and eventually touring the world by the age of 20 - leading a few different indie rock outfits including Port O'Brien and WATERS. He always knew he could fall back on fishing, until earlier this year when his father announced he would be retiring and selling the boat after 49 summers in Alaska. This coincided with the love of his life ending their 6 year long relationship. The two events sent Van reeling.
"I had always genuinely considered taking over the boat," explains William. "Music has always been my passion, but as a realist who also loves the physical labor and intensity of commercial fishing, I could never really know which career path would be more fulfilling or what I would be better at." The decision was made for him and his sudden and profound losses forced him to focus on what matters most, resulting in his remarkable solo debut 'Countries.'
Anchored in Van William's love of melodic songcraft and infused with melancholy, 'Countries' doesn't belong to any specific style. It's American Heartache, music that stirs up forgotten memories and feels eternal and fresh, as it pulls the past into the present as a way of navigating considerable loss
'Countries' feels immediate, reflecting how Van William had no other option than letting his feelings spill on the page. "I was freaked out, but part of that freak-out was this renewed sense of drive and purpose. I had to take stock of where I was at musically. My previous projects no longer felt honest in their pursuit and style. This cataclysm of events shook me back into feeling present with what I want to do and who I want to be as an artist. I don't know if I would've got there without it."
Van William's tumultuous year can be heard on 'Countries,' an album that also exudes warmth, mirroring the intimacy of its recording. After writing the record in seclusion in the Sierra Nevada, he decided to head to a studio in Stinson Beach, Marin County, California with a few close friends—including his co-producer Brian Phillips, Dawes drummer Griffin Goldsmith, POP ETC bassist Chris Chu and keyboardist Tam Visher— creating a homespun atmosphere whose coziness can be heard on the album. This was the only way this album could be recorded—confessional songs delivered with the support of confidants.
Van William was well aware that he created 'Countries' during a period where his own country was roiled with tension, realizing that his own stories carried a wider sociological dimension. "I started to think of the idea of two people in a relationship acting as separate countries. Different countries that start as two separate entities but throughout history, their borders change and morph into each other. They're constantly trying to figure out how to get along, and that felt like so much to me like my experience with my last relationship."
Such parallels surface clearly on "Revolution," a song about a couple at odds on how to solve their problems that can also be read as a political rallying cry. Thanks to harmonies from the Swedish folk duo First Aid Kit, "Revolution" carries a delicate sense of heartbreak, a sentiment that also echoes on "The Middle"—a sensitively etched portrait of a relationship's second act—and the lush "Skyward," which floats upward on its sweet strings. But Countries doesn't strictly dwell on sadness. "Fourth of July" camouflages its yearning for emotional freedom in an effervescent melody, "Cosmic Sign" offers a ray of hope in its celebration of the wide vistas of America, while "Never Had Enough Of You" rumbles forth with a barnstorming majesty of reminiscent of early 70's Neil Young & Crazy Horse.
'Countries' may also recall the burnished ache of acoustic Young but in its melancholic forgiveness, the album suggests such modern touchstones as Beck's Sea Change, and like those masters, Van William has the skill to turn his own heartbreak into something rich, resonant and true.

Booklet for Countries