---
Album info
Album including Album cover
I`m sorry!
Dear HIGHRESAUDIO Visitor,
due to territorial constraints and also different releases dates in each country you currently can`t purchase this album. We are updating our release dates twice a week. So, please feel free to check from time-to-time, if the album is available for your country.
We suggest, that you bookmark the album and use our Short List function.
Thank you for your understanding and patience.
Yours sincerely, HIGHRESAUDIO
Charles Chaplin (1889 - 1977), José Padilla Sánchez (1889 - 1960) & Leo Daniderff (1878 - 1943):

1

The Terry / La Violetera / Je cherche après / Awakening / Theme From Modern Times

07:18

Johann Sebastian Bach (1685 - 1750):

2

Ich ruf zu dir, BWV 639 (Arr. Anders Hillborg for Violin Solo and Strings)

03:34

Michel Jean Legrand (1932 - 2019):

3

Paris Violon

04:21

Ralph Maria Siegel (1911 - 1972):

4

Ich hab' noch einen Koffer in Berlin (Arr. Nikoloz Rachveli for Violin, Trumpet, Piano and Orchestra)

07:49

Traditional:

5

Evening Song (Arr. Jarkko Riihimäki for Violin and Orchestra)

04:28

Johann Strauss I (1804 - 1849):

6

Furioso Galopp, Op. 114 (Adapt. Nikoloz Rachveli for Violin and Orchestra)

03:00

Ennio Morricone (b. 1928) & Andrea Morricone (b. 1964):

7

Love Theme From "Cinema Paradiso" (Arr. Nikoloz Rachveli for Violin, Cello and Orchestra)

04:22

Astor Piazzolla (1921 - 1992):

8

Adios Nonino / Vuelvo al sur / Buenos Aires Hora Cero (Arr. Nikoloz Rachveli for Violin, Guitar, Piano and Orchestra)

07:02

Antonín Dvořák (1841 - 1904):

9

Antonín Dvořák: Symphony No. 9 in E Minor, Op. 95, B. 178, "From the New World": II. Largo

04:51

Katie Melua b. 1984) & Zurab Melua (b. 1992):

10

No Better Magic

05:46

Stephan Koncz (b. 1984):

11

The Lark

03:10

Nikoloz Rachveli (b. 1979):

12

Herio Bichebo / Tovlis Panteli / Lament / Styx (Based on Themes by Giya Kancheli)

10:16

Total Runtime

01:05:57
Info for City Lights

Lisa Batiashvili's new album, City Lights, released on 29th May 2020, takes the listener across the world with eleven carefully chosen pieces that represent the most important cities in her life, as well as a suite based on Charlie Chaplin's own music for City Lights and other films of his.
The idea came out of a conversation between Batiashvili and her friend the composer-arranger Nikoloz Rachveli, both fans of the music of Charlie Chaplin, the 130th anniversary of whose birth fell in 2019. Batiashvili says: "Chaplin was very popular in Georgia when I was a child. He was a multi-talent, not only acting and making movies, but writing gorgeous music. For me, he represents the beauty and creative imagination of the 20th century."
Their idea of creating a suite inspired by Charlie Chaplin's music and his films grew into an autobiographical concept based on key cities in Batiashvili's life, each of which has some personal, musical or violinistic connection. For example, Batiashvili was born in Tbilisi; studied in Munich where she started to seriously work on music by Bach for the first time; Helsinki was where her career began at the Sibelius Competition; and she sees Berlin as her spiritual home.
Batiashvili explains the importance of location: "It doesn't matter where you go or how far away you end up being, you always have a special connection to places that have become part of you. These are all cities I know not only for their architecture and museums, but inside out. I wanted to express my love for the music, cultures and people of these places and to explore what is special about them, in a positive, specific way."
The choice of repertoire brings together various styles: "We wanted a full range of different pieces that would come together without disturbing each other but would fulfil each other. Each of the tracks was produced with a lot of love and we invested so much energy in each one. Throughout the album there is a symbiosis between different styles. Most of the composers combine film music and classical music, or folk and classical, or folk and pop music. For example, we have a Kancheli medley arranged by Nikoloz, and then we have Katie Melua and her pop side, but she's also very classical and sophisticated in her style, and you could never define Miloš as core classical. That means the music is never merely one-dimensional – it's outside the normal framework in which we put classical and non-classical music. Most of us think that the borderlines can be moved a little, but it's important to do that with good taste. You have to make sure that everything is done to the highest quality, that with all the arrangements, colours and styles, it's still rich, fulfilling music."
The tracks also encompass a broad emotional range, from the good cheer of the Viennese gallop to the hopes of immigrants to New York with Dvořák's "New World" Symphony. The album ends on a darker note, in Tbilisi, Georgia, as Batiashvili explains: "The last few bars of the whole album recall the pain and anxiety of this small country, which has been in conflict most of its history, at the crossroads of bigger powers that always wanted something from us. It's an endless story that is still relevant today. This is a special statement and when I was playing it, I had to hold myself back from crying, because it's the story of my people and my country."
The choice of musical partners was also key. Batiashvili already knew guitarist Miloš Karadaglić and trumpeter Till Brönner but had never worked with them, and this was the perfect opportunity. She had never met fellow-Georgian Katie Melua, but Nikoloz Rachveli was able to make contact, and by serendipity, Melua had already been working on a track about London, which she was glad to include in the album.
There is also a violin theme running through some of the tracks. Batiashvili chose Buenos Aires because her own teacher Ana Chumachenco was born there, and Budapest because she regards it as an important centre for the development of the instrument. Charlie Chaplin himself was an amateur violinist; Marlene Dietrich, whose song features in the "Berlin" track, studied violin to conservatoire level; and the "Paris" track is based on Michel Legrand's "Paris Violon".
With so many collaborators and pieces, the project took a long time to bring together. Batiashvili explains: "The production was completely different from any other musical project I've worked on. A violin concerto usually takes two or three days to record, so for the first time in my life I understand how other artists can spend a whole year on one album. The complexity of the creative process and the emotional involvement mean that on a personal level, the accomplishment means so much to me. It was one of the most complex and interesting creative projects I've ever done, but also incredibly satisfying, because we knew that with each step, we were creating something entirely new. None of the music has been recorded before and most of it hasn't been performed."
Lisa Batiashvili, violin
Katie Melua, vocals
Miloš Karadaglić, guitar
Till Brönner, trumpet
Max Hornung, cello
Tim Harries, bass
Zurab Melua, guitar
Rundfunk Sinfonie Orchester Berlin (1–7, 9)
Georgia Philharmonic (8, 10–12)
Nikoloz Rachveli, conductor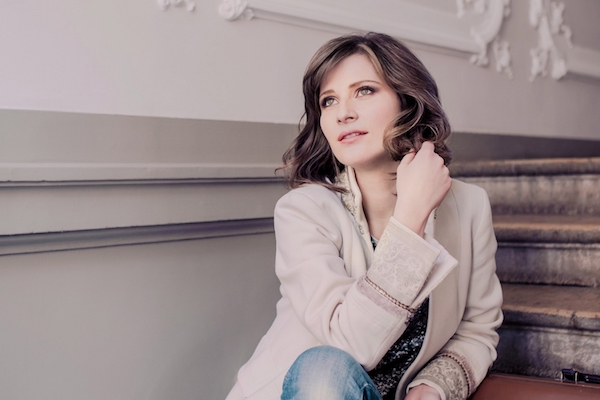 Lisa Batiashvili
Musical America's 2015 Instrumentalist of the Year, is this season's Artist-in-Residence with the Accademia Nazionale di Santa Cecilia (Rome). Praised by audiences and fellow musicians for her virtuosity and "profound sensitivity" (Financial Times), the Georgian-born violinist, who has lived in Germany for over 25 years, has developed long-standing relationships with some of the world's leading orchestras, including the New York Philharmonic, Staatskapelle Berlin, Berliner Philharmoniker, Tonhalle-Orchester Zürich, Chamber Orchestra of Europe, and London Symphony Orchestra.
In the 2017/18 season Lisa will perform the UK premiere of Anders Hillborg's Violin Concerto No.2 with the BBC Symphony Orchestra (Sarkari Oramo); the concerto was written for and premiered by Lisa in 2016/17 with the Royal Stockholm Philharmonic Órchestra and Sakari Oramo. As part of her residency with Accademia Nazionale di Santa Cecilia, she will perform concertos by Tchaikovsky (Antonio Pappano), and Prokofiev (Manfred Honeck), as well as Bach's Concerto for Violin and Oboe (Francois Leleux). Later in the season, Lisa will debut with the Orpheus Chamber Orchestra in Carnegie Hall, and tour Europe with the Gustav Mahler Jugend Orchester (Vladimir Jurowski and Lorenzo Viotti), the Chamber Orchestra of Europe (Antonio Pappano), and Dresden Staatskapelle (Alan Gilbert). Other performance highlights include the Orchestre Philharmonique de Radio France (Mirga Gražinytė-Tyla), Munich Philharmonic (Alan Gilbert), and Sydney Symphony (Dima Slobodeniouk).
Last season Lisa was Artist-in-Residence with the Royal Concertgebouw Orchestra as well as Portrait Artist of the Bamberger Symphoniker. She had first-time collaborations with Gustavo Dudamel and Michael Tilson Thomas, as well performances with Christian Thielemann, Andrés Orozco-Estrada and Sir Simon Rattle all of whom she collaborates with regularly.
Recording exclusively for Deutsche Grammophon, Lisa's latest album, a recording of the Tchaikovsky and Sibelius violin concertos with Daniel Barenboim and Staatskapelle Berlin, received international critical acclaim. Earlier recordings include the Brahms Violin Concerto with Staatskapelle Dresden (Christian Thielemann), and Shostakovich's Violin Concerto No.1 with Symphonieorchester des Bayerischen Rundfunks (Esa-Pekka Salonen). She has also recorded the Beethoven, Sibelius and Lindberg concertos for Sony. In 2016, EuroArts released a DVD of Lisa's live Waldbühner performance of Bartok Violin Concerto 1 with Berliner Philharmoniker (Yannick Nezet-Seguin).
A student of Ana Chumachenco and Mark Lubotsky, Lisa gained international recognition at age 16 as the youngest-ever competitor in the Sibelius Competition. She has been awarded two ECHO Klassik awards, the MIDEM Classical Award, the Choc de l'année, the Accademia Musicale Chigiana International Prize, the Schleswig-Holstein Music Festival's Leonard Bernstein Award and the Beethoven-Ring.
Lisa lives in Munich and plays a Joseph Guarneri "del Gesu" from 1739, generously loaned by a private collector.

This album contains no booklet.