---
Album info
Album including Album cover
I`m sorry!
Dear HIGHRESAUDIO Visitor,
due to territorial constraints and also different releases dates in each country you currently can`t purchase this album. We are updating our release dates twice a week. So, please feel free to check from time-to-time, if the album is available for your country.
We suggest, that you bookmark the album and use our Short List function.
Thank you for your understanding and patience.
Yours sincerely, HIGHRESAUDIO
1

Dumber (Stripped)

03:32

2

Out of this Car (Stripped)

03:08

3

The Way I Say Goodbye (Stripped)

03:07

4

You're Cool (Stripped)

02:56

Total Runtime

12:43
Info for Not Afraid to Say Goodbye (Stripped)

Nashville singer-songwriter is back with a stellar new release in her new EP Not Afraid To Say Goodbye. She affirms that she is the fearless voice of pop and that is evident on this EP. The EP consists of four tracks, each very unique and authentic. The EP highlights her confessional lyrics, intimate instrumentation, and nuanced storytelling. Emily has always been writing for other artists like Halsey, and Camilla Cabello, but now she is writing for herself and gets to tell her story.
Her debut EP Identity Crisis was a success and earned her a ton of praise from the likes of Elle, Billboard, and Entertainment Weekly. If you thought that EP was good then you are not prepared for what's in store on this new EP.
"The Way I Say Goodbye" she visualizes the exact breaking point of a relationship. Over stark piano and sparse acoustic guitar, she urges, "If you couldn't feel my love in the way I said 'Forever'…then I hope you feel my love in the way I say goodbye."Meanwhile, coy production gives way to a flirty refrain on the finale "You're Cool." Barely letting her guard down, she sings, "You're cool, but you're still a stranger." "Dumber" and "Out of This Car" were previously released as singles and are the standout tracks from the EP. The EP as a whole is emotional, raw, and authentic, and one of Emily's best work to date. It truly proves why she is a superstar songwriter and the world isn't ready for what she has in store.
Emily Weisband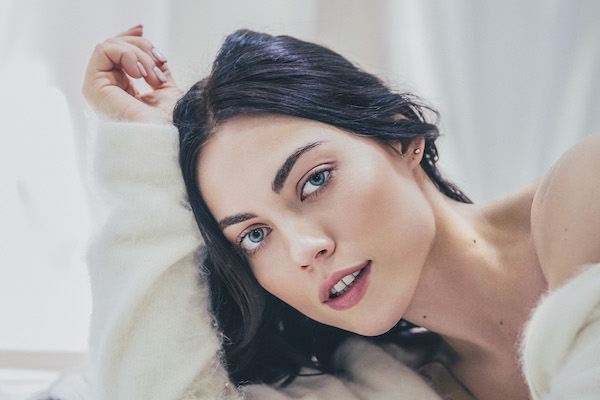 Emily Weisband
Fearless candor. Vibrant emotion. Uncanny insight. A whirl of contradictions. Plus a voice that, once heard, will stay with you forever.
When brought together, these qualities depict only one person.
Her name is Emily Weisband. She has earned her place among the elite of Music City writers. Her résumé includes a Grammy Award, as co-writer of "Thy Will" for Hillary Scott and The Scott Family. She's written for or with pop superstars like Camila Cabello, BTS and Halsey, Noah Cyrus; Christian mainstays such as Natalie Grant and Danny Gokey; and country's finest in Thomas Rhett, Dan + Shay, Tim McGraw and Faith Hill… the list across all genres grows almost daily.
Yet her debut album – Identity Crisis, due later this year on Warner Records – sounds unlike anything she has composed for others. These songs tell her story. No punches pulled, no apologies offered. Her lyrics laugh, cry, strut and rage. Her music is daring, unconventional, sometimes as spare as a piano, sometimes blazing with intricate yet irresistible propulsion. Always, she searches for meaning, whether reveling in cautionary pleasures or yearning for peace.
That search began in Virginia, where Emily was raised in a family that valued both faith and free inquiry. This was enough to foster awareness of life's spiritual side as well as a curiosity about temporal pleasures.
She explored every genre she could find: contemporary country, jazz standards, even elements of pop-punk. Her dad began teaching her guitar when she was 10 years old. A year later, with further and ongoing encouragement from her father, she wrote her first song. By the time she began her studies at Nashville's Belmont University, she was ready to apply what she'd learned to expressing truth through song.
But not her truth, at first. Having signed with THiS Music Publishing/Warner Chappell while still at Belmont in 2014, she focused first on crafting songs for other singers to turn into their own personal statements. "I saw songwriting as a service industry," she explains. "I was there to help the artists say what they want to say according to how they want to portray themselves while still putting my Emily spin on it. I loved doing that! It was really fulfilling for me. It still is!"
Emily always had the voice, the charisma and the gift to stand on her own as an artist; she just didn't have the inclination. It took a nudge — three, actually — in late 2015 for her to change her mind.
As she remembers, "I'd just played a writers' round when an A&R person from a major label came up and said, 'We've been hearing your voice on demos. We'd love to record you.' I was flattered but I said, 'I appreciate that but I'm excited to be working as a writer.'
"A few days later, I was writing with two Christian writers. One of them asked me to play him a Christian song I'd written. When I'd finished, he said, 'I think we could really use someone like you in Christian music, someone who's not all wrapped up in Christian culture.' I was like, 'No, thank you, I'm really not an artist.'
"About 45 minutes later I get a call from an L.A. number I don't recognize. I hear this voice say, "Emily? My name is Mike Elizondo. I got your number from one of my friends in Nashville. I've never met you. I don't know anything about you. But this demo you're singing on came through my office and I've got this feeling in my gut that I need to make a record with you.'"
Elizondo, whose credits include producing for Dr. Dre, Eminem, Fiona Apple, Avenged Sevenfold, Twenty One Pilots and Keith Urban, bought Emily a ticket to L.A. "He was just like family right away," she remembers. "The fact that he believed in the same things I do made me feel peace about crossing that line."
Thus Emily became the artist she was meant to be. She learned to write from her heart, without any thought of anyone else cutting what she came up with. So, on "Healthy," when a nice guy offers to be with her, she replies, "I ain't ready to be loved the way I know that you will love me … I like my boys smoking like cigarettes … I like my heart broken beyond repair. There's always a story there."
Then, at the end of the song, a whispered plea: "Don't give up on me yet."
Elsewhere, on "Make Me Miss You," Emily waves off a too-eager suitor with some advice: "Make me miss you, like, 'Shit, where the hell have you been?'" On "Naked," trapped in a vise of self-doubt, she pleads, "Does she look better than me naked?"; the music stops and in that furious silence, the absence of response rings loudly. More succinctly on the title track, she lays it out: "Holy shit, it's heavy being in your twenties."
Yet on the closing track, "Something I'm Not," over stark piano chords, she asserts that while she doesn't always know who or what she is, Emily knows who she's not and that living according to another's idea of who she should be is no way to live at all.
The tracks on Identity Crisis may never be covered by anyone else. Because they are Emily's. They are "Emilies," if you will. No one else could bring them to life.
"All of these songs are real snapshots of my twenties so far. Even though I wrote them they make me feel seen, and my hope is that they make the people who listen to them feel seen too. And they happen to all fall naturally into this idea of an identity crisis... something I think we all go through in our own way," she sums up. "That's why I can stand here and say, 'From the bottom of my heart, this is what I'm supposed to say. This is the story I'm supposed to tell."

This album contains no booklet.