---
Album info
Album including Album cover
1

No Chao do Céu

04:06

2

Llamado

03:15

3

Fé na Estrada

04:05

4

Versos D'água

03:45

5

Deslucidez

04:18

6

Na Trilha de Quixote

03:47

7

Fado Imaginario

04:33

8

Mais Outra História de Amor

03:47

9

Promesa de Juventud

03:47

10

Girando Com os Eres

04:06

Total Runtime

39:29
Info for Uni Versos

Mit "Universos" legen die beiden Songwriterinnen und Instrumentalistinnen Zélia Fonseca aus Brasilien und Magdalena Matthey aus Chile ihre erste gemeinsame Produktion vor. Die Idee entstand aus dem Wunsch heraus, zwei musikalische Wege unterschiedlicher kultureller Wurzeln zu verbinden, Deren Vielfalt und vor allem deren Gemeinsamkeit, die Sehnsucht nach Freiheit und die Suche nach Intensität auszuloten und zu betonen. Das Repertoire besteht aus eigenen, zum Teil gemeinsamen Kompositionen, die eine Klangfülle ohne Herkunfts-, Stil- oder Ausdrucksgrenzen suchen. Eine emotionale Reise durch afro-indische Folk-Elemente, Elemente aus Klassik, Jazz und Pop. In Liedern, die Geschichten und Visionen erzählen, die von Freude, Melancholie, Natur und der Feier des Lebens inspiriert sind. Zur Vervollkommnung ihrer musikalischen Ideen haben sich die beiden Musikerinnen die Sängerin und Violoncellistin Rosana Levental und den Multi-Instrumentalisten Màrcio Tubino eingeladen.
Magdalena Matthey, Singer-Songwriterin aus Santiago de Chile, wurde von klein auf beeinflusst von den ursprünglichen Liedern, Geschichten und Legenden ihres Landes. Sie verbindet die Folklore der chilenischen Realität mit den vielschichtigen Klangfarben Lateinamerikas. Nur mit einer Gitarre und einer einfachen Schreibmaschine ausgerüstet, entstanden auf den Straßen in der Nähe des Hauptbahnhofs Magdalena's erste Lieder voller Sensibilität für die sozialen Fragen ihres Landes. Mercedes Sosa, Víctor Jara und Violeta Parra sind eine Quelle der Inspiration für Magdalena. Die Themen ihrer Lieder zeugen von ihrer Liebe zur Menschlichkeit. Ihre sechs Alben wurden von Sergio Tilo González, Musiker und Gründer der renommierten chilenischen Band Congreso produziert. Magdalena hat an Festivals und Konzerten in Chile und im Ausland teilgenommen und teilte die Bühne mit bedeutenden Persönlichkeiten wie Pedro Aznar, Alejandro Filio und Chico César.
Zélia Fonseca – Komponistin, Gitarristin und Sängerin aus dem Südosten Brasiliens, mischt Klangerfindungen aus Jazz, Indie und Pop-Elementen mit ihrem Ursprung aus afrikanischen und indianischen Geschichten und Polyrythmen Brasiliens. Durch das Duo "Rosanna & Zélia" international bekannt geworden, nahm sie sieben CDs mit Eigenkompositionen auf und tourte unter anderem durch Kanada, Asien, Brasilien und Europa, stand auf der Bühne mit Compay Segundo, John Mclaughlin, George Benson, Joe Zawinul u.a. Ihr letztes Album "O terceiro olho da abelha" nahm sie in Portugal und Deutschland auf. Die Musik dieses Albums ist bildreich und assoziativ und spiegelt die Stimmungen einer ganz eigenen poetischen Klangwelt.
Rosana Levental aus Brasilien, hat in ihrer Heimat, den USA und Deutschland Violoncello studiert. Während ihrer musikalischen Tätigkeit in Brasilien war sie Mitglied im "Cello em Sampa", einer Formation aus 16 Cellisten. Im Duo-Projekt mit der Pianistin Aida Machado widmete sie sich überweigend der Literatur brasilianischer Komponisten. Derzeit unterrichtet Rosana Levental Violoncello an der Bergischen Musikschule Wuppertal und ist Mitglied mehrerer Ensembles, wie dem Celloquartett "Cellicats" oder der Kammerphilharmonie Wuppertal. Rosana Levental begleitet und tourt mit Zélia Fonseca seit 1999, in den ersten Jahren in der Formation "Rosanna und Zélia" Seit 2008 spielt sie Cello und singt Backvocals in der Band "Zélia Fonseca". in dieser Zeit hat sie die CD's "Aguas Iguais", "Impar" und "O terceiro olho da abelha" mit eingespielt.
Der brasilianische Jazzmusiker, Multi-Instrumentalist und Komponisten Márcio Tubino, der Flöte und Saxofon meisterhaft spielt, aber auch Gitarre und Percussion, lebt seit 1995 in München. Als Saxofonist, Flötist, Percussionist und auch als Komponist und Arrangeur hat der Brasilianer mit wichtigen Musikern der Jazzszene Europas zusammengearbeitet, so u. a. mit Dusko Goykovich, Egberto Gismonti, Joe Zawinul, Paulo Cardoso und Alegre Corrêa. Márcio Tubino war durch ganz Europa, Asien, Südamerika und USA in Tourneen. Aus seiner eigenen Federn entsprangen sieben CDs mit verschiedenen Formationen inklusive die CD "Fresta do olho"mit "Strings Quartet". Aktuell arbeitet er an das Album: "ARTet" , Label GLM Music.
Zélia Fonseca, Gitarre, Gesang
Magdalena Matthey, Gesang
Rosana Levental, Cello, Gesang
Márcio Tubino, Flöte, Saxophone, Gitarre, Percussion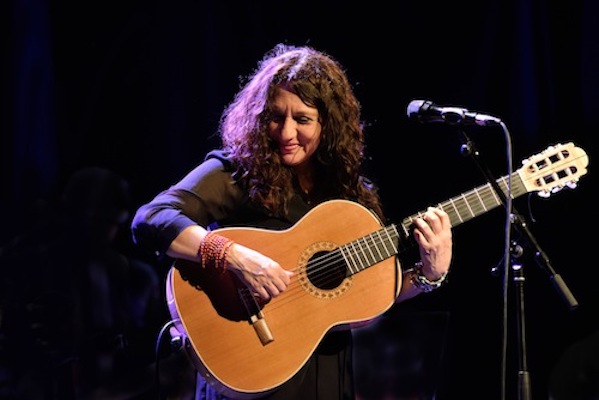 Zelia Fonseca
Guitarist, Singer and Songwriter from the South-East of Brazil, Zelia has lived in Europe since 1989. She came from Portugal over Finland to Germany and became internationally well-known through the Duo "Rosanna & Zelia". With this Duo she compiled five CDs with her own compositions, toured through Europe, Canada and Asia and was on stage with Compay Segundo, John Mclaughlin, George Benson, Djavan, Joe Zawinul, Maria João, Katharina Franck and many more. Her first Soloalbumn "Impar", released in 2010/2011, was highly praised by the press. In this album she presents her original, melodic and poetic sound, continued by "O terceiro olho da abelha" in 2016.
Fearless and daring Zelia's playfulness lead her to the most different, successful projects with Jazz, World (Expedition with Martin Schnabel, Lilo Scrimalli, Florian Dauner and many more) right up to recordings witrh Shantel (Considerando) or with the irish House/Techno DJ Ian Pooley (Coração Tambor). Her music has even entered into the world of Pina Bausch. Bausch transformed a piece interpreted by Rosanna and Zelia (Lady Multimelancólica) for her Ballett "Agua" which was performed from 2001 – 2010. Zelia has written plays, poems, and more, among others for the anthology "Antología poética" by Regina Mello (2011). Not least she was quoted by the Angolan Novelist José Eduardo Agualusa in in his book " Fronteiras perdidas".

This album contains no booklet.