---
Album info
Album including Album cover
1

King Kong

05:32

2

Desire

07:38

3

Lost in Translation

03:51

4

Reflection

07:17

5

Hope

03:57

6

In a Dream

04:52

7

Heaven

05:22

8

Morena

05:45

Total Runtime

44:14
Info for Lost in Translation (Jazz Thing Next Generation Vol. 76)

A drummer. Yes, of course! But one who wants to be different than the rest. Loud, distinctive, violent, "a true powerhouse", as confidently stated on his website, yet subtle, sensitive, delicate, and a bit complicated, as the person concerned emphasizes. "The drummers always used to be told: Stay with your beat, focus on time and don't get too complex! This then meant to refrain from all embellishments as much as possible and limit yourself to classical timekeeping. But I love to divide the beat into smaller sub-grooves, build it up as densely as possible, scatter them in many thirty-second notes. This does not necessarily make it easier for the rest of the band members, because you can quickly get out of time. But it keeps the tension high and is tremendously fun. I love lots of details!"
You are certain to hear a lot of such remarkable sentences from Michel Meis. And certainly with the utmost probability in his music as well, which can be at least as interesting as the spoken word. The fact that the 29-year-old is also the first Luxembourger to make it into the fine talent smithy of the Jazz thing Next Generation gives him a unique selling point in any case. "Luxembourg is just a small country with far too many drummers," he describes the situation in the manageable but vital scene of his home country. "That's why I never really understood myself as a sideman from the beginning, but instead always wanted to be a band leader to get myself heard. This was mainly about the realization of my ideas to put it in a figurative sense: I didn't want to see the pictures of other people handing in galleries, but instead my own."
Last but not least, you can call Michel Meis' approach quite unconventional. Trained as a classic percussionist and blessed with a very interesting voice, he cultivated the drum set more via harmonies than rhythms. In the meantime, Meis studied jazz drums with Oliver Strauch and Georg Ruby at Saar University of Music in Saarbrücken. He also attended master classes held by Emmanuel Séjourné, Christian Lillinger, Christina Fuchs, Jérome Goldschmidt and Eric Durrer. In principle, he did not have any classical jazz training, Michel Meis emphasized, although the tradition is very dear to him. The fact that he nevertheless includes many electronic elements, for example via the sound of a synthesizer, and grants the trombonist Alisa Klein all freedom to play what she wants, speaks for the spirit of his band. "Alisa is good for all of us," confesses the ardent fan of the trumpeter Ambrose Akinmusire. The deep sheet-metal sound enriches the combo with the pianist Cedric Hanriot and bassist Stephan Goldbach with an appealing touch. And having a woman along suppresses the male ego to a reasonable level. Because I'm more of an impulsive guy. 'Whatever's on your mind, spit it out!' That's my motto!"
It is somehow logical that Michel Meis also likes hardcore metal, "because I above all like the pressure that prevails on stage." The fact that he has nevertheless found the way to jazz is mainly due to its limitless possibilities. "You can try almost anything, mix a lot of things. Each one of my musicians can play what he or she wants and take the lead. For me, jazz is the basis of all the music. David Guetta wouldn't exist without jazz nor would the Beatles. And I love the atmosphere in jazz clubs where you can play up close for a certain number of people. You can see immediately how the music is received there. And even if people leave during the break, that's some kind of feedback we should respond to."
It is important for him to build a bridge to the audience, to find the right language in which to communicate. "Lost in Translation" If that doesn't happen to someone, then that person is Michel Meis.
Michel Meis 4tet:
Michel Meis, drums
Stephan Goldbach, double bass
Cédric Hanriot, piano
Alisa Klein, trombone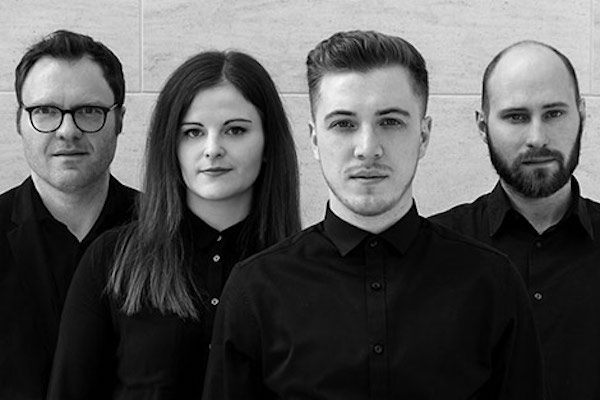 Michel Meis
Born in 1989, Michel Meis belongs to the new generation of Luxembourgish jazz musicians. He currently studies jazz drums with Oliver Strauch and Georg Ruby at the Hochschule für Musik Saar (Saarbrücken, DE) and regularly proves his versatility and openness through numerous projects. Besides his own jazz project, the Michel Meis 4tet, he played for a long time with Dock in Absolute (pop/jazz) and currently plays with Everwaiting Serenade (melodic hardcore), the Gilles Grethen Quartet (Jazz) and in a duo with pianist Manuel Krass (free electro). Meis played live in clubs and at festivals in Luxembourg, Germany, Belgium, France, Hungary, Ukraine, Romania, China and Japan.
Michel Meis is supported by the Luxembourgish music export office music:lx.

This album contains no booklet.